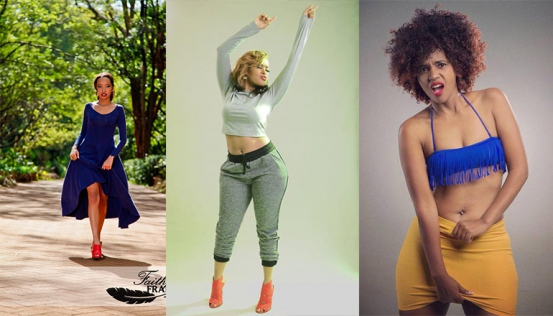 When news broke that gorgeous fashion blogger and lifestyle writer Sharon Mundia had gotten engaged, the Internet broke. A man had swept her off her feet and even popped the question on the banks of a crater lake in Mount Kenya catching scores of secret admirers and would-be lovers flat-footed. The buzz was just unimaginable. There was no questioning, many men were left agonising as to why they had never expressed their affections to the lovely Sharon. And she isn't the only celeb who has left men sobbing in the recent past.
Pierra Makena
A prominent Nairobi businessman called Pulse asking for Pierra Makena's contacts the day we broke the news that she was pregnant with her boyfriend. This obsessed guy had secretly been admiring the celebrated DJ and ironically, on this day, he wanted to beg her to give him a chance. What he didn't know was that he was among hundreds of other men who had sleepless nights after they got the news. The curvaceous entertainer really broke hearts with her happy news.
Brenda Wairimu
You would be forgiven for thinking that Brenda Wairimu had committed a crime when it emerged that she was expecting Juliani's baby. Men went on a rant! They didn't see how the drop-dead beauty could be dating Juliani and worse so when their hopes of winning her heart had been high as she was known to be single. To date, 'team mafisi' would do anything to get Brenda back.
Sarah Hassan
Who even ever saw this coming! One minute, the stunning actress was single with the entire town talking about her beauty and fast-rising career. Promising and irresistible as she was, Sarah Hassan got men holding on, waiting to strike during an opportune time. But from the blues a 'stranger' came, proposed to her, won her heart and flew her away to the land of the free and the home of the brave. Many still wish Sarah was single.
Avril
If there is one man who could not hide his love for the actor and singer, then that is singer G-Kon. When Avril revealed that she was dating a South African guy, her secret admirers got a fever. G-Kon even went ahead to say that he didn't care whether she was engaged or not, he simply was in love and ready to negotiate his way into her life. She recently part ways with the said guy and ironically, or as expected, her secret admirers are back, this time literary knocking the door.
Kamene Goro
She once confessed to Pulse how secret admirers used to drop bouquets for her at her workplace and she even joked that she didn't mind. And with her admirable personality and killer look, Kamene Goro had people tuning into the then little known Ebru TV to 'connect' with her. The Friday Pulse spotlighted her, she was forced to leave town and put off her phone as men kept calling her seeking her for a date. A few months on, Kamene quit TV.