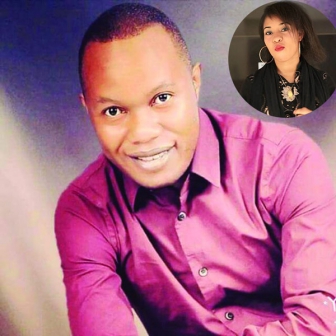 Word on the street has it that, two years after a heart-breaking split with her husband Eric Omba, gospel singer Gloria Muliro is in a good place... having fallen in love, to say the least. For that, we'll sing a glorious song!
It would therefore come as an extra that Omba, the controversial preacher and singer who runs a recording stable and a church has moved on too. Social media has been awash with stories of him dating Bella D, a singer signed to his stable and a follower at his ministry. This beauty who gave birth in December is the girl said to be wedding the man of God.
Because all truth shall come into light, Pulse pursued this story with a passion. We found our way to Nairobi's Nasra estate next to Mama Lucy Kibaki Hospital. This is where Pastor Omba lives. We were on a date.
Is he living under one roof with the beautiful Bella D and is the one month-old baby, as they put it in the Holy Scriptures, born of his seed? Did we miss out on the wedding bells?
Let's recap a bit. On the December day when Bella D gave birth, Omba - who admits that Bella D, a Congolese native who came to Kenya in late 2015 and joined his ministry (he is also from DRC, remember) – updated on social media: "Wangapi wanampenda mama watoto..." that referring to Bella D. Twisted as they come, this seemed to give a new lead on a story that had been doing rounds, the story of the Bella D and Omba being in love.
Now, Omba the singer has a different tune:
"I am not living with any woman nor have any intentions of re-marrying as insinuated. I have always believed that God's timing is the best. The fact that I posted something on my Facebook does not guarantee anyone to extract information from my page and twist it to suit their own interest," he said, adding that does not stop him from leading his normal life as it is only God who can judge him.
He tells us that when Bella D came to Nairobi, she moved into Kayole because her brothers were staying there. She then joined Omba's church choir and quickly got promoted into the pastor's Spotlight Media stable where she is signed as a gospel artiste. While here, she got blessed with a baby.
Upon the baby's birth an elated Omba went ahead to post the photo of the young one on his Facebook wall, introducing the little angel to the world.
"I bet it is just a little misunderstanding of whatever I post on my Facebook wall leading people to jump into conclusions. Nevertheless, I am already used to being victimised," he quipped.
What about the divorce letter Gloria slapped him with? Has he let go the celebrated singer who has since moved on and already warming up to someone else, a philanthropic and wealthy businessman?
"I strongly believe this is a private matter. I am only human and hence not perfect. This should not be a platform for a section of people to victimise me."
"I have no hard feelings towards Gloria. In any case I pray for her success and treat her as a sister. I will always be there for her just in case she needs my support. This aside life must go on for each of us," he said.
The heartbreak
Gloria Muliro and her estranged ex-husband Pastor Eric Omba broke off back in 2014 after she came out to reveal that he was physically and emotionally abusing her besides accusing him of infidelity.
Although the two had been together for five years, it turned out things were not as rosy they seemed to be from the outside; the public displays of affection were all pretence according to Gloria.
After their separation, the pastor has been trying to win her back but now it seems he has given up.
On top of this, word has it that during their marriage Omba never took Gloria to his native home, something that raised concerns among those who knew them but opted to mind their business. But Omba, a video artiste behind songs like Sibanduki, Mtoto Yatima and Naomba chooses to trash the question as non-important now that they are no longer together.
"Some of these personal issues are better left between me and my estranged wife. Bringing them up is like adding salt to injury," he concluded.
When contacted, Gloria declined to respond to calls.