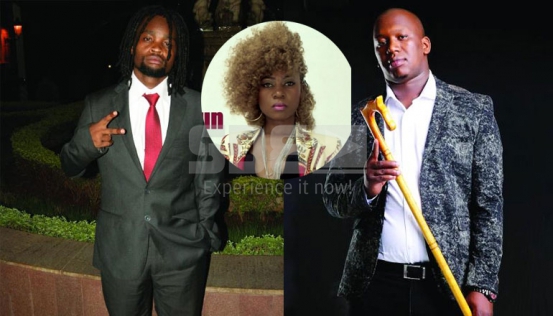 Having left Grandpa Records, a few months ago under unclear circumstances, musicians Kenrazy and Visita (Shida Mbili) went ahead to release the track called Toroka, whose lyrics are craftily directed to people who looked down on them.
The song, a dance hit that features, Sossun - yet another former Grandpa Records artiste and wife to Kenrazy – was the first release by the Grandpa breakaway group, the latest in a series of departures that have seen leading artistes ditch the stable.
First was DNA, the Maswali ya Polisi hit maker followed by Kamua Leo Remix star Kiddis leading the exodus.
"Grandpa is in my past right now. I am way bigger than it. Now, I am my own boss with my team and project," says Kenrazy who coincidentally has worked with Jomino Records whose offshoot recording stable his wife has signed to.
Kenrazy claims that while at Grandpa he had many options of working with other established studios like Pacho adding that he had many challenges at Grandpa.
In an interview with Pulse, Refigah who owns the Grandpa stable says that he fired Visita, his second in power, because he was lazy, shifty and unreliable - something that Visita terms as a ploy to tarnish his name.
"The real reason I left the record label was because I felt oppressed while at the Refigah-owned stable. When I left Grandpa, I did not have a Plan B and was in a messed-up situation. Besides they were not accommodating at all. I realised that we, artistes, were struggling only for the owner to reap the benefits so I left in a bid to rescue myself from this," claims Visita. "There are way too many labels out here pretending to sign artistes yet there are only a few genuinely signing artistes and you can see the results," he adds.
Visita also says that some artistes would give him the cold shoulder purely due to the fact that he was under Grandpa Records. "I feel that Refigah acted carelessly knowing too well that I am the one who looked for him and not vice versa. He tends to take things too personal," says Kenrazy.
However when sought for comment, Refigah remains dismissively firm but polite. "I wonder why one has to go to the lengths of trying hard to push for fake stories in the media for more than three months just to remain in the limelight,' questioned Refigah.
"The fact that they continue to hide the truth from Kenyans on the real reasons as to what transpired speaks volumes. This only shows that they (are) unprofessional they are and cannot be trusted," he added.
The showbiz master who started off as a musician told Pulse that Grandpa's vision is bigger than an individual and that whoever feels bigger than the stable is free to walk away.
"The truth about stables is that they work with individual artistes under certain terms and by the end of the day, artistes move on and stables remain. There is nothing new about artistes leaving Grandpa, absolutely nothing new," Refigah told Pulse.
"We have just opened our offices in Rwanda in our effort to enlarge our services to artistes and other partners across East Africa and what I am focused on now is having a vibrant team that understands where Grandpa is moving to, not local politics," Refigah noted saying that he neither regrets working with the said artistes nor does he have hard feelings on their departure.
"I actually wish them well. I am not here to answer back. No! Time will tell," he concludes.