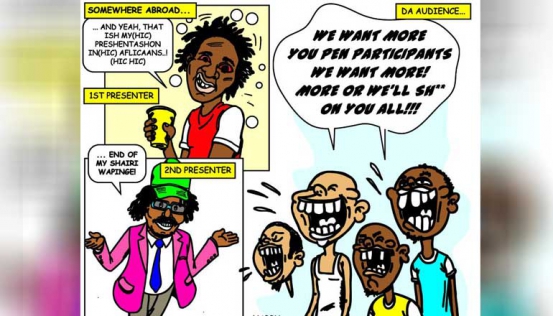 Wednesday in Madrid I spent the evening holed up in an NH hotel called 'Peregrino,' up on the tenth floor.
There was a great city view, and I had my note-book to write story outlines in, and there waz a mini-bar in my room where every-think cost five Euros (Sh550) – from the Dewar's whisky to some shitty gin made in Bombay.
At some point, feeling buzzed from all the booze, I stepped out into the city streets to x-plore the perimeter of my surroundings.
If there is one thing that is great about European cities, it is that they feel super safe, even at midnight. No muggers round some dark corner, waiting to jump ya ass.
Thursday in Ourense
Connected via Iberia Air (the fly 540 of these sides, n howse my air-hostess buddy Lizzy doan?) to this tiny town in the far north west of Spain, n the highlight of the evening was different PEN country participants reading theya poems in native languages – n, believe me, we had an Albanian to Zimbabwean there. I read my shairi Wapinge (horrid Swa, yeah, but I may as well a been speakin' Swazi to the audience) n this guy called Dani Marais read his piece in Afrikaans, n we became immediate BFFs.
Leavin' the Lyceum, our large PEN crowd went to a triangular courtyard dolbied by hotels where delegates were stayin, then guys proceeded to get super-plastered.
Friday in Braga
The great thing about these Schengen visa manenos (you hear me, buddy Ezzie Mutua?) is that ni**az get ta cross borders at will, n Friday found us on a two-hour train journey across the border to Portugal. Where no other than the Mayor met us congress peeps, went on about the proud history of Braga, brah brah.
But the real braggadaccio we was interested in waz in the jionis, when after some ngoks n Port wine dine, we went to this crazie street where they play a sad wild sort of muzik called Fado (oh, not to brag in Braga, but also got royally smashed). Also bought a Ronaldo T-sho. Why, oh, why? (blame it on porto).
Sato in La Coruna
Next day we bussed back a-x the border to Espanol, passing by the town of Vigo n straight north to the small seaside city of La Coruna, just in time for a late lunch n early kick off game (on tee-vee) at a row of restos oppozit a large cop-shop.
Twas Granada versus 'Who-gives-two-Sh*ts?'. N other than Real, Barca, n Atletico, I think the lower teamz in La Liga are crapola. The players here kept falling over, knocking heads, n were utter maffi-ya-kuku.
Having said that, Braga, Celta de vigo n Deportivo are all in the Europa Cup. N I'll go out to cheer them on, Thursday nights. Even as I boo Man-U.
Last Sunday in Santiago.
Santiago de Compostela – a musical sounding city; but really one of the great Xtian pilgrim centres.
It is coz one of the twelve apostles, James 'Son of Thunder,' so called coz of his fiery temper (he's the one who wanted Jesus to call fire down on Samaria), is buried there in the great Santiago cathedral.
Hasira za Mkisii.
James waz the first of Jesus's disciples to die (ok, after Judas who hang himself by the neck). He angered Herrod of Agrippa so much, the Roman ruler ordered him neck chopped! James needed to get a grip on his temper, while Herrod just needed to get Aerosmith's CD, 'Get a Grip,' n chill out like a flute.
I avoided goin' for holy mass at the great cathedral n instead went to a nearby pub (thaz why I luv Cathos) n read a book I bought there, Coelho's Pilgrimage (about his long walk to Santiago de Compostela in) of 1986.
Smitta Bonus: Today the Kistrech Intl Lit Fest, organised by bro Chris Okemwa, moves from Kisii University to Kisumu's Kiboko Bay, and I sure look forward to fraternising in poesy with my Dane man pal, Seth of the USA, the Russki lady, as well as local yut talent like Kodalo, Tete/Neno Kali, kina Doreen Wangila, n MC Rolex.