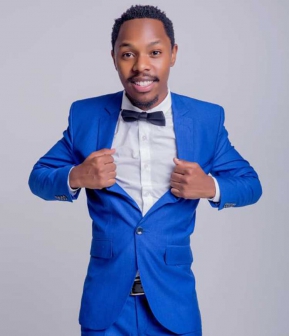 His trade mark smile plastered on his face, clad in a fitting grey jacket, blue jeans and brown shoes, Sleepy David walks into the Standard Offices on a Tuesday afternoon.
As we engage in quick banter, I notice the logo on his jacket that resembles the DC Comics Sci-Fi character of a flying Superman, only that this one has Sleepy's face.
"The logo symbolizes my new mobile application called Keep Sleepy Awake that I recently launched targeting the gaming community which mainly consists of the youth. It is a game that has different levels and with each level completed one is rewarded," says Sleepy as he proceeds to demonstrate the same using his phone.
The game 'Sleepy' face flying around and the challenge is to successfully maneuver through obstacles thrown at 'him'. It looks easy but as I quickly find out, looks can be deceiving. The sound made when one fails to make it to the next level is entertaining, fitting in well to Sleepy's witty and funny character.
Unlike other games, this one is easy to operate yet employs modern, state of the art graphics that tell of a dedicated team that worked hard to put it together.
Before I could even ask, the funnyman jumps in, "All you need in order to access this game is to own a smart phone that has the Google play store. Download the application for free and all it requires from you is your phone number."
On my first trial, I barely make it through the first level and at that point Sleepy pours out a deafening laugh but in a bid to encourage me, he says:
"Usijali, endelea tu, hata Churchill ali-score 2 points on his first attempt (Don't worry, go on; even Churchill only managed two points on his first attempt)."
At this point we are laughing uncontrollably, attracting the "I wish I could join you guys but I can't" look from my colleagues.
All through the game, one is engaged through the various levels and to top it off, Sleepy reveals that he is going to be awarding the top players per week with cash prizes and merchandise.
"If you spot me in your hood and you have the app, just approach me and I'll give you free merchandise. I will also be announcing one winner per week every Sunday at 9pm,"he adds.
So what inspired the idea, I ask.
"I had gone to Fedha Estate in Embakasi to rehearse my jokes with a friend and afterwards we were looking for something to do. We proceeded to a PlayStation gaming zone where we were charged to play and that got me thinking. Why pay to play while you can enjoy the same feeling from the comfort of your phone?
It was there and then that the idea of developing my game was born."
Three phones, meeting after meetings and two months later, the game is now a reality and Sleepy has achieved a fete that no other comedian has, he became the first Kenyan comedian to make an investment in the application-developing business.
At this point, all that keeps crossing my mind is how he makes money from the app, but this is a question he answers with ease and certainty.
"The game is free to download but once you log in you are awarded coins that provide for continuous free trials one after the other. Once they are depleted, you have to purchase more coins through mobile money and from every coin bought we earn 50cents," he says.
The conversation takes a serious turn and Sleepy divulges his future plans in motivating Kenyan youth to reach their full potential. Using himself as an artiste would his muse, David tells of his journey and says that one thing he can comfortably confess is that talent pays.
Aside from the app, come November, he will start the Not A Laughing Matter tour that has its eyes set on arranging for motivational forums with youth from different parts of the country. The year-long tour will cover all towns across the country.
"I've received numerous invitations to Dubai, Qatar, South Africa, Uganda, Nigeria and even the United States but I always turn them down because the time isn't right. I want to concentrate on building my brand such that by the time I go to perform outside the country, I'll not only be performing for the Kenyans in Diaspora but all the citizens," says Sleepy