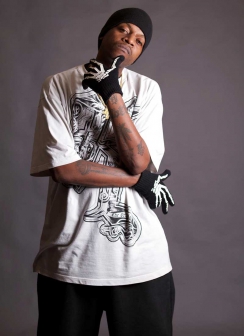 Watching his 2014 release, Mchizi, a true confession about the pain in his life, one could clearly pick Abbas Kubaff's mind. That of a hip-hop star whose life has been stalked by unfortunate events. He says he does not care what people think of him. He says many call him a mad man.
Emotionally, he raps about his late parents and his brother who got lost. In one stanza, he rants about his ex-wife Natasha aka Baby Gangsta and the controversy that followed the break-up of their marriage, eight months after their wedding. He pleads, saying he wishes to meet Baby Gangsta in another life.
After the release, he settled down with his new British girlfriend Ann English whom he wedded in August last year. Then came the twist.
Last week, on Wednesday afternoon, the celebrated rapper, one of Kenya's pioneer rappers who formed K-South called his friends to a small party at his Nyayo Estate, Embakasi, home where he broke the news that he was leaving the country, probably for good.
"I am leaving. I am going away. I am going for good," he told shell-shocked friends who at first laughed off the comment saying he was intoxicated.
Who would think of Abbas, the legend, ending up his prosperous music career? Who would even think of the 38-year-old leaving the country to a new land where he would start life afresh?
What really got Abbas to abandon his native land?
"As a matter of fact, this is our last night here, my family and I," Abbas insisted silencing the cynical laughters. Many who could not comprehend his decision took a back seat. Among close friends who attended the veteran rapper's farewell party were singer Kelmah Shiko, Producer Cedo, DJ UV and rapper Lon Jon as well as other hip-hop affiliated celebs.
Conspicuously missing was former co-rapper Bamboo with whom they had made a tough rap duo during their K-South days.
Asked where he was relocating to, strangely, he said he was leaving to an unknown land; a European island.
"I know many people will question this but I have to give my daughter the good life she deserves. The good life I never had while growing up," said the Kariobangi South-bred rapper who has for a long time tried to trace his family.
He has been looking for his long lost elder brother who raised him before disappearing. He has also been trying to reunite with his only sister who resides in the United Kingdom and with whom they have only had minimal contact. This plus the passing on of his parents have been some of the deep bruises the rapper has been harbouring for years. Close friends think that Abbas simply decided to run away from his fears.
"I love Kenya my motherland but I am at a point in my life where I don't want to toil with my career to give my daughter a good life. All that matters now is my two girls, my daughter Sophia and her mum Annah. Kindly friends, I know it's unfortunate, but I have to bid you farewell. We will meet again, when and if God decides so," he said.
That Wednesday evening Abbas Kubaff and his wife and daughter boarded their plane to the little known Malta Island, the largest of the three Maltese Islands.
All he carried with him was a couple of art pieces, some that were his own creation that he was very fond of, and his studio equipment.
"Even if my stay in Kenya has come to an end, all I want my fans to know is that I love them but I can't keep the hustle. I'm doing this for my daughter. The message I want my fans to get from you is that I will keep releasing my new songs regardless of where I am," said the rapper who was on set to release his new album.
He may never be back as a rapper, probably as a provider for his family and mentoring the industry but most of his songs will remain. Recently, the rapper who has never been shy to tell off his detractors as well as being vocal to expose ills in the local music industry, released a collabo with Victoria Kimani, Party Like a Moda, which has been receiving massive airplay.
And as we await the uncertain release of his new album Abbas is Back, the truth is, he is no longer in Kenya. Will he be back?