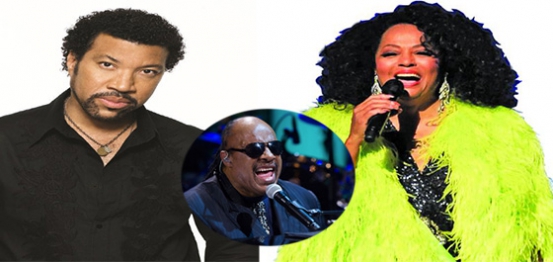 In less than four months, the world has lost an elite group of musicians who have shaped the music we listen to today. Prince, a winner of seven Grammys, died a week ago at his home in Minnesota. Papa Wemba, Africa's own King of Rhumba died while performing in Abidjan on Sunday.
David Bowie in January after an 18-month long battle with cancer. The Eagle's co-founding Member, Glenn Frey too died in January from complications from rheumatoid arthritis and pneumonia. Earth, Wind and Fire's founding member, Maurice White died in February after a long struggle with Parkinson's disease.
These artistes, many of the legends of Motown, have in one way or another, influenced the music industry, shaped what we listen to today and have used their musical platform to fight for social issues close to them.
Stevie wonder
Pianist, songwriter, singer (1950 -)
Born blind on May 13, 1950, in Saginaw, Michigan, singer, songwriter and multi-instrumentalist Steveland Hardaway Judkins, famously known as Stevie Wonder, made his recording debut at age 12. He recorded his first hit single in 1963. Over the next decade, Wonder recorded several hit songs, including Living in the City, Boogie on a Reggae Woman and Isn't She Lovely.
His fertile period came to an end in 1979. Wonder's 1980s hits include I Just Called to Say I Love You and Ebony and Ivory. He was inducted into the Rock and Roll Hall of Fame in 1989.
Stevie Wonder was just 11 years old when he was discovered by Ronnie White of the Motown band The Miracles. An audition followed with Motown founder Berry Gordy Jr., who didn't hesitate to sign the young musician to a record deal. In 1962, the newly-renamed Little Stevie Wonder, working with a Motown songwriter, released his debut album, Little Stevie Wonder the 12-Year-Old Genius.
Due in part to his innate talent, but also because of his deep commitment to his craft, Stevie Wonder faced the difficulty of staying relevant as a musician as he grew from boy to man. In 1971, Wonder, who had begun writing his own music, negotiated a new contract with Motown that gave him almost total control over his records and greatly increased his royalty rate.
In 1982, Wonder teamed up with Paul McCartney for the No. 1 single Ebony and Ivory. The 1980s also saw Wonder, who's never been afraid to tackle social issues through his music, successfully spearhead a movement to create a national holiday recognising Martin Luther King Jr.
In 1989, Wonder was inducted into the Rock and Roll Hall of Fame. More recently, in 2009, he was recognised with the Second Library of Congress Gershwin Prize for Popular Song.
Quincy jones
Children's activist, music producer, television producer, songwriter, trumpet player (1933–)
Famed music producer Quincy Jones was born Quincy Delight Jr. on March 14, 1933, in Chicago, Illinois. Quincy Jones is best known as a composer and record producer for legendary musicians such as Frank Sinatra, Michael Jackson, Celine Dion and Aretha Franklin. Quincy Jones was convinced at an early age to explore music by his teenage friend Ray Charles. He played in various bands through the 50's, began composing for film and television in the mid 60's and eventually produced over 50 scores. He's also the most Grammy-nominated artiste in history, with 79 nominations and 27 wins. Jones founded a charity for youth in 1985.
In 1975, Jones founded Qwest Productions, for which he arranged and produced hugely successful albums by Frank Sinatra and other major pop figures. In 1978, he produced the soundtrack for the musical adaptation of The Wizard of Oz, The Wiz, starring Michael Jackson and Diana Ross. In 1982, Jones produced Michael Jackson's all-time best-selling album Thriller.
In 1985, Quincy Jones used his clout among major American recording artistes to record the much celebrated anthem We Are the World to raise money for victims of famine in Ethiopia. His work on behalf of social causes has spanned his career, including the Quincy Jones Listen Up Foundation, which built more than 100 homes in South Africa in 2001. The charity aims to connect youths with technology, education, culture and music and sponsors an intercultural exchange between teens in Los Angeles and South Africa.
Jones also produced the 1985 film The Color Purple directed by Steven Spielberg and starred Whoopi Goldberg, Oprah Winfrey, and Danny Glover; the television series The Fresh Prince of Bel-Air starring Will Smith (1990-96) and published the magazines Vibe and SPIN. In 1990, Quincy Jones formed Quincy Jones Entertainment (QJE), a co-venture with Time Warner, Inc.
Lionel richie
Songwriter, singer (1949–)
Born in 1949, singer-songwriter Lionel Richie grew up in Tuskegee, Alabama. He was a founding member of the Commodores, a top R&B act of the 1970s. In 1982, Richie's self-titled solo debut album was a hit. Truly, a ballad from that album, reached No 1 and earned him a Grammy Award. More hits soon followed, including Hello and Dancing on the Ceiling. In 1985, he co-wrote the famine relief song We Are the World with Michael Jackson. Richie's later albums include Louder than Words (1996) and Coming Home (2006). More recently, he has enjoyed renewed chart success with his 2012 country album, Tuskegee.
For several years after releasing Dancing on the Ceiling, Richie suffered a series of personal challenges, and disappeared from the music scene as a result. His father died in 1990, and he and first wife Brenda Harvey had an ugly, public break-up a few years later. Their adopted daughter, Nicole, for whom it is reported the song Ballerina Girl was sang for, stayed with Brenda after the divorce.
Tina Turner
Actress, singer (1939–)
Born Anna Mae Bullock on November 26, 1939, in Nutbush, Tennessee in 1939, Tina Turner began performing with musician Ike Turner in the 1950s. They became known as the Ike and Tina Turner Revue, achieving popular acclaim for their live performances and recordings, until Tina left in the 1970s after years of abuse. Following a slow start to her solo career, Turner achieved massive success with her 1984 album, Private Dancer. She went on to deliver more chart-topping albums, and was elected into the Rock and Roll Hall of Fame in 1991. The singer later became involved in the spiritual Beyond project, and married long-time boyfriend Erwin Bach in July 2013.
Her parents, Floyd and Zelma Bullock, were poor sharecroppers, who, early in her life, split up and left Turner and her sister to be raised by their grandmother. When her grandmother died in the early 1950s, Turner moved to St Louis, Missouri, to be with her mother.
Despite their success as a musical duo, by the mid-1970s, Tina and Ike's marriage was in shambles. In 1976, the couple separated both personally and professionally, and in 1978, they were officially divorced, with Tina citing Ike's physically abusive behaviour, frequent infidelities and increasing drug and alcohol use.
In the years following her divorce. According to Tina, when she left Ike, she had "36 cents and a gas station credit card." To make ends meet and to care for her children, she used food stamps and even worked cleaning houses. But she also continued to perform, only in lower-profile venues, and made guest appearances on other artists' records, though without achieving any notable success.
In 1983, however, Turner's solo career finally gained steam when she recorded a remake of Al Green's Let's Stay Together. The following year, she exploded back into the record industry when her much-anticipated solo album, Private Dancer, was released to overwhelming critical and popular success. It went on to win four Grammy Awards and eventually sold more than 20 million copies worldwide. By this time, Turner had become known for her uniquely energetic performance style and raspy singing style, as well as for her signature look — typically performing in short skirts that exposed her famous legs, and with voluminously styled hair.
In 1985, Turner returned to the screen, starring opposite Mel Gibson in the film Mad Max Beyond Thunderdome (to which she contributed the song 'We Don't Need Another Hero'), and in 1986, she published her autobiography, I, Tina, which would later be adapted as the film What's Love Got to Do with It? (Her soundtrack for the film would go double platinum.) The year 1986 also saw the release of Tina Turner's second solo album, Break Every Rule. Tina Live in Europe followed in 1988 and won the Grammy for Female Rock Vocal Performance, and Foreign Affair (1989), which included the hit single "The Best," outdid Private Dancer in worldwide sales.
In 2008, the iconic entertainer embarked on her "Tina! 50th Anniversary Tour," which became one of the highest-selling ticketed shows of 2008 and 2009. She announced that it would be her final tour, and essentially retired from the music business save for occasional appearances and recordings.
Diana Ross
Actress, Singer (1944–)
Singer and actress Diana Ross was part of the 1960s pop and soul trio The Supremes before embarking on a successful solo career, also starring in such films as Lady Sings the Blues and The Wiz.
Diana Ross was born on March 26, 1944, in Detroit, Michigan. She began singing with friends as a teenager, and eventually formed the ground-breaking 1960s trio the Supremes, going on to have hits like Come See About Me and You Can't Hurry Love. Ross left for a solo career in 1969, later reaching No. 1 with hits like Ain't No Mountain High Enough and Love Hangover. She starred in the films Mahogany and Lady Sings the Blues as well, earning an Oscar nomination for the latter. Despite personal and professional ups and downs, Ross has withstood the test of time as a performer with a career that spans more than four decades.
She has won several major awards, including a Golden Globe, a Tony and several American Music Awards. Ross was inducted into the Rock and Roll Hall of Fame in 1988 as part of the Supremes. She was awarded for her hard work again in 2007, when she was presented with Black Entertainment Television's Lifetime Achievement Award. Then in 2009, Ross jumped back into the limelight when it was revealed that pop icon Michael Jackson had requested the diva as an alternate guardian for his children.
Aretha Franklin
Singer (1942–)
Multiple Grammy winner and Queen of Soul Aretha Franklin is known for such hits as Respect, Freeway of Love and I Say a Little Prayer. Aretha Franklin was born on March 25, 1942, in Memphis, Tennessee, the fourth of five children of a Baptist preacher and a gospel singer. A gifted singer and pianist, Franklin went on tour with her father's traveling revival show and later went to New York and signed with Columbia records. She went on to release several popular singles, many of which are now considered classics. In 1987, she became the first female artiste to be inducted into the Rock and Roll Hall of Fame. Franklin won her 18th Grammy Award in 2008, making her one of the most honoured artists in Grammy history.
Charlie Wilson
Singer, songwriter, producer, prostate cancer spokesman (1953-)
Charles Kent Charlie Wilson (born January 29, 1953) is an American R&B singer-songwriter-producer and the former lead vocalist for the Gap Band. As a solo artist he has been nominated for eleven Grammy awards, received a 2009 Soul Train Icon Award, and a recipient of a BMI Icon Award in 2005. In 2009, he was named Billboard Magazine's number 1 Adult R&B Artist, and his song "There Goes My Baby" was named the number 1 Urban Adult Song for 2009 in Billboard Magazine.
He is one of the few artistes whose vocal style and performance continue to influence some of today's most popular artists including R. Kelly, Justin Timberlake, Snoop Dogg, and Kanye West.
The monumental respect that Wilson garners from peers and fans alike is a testament to the creative, performing and survival skills he honed during his initial career heyday with the Gap Band.