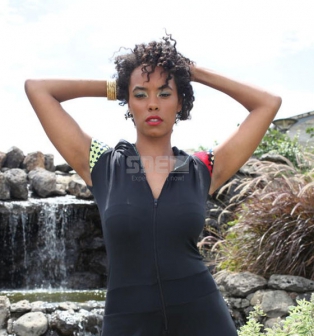 She is gentle and composed and when she speaks she articulates her speech in a convincing engaging manner. And it is not just her charm with words that makes her irresistible.
Chiki Onwekwe, the Nigerian beauty who has been making showbiz headlines after rumours emerged that she is dating Sauti Sol's Bien-Aimé Baraza, is a model with impressive character and trendy fashion touch.
It has only been two years since she left Nigeria to visit a friend in Nairobi. Little did she know that she would meet the man of her dreams here. In fact, falling for a Kenyan man was nowhere near her wild dreams, let alone the fantasy of dating a celebrated music star.
Now, she is home with Bien, at home in Kenya where she plans to spend the rest of her life. And this she is doing by taking one step at a time.
"I know there are haters there who are still thinking that I am dating Bien for fame. However, many of the reactions I get from friends are positive," the humble Chiki says of her love affair with the Sauti Sol lead singer who has girls in town swooning for him.
"We dated for a whole year before we decided to go public about our love affair. The only reason we decided to go public was for people to see that what we have is real. We did not want to go into stories of cheating, neither did we want to let people start suggesting that either of us had gotten a "sponsor"," she explains.
Chiki met Bien at a club after he was introduced to her by fashion designer Emmanuel Jambo. Then she had no clue how popular Bien was, neither did she seem interested in him. But after their conversation, the exchanged contacts and them one thing led to another.
"I loved him for who he is, not because he is a celebrity and he knows that. I do not really get worried thinking about the girls who throw themselves at him. Besides, before I started dating him, I knew his showbiz lifestyle and I did not come to change him. I trust him," she says, adding that she does not worry about him doing something he should not do when he is away.
"Besides, I meet as many men as he meets women but we stay faithful by choice. When people attack us, I just feel sad for them because Bien and I will still go to bed happy," she declares.
Chiki has captivated audiences with her beauty and easy fitness lifestyle through the 'kuruka' campaign, getting girls to lose the extra pounds in a fun way by dancing for half an hour every morning besides her role in yet another popular TV show, Slim Possible.
"Slim Possible came by chance. I accompanied a friend to pitch a concept to the Citizen CEO SK Macharia. He asked what my occupation was and I told him I dance and also teach young children how to dance. This was just before the last season of Slim Possible premiered, so he asked me to come in and train the competitors. I suppose you can call it being at the right place at the right time," confirms the 27-year-old dancer.
Having been in Kenya for two years, she feels this is where she belongs.
"My two best friends were coming here to see if it is a place they should come and settle down in. They asked me if I would like to take a trip and I jumped at the invite. The moment the plane touched down, I knew this was it. Besides, I have relatives here so I saw it as a chance to come visit and now I think I am passionate about Kenya than Kenyans themselves are," she chuckles.
Chiki has lived most of her life in the United Kingdom with her parents and siblings where she studied philosophy, logic and metaphysics. With a mother in the legal field and a journalist father, her friends expected that she will take the white collar path for a career.
"My parents took my love for dance as a hobby and were quite supportive. They probably thought I would do it alongside a different career," she says.
With a weekly children's workshop at Ligi Ndogo, Ngong Road, Nairobi, a daily workout show and now Slim Possible coming up, Chiki's plate is full. She is not willing to take up any more but is being driven to nurture young talent and to make 'kuruka' a movement in Kenya.