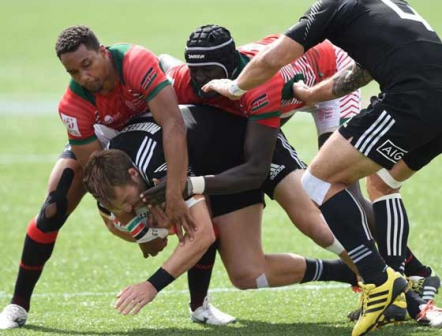 It does not matter how many days after the epic performances by our very own Shujaa team, the national Sevens squad; the fact that they beat All Blacks can be repeated over and over again and it's still music to many rugby loving fans.
Such sterling performances by Kenyan teams in any sports disciplines are rare. It's not every day that you get to humiliate such a big country in rugby. So when it comes we cannot have the luxury to act like it's all cool and routine. No way. Never! Not with the score line that Shujaa unleashed the annihilation of defending champs. 22-0 is not just a number; the score epitomises all that is Kenyan.
If Uganda ever beats us in Sevens, I suspect they will petition President Museveni to declare a national holiday. Or perhaps allow Dr Kizza Besigye to walk to work. This is how big a win was for our boys against New Zealand.
Incidentally this is not the first time we were claiming a scalp against the Haka men.
In Feb 2013 Kenya beat New Zealand in a monumental semi-final upset at the IRB Sevens World Series tournament in Wellington.
In a tournament that was full of upsets, including Fiji losing to Canada for just the second time ever, perhaps the biggest shock was the unfancied Shujaa defying history and home advantage against the All Blacks.
The thrilling 19-14 win in extra time stunned both the crowd and the defending champs who fully expected the series leaders to advance, particularly as they led 14-0 with just four minutes remaining.
However, the indefatigable Kenyans responded with tries to Oscar Ouma and Collins Injera, the latter a patient effort well after the final hooter had sounded.
Ouma grabbed the winner 40 seconds into 'golden try' extra time against the tiring hosts to book a first final in 14 years of trying in Wellington.
One other thing that officials of other federations can learn from Shujaa management is that local coaches and managers can also deliver results. Benjamin Ayimba has been there done that and he has delivered results for Kenyans. This infatuation with foreigners, when we do not even have thorough processes to vet those we hire- for all we know they could have been cooks and messengers in major European clubs- must simply cease and consider giving the coaching jobs to experienced and deserving Kenyans.
Even if Kenya did not go on to win the Main cup competition or the Plate competition that they were relegated to after losing to USA in the Main Cup quarters, no one can amend history. Kenyan rugby fans will always remember the win nostalgically. The score was indelible Kenya 22: New Zealand 0.
It was sweet while it lasted. It was seventh heaven.
K'Ogalo quandary
The writing was on the wall. Even before they had kicked a ball in the Mashemeji derby, K'Ogalo were underdogs in a match that they have traditionally prevailed upon their arch-rivals AFC Leopards.
Let us face it. Put aside Gor Mahia's exploits last season for that is now bygone. Unless the fans want to behave like Liverpool fans and feed us on nothing but history.
This season K'Ogalo's engine is yet to warm up. They seem to have lost the Midas touch and now a quick divorce between the club and manager has happened. Frank Nuttall quit the club in a huff on Monday. Usually these kinds of divorces always happen 'on mutual consent' though we all know the boardroom battles are far from being pretty.
After the Sunday defeat, the Scot was actually on his way out with reports indicating that Nuttall is poised to take over as assistant coach of Egyptian powerhouse, Zamalek. He will work under former Aston Villa and fellow Scot Alex McLeish.
Prior to turning his back on K'Ogalo; Nuttall who if reports are to be believed took off on Monday and he was on duty on Tuesday in Cairo; had a strained relationship with his employers.
His exit leaves the club in a catch 22 situation ahead of weekend's league fixture against Nairobi City Stars.
That Gor Mahia is a far cry of the team that stream rolled into the Championship akin the Arsenal of the Invincible Era is not in doubt. Can they pick up, dust themselves and return to the business of winning? Only time will tell.
Last Tuesday Arsenal had the small matter of an FA Cup replay against Hull City, a team they met two years ago in the final. It had been whispered in many settings that this would be like a referendum match for Arsene Wenger. Lose it and he is off. The man sure knows how to stick around.
Twitter: @tonyngare