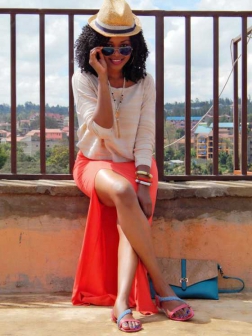 Pulse: Are you a budget-conscious shopper?
Rosemary Josphat: Yes I am. I am all about money management.
P: Which are your go-to places to shop?
RJ: Thrift shops such as Adams Arcade, the bus station and Toi Market. These places always have unique pieces.
P: What do you look out for when shopping?
RJ: I go for what pleases my eye in terms of colour and texture, but the fit is the ultimate determinant.
P: What is your styling philosophy?
RJ: Simplicity is the ultimate sophistication.
P: What inspires your look?
RJ: My sources of inspiration are multiple from movies, art or even the random girl on the street and social media. I have a continual need to feed my eye, so I remain visually curious.
P: What celebrity fashion sense inspires you enough to want to raid their closet?
RJ: Actress, model, and celebrity homemaker Blake Lively. Her style is simple yet modern.
P: How do you keep abreast of current fashion trends?
RJ: I read a lot of magazines and also constantly check out fashion trendsetters on Instagram
P: Heels or sneakers?
RJ: Sneakers, because they are versatile, always on trend and comfortable.
P: If money were no object what fashion piece would you have?
RJ: That would be a Rolex watch. There is a certain sense of prestige and sophistication that comes with that brand.
P: In your opinion, what fashion item should every woman own?
RJ: A little black dress. It is a life saver.
P: What should your ideal date be dressed in?
RJ: A laid back look, perhaps a simple cashmere sweater with jeans and brown suede oxfords.
P: What is the most expensive fashion piece in your closet?
RJ: A Chanel handbag that I was gifted
P: ...how about the cheapest?
RJ: A clutch bag that I bought for Sh300.
P: What trend would you never be caught dead rocking?
RJ: Harem Pants. They look weird with my kind of body and I personally find them tacky.
P: In your opinion what makes for a successful fashion blog?
RJ: The relationship you create with your readers.
P: What is unique about your blog?
RJ: Simple inexpensive workable styles that relate to the average girl.
Rosemary Josphat is a fashion blogger, running BeingRosemary.wordpress.com