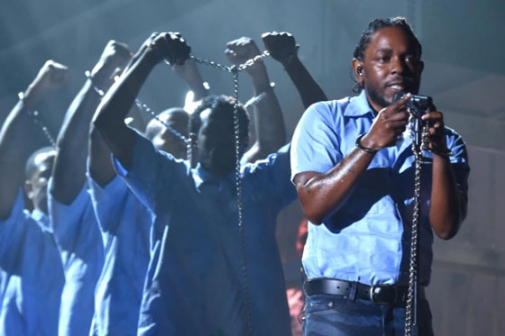 Barely a week to the Grammys, singer Beyonce brought the force of the Black Panthers 50 years into the future. Her Super Bowl half-time performance drew jubilant praise along with accusations of racism and anti-police sentiment.
During the Grammys, rapper Kendrick Lamar, who was the most-nominated artiste of the night with 11 nods and five wins, lit up the event with a politically-charged performance, conveying unapologetic black pride.
Kendrick staged a theatrical performance that evoked the chains of slavery and incarceration along with pride of heritage and a fiery condemnation of American injustice.
He doned prison blues, with his band caged behind bars, as he raised his shackled hands to the mic to rhyme The Blacker the Berry, along with new lyrics from his latest album To Pimp a Butterfly.
"I'm African-American. I'm African. I'm black as the moon. Heritage of a small village. Pardon my residence. ...You hate me, don't you? You hate my people. Your plan is to terminate my culture." he rhymed as fellow 'prisoners' dropped their chains and began a joyous dance in the dark, illuminated by neon paint.
He continued his machine gun delivery with Alright, a chin-up track built around the refrain: "We gon' be alright. I rap, I'm black, on track and rest assured. My rights, my wrongs are right till I'm right with God."
With Alright, drummers and dancers in African tribal dress joined to close out the performance around a bonfire that seemed to symbolise Lamar's burning pride and anger all at once. Needless to say, the 28-year-old rapper received a standing ovation, an even further improvement on his award game from last year when he was nominated seven times, but won none.
Another group worth notie is Malawi's Zomba Prison Project who, though they did not win in a category taken by Angélique Kidjo, they put their country on the global map through a Grammy nomination for the Best World Music Album category.
The group comprises 14 prisoners and two guards from Malawi's overcrowded and unsanitary, maximum-security Zomba prison.
The unusual album dubbed I Have No Everything Here, was recorded in a makeshift studio near a carpentry workshop and tells of lessons and loss, sin and forgiveness.