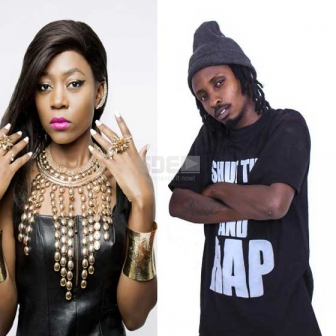 Raj
'Hawajui, Faith wangu si dem,' is how the cool Raj, who has been involved in a continental project, heats it up. His performance is the coolest, oozing confidence and a mastery of rap. He is also the one who seems to be having the most fun in the three sessions. 'Wanapata tumbo joto hebu wape Eno.'
As is his style, he throws in a few Kisii rhymes to bounce it up.
Kash
'Account imeshiba, ka General Defao,' is his standout line. Kash Grindhauz, who has in the past gone hard on disses directed at Rabbit, took this one too serious. He maintains the standards throughout though, not going off key or losing rhymes in a bar.
Smallz Lethal
The rapper goes hard as usual, like he is competing for the crown. 'Three short men, with tall ideas' is part of his lines, in reference to the three 'shortputs' that make up Washamba Wenza, his crew. Like Raj, he throws in a few Kisii rhymes to mix it up. He kicks, bobs his head and smiles, it looked like he was enjoying the moment.
Prince Aluvee
Aluvee was very tame on this one. A good rapper with jisty lines such as 'Despicable me, the only version of me,' the Prince is probably still in his diapers. With a vibrant hip-hop scene that has gotten more vocal in recent years, the rapper should have taken the stage with more bars and more content. He failed to light up the sessions.
Njeri the Rapper
'And we here for the mbesha, Niite mama wa kambo, round this, nitawatesa'. Njeri had some silly rhymes, and acted rigid. The controversial rapper missed a trick here, not taking advantage of the platform to go hard and convince other femcees of her lyrical prowess.
Sosuun
The Grandpa artiste is a comic, and it works really well for her. Sosuun, the Sura ya Kazi artiste, raps loudly but clear, her message so simple but full of gusto and bravado. She even gets time to throw in a few curse words.
She manages to laugh, scream and cough, like a possessed person, rapping, 'Before ni start, leta duster na kandoo spedy speedy, ju vitu mi hu spit ni sick ka wagoonjwa fifty wa TB'. She lights up the sessions.