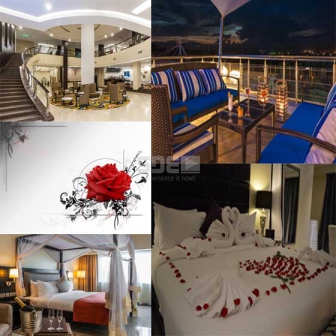 It was branded A Night of Diamonds at the Presidential Suite. When Villa Rosa Kempinski pulled the Sh2.4 million one night Presidential suite offer for anyone daring enough, what a vibe it created.
The offer included a night in the Presidential suite, a butler (man servant), private chef, dinner serenade, champagne treat and Jacuzzi moments at the rooftop luxury spot, 40 bouquets of flowers, massage treatments and luxury diamond and sapphire jewelry.
The jewelry set was worth Sh1 million shillings.
This time round, Pulse has exclusively learned that new Kisumu spot Acacia Premier Hotel has planned for a Valentine's Day to die for in a special package, a romantic treat that could feature a helicopter and a limo ride.
The unique offer will be an exclusive affair for a lucky couple that will also be expected to enjoy an exclusive lunch set at the picturesque Maboko Island in the Winam Gulf of Lake Victoria; with a yacht ride from the island to the hotel for a private dinner at the presidential suite.
The total package is valued at more than Sh1 million.
Those taking up the two-night, tailor made lakeside romance package will also enjoy the services of a private butler and chef, a private guitarist, complimentary couples massage and exciting gifts for the ladies. The hotel will at the same time offer other creative, exciting packages for those looking for a one-of-a-kind Valentine's Day experience. The packages will include gifts, entertainment, exclusive dinners and lavish accommodations at the hotel for the superior suites as well as luxurious boat rides for the bay suites.
The packages will include luxurious boat rides, gifts, entertainment, exclusive dinners and lavish accommodations at the hotel's bay and superior suites.
Guest and customers at the Hotel will all be treated to a live music performance and comedy on Valentine's Day as well.
"At Acacia, we make ordinary days extraordinary. We want to illustrate that sentiment through our special Valentine's Day celebrations for guests this year. With this unique offer, we will definitely raise the bar not only in the Western region, but in Kenya as a whole" said Duncan Mwangi, the general manager, Acacia Premier told Pulse when we reached out for comment.
The new spot was launched in December by diversified business services group, Simba Corporation, in a bid to raise the bar as far as the local hospitality industry is concerned.
The town has become a major entertainment hub with a number of entertainment spots breathing fresh life in the region.
Related Topics