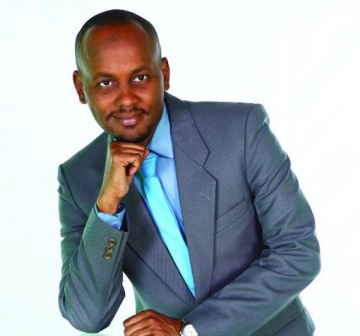 Bishop Wanjiru: Ahmed Darwesh was a brilliant news anchor; may peace and comfort rest upon the family during this difficult time.
Betty Kyallo Okari: Daru my heart is bleeding. I'm so broken. I will miss you so dearly. This is tough, really tough. Always in my heart... I will miss you. I will never forget you. I love you. Sleep with the angels.
Adelle Onyango: #Np Baadaye - @RabbitTheKing X @AmosandJosh. Rest In Peace Ahmed Darwesh #TeamAdelle #Kiss.
Nicholas Mudimba: Go well bro. You taught me a lot....Go well.
Ian Wafula: He interviewed me for my internship @KTNKenya and believed in me. Such humour, inspiration, courage and professionalism. RIP Ahmed Darwesh.
Zubeidah Kananu: I will live to celebrate you bro. You are a hero, you are a wonderful person.... Rest in Peace #AhmedDharwesh.
Naisula Lesuuda: So so sad to learn of the demise of Ahmed Dharwesh. Life is indeed a journey. May God grant his family grace during this difficult time. RIP.
Oyunga Pala: Ahmed Darwesh was a brilliant anchor and calm soul. We will truly miss him. Condolences to his family and colleagues @KTNKenya #ripdarwesh.
Alex Chamwada: So sad, so abrupt. Ahmed Darwesh has left us. #RIPDarwesh. My condolences to family, friends and the KTN team.
Joy Doreen Biira: I wasn't ready to believe that my dear friend and colleague Ahmed Darwesh has passed on. After going to hospital, it all got real.
Larry Madowo: I'm gutted and heartbroken about Ahmed Darwesh. Rest In Peace my friend. It was a privilege to know you. Shukran.
Dennis Onsarigo: Ahmed Darwesh just defined afresh the phrase "life is short"; go well brother... Inalillahi waina illaihi rajiun.
DJ Sadic: Rest in peace Ahmed Darwesh... So sad. I pray that God will grant his family peace during this difficult time.
Kaka Empire: Our heartfelt condolences go out to Ahmed Darwesh's family, friends and colleagues. RIP Ahmed Darwesh.
Xtiandela: KTN Swahili News Anchor Ahmed Dharwesh succumbs after a long battle with diabetes. #RIPAhmedDharwesh.
Kenzomatata: RIP my brother ...till we meet again....
Maina Kageni: We loved you but God loved you more. Rest In Peace Ahmed Darwesh.
John-Allan Namu: Rest in Peace Daru. Always so kind to everyone you met. We belong to God and to God we shall return. Rest well.
Hassan Juma: RIP my bro, colleague and friend #Ahmed Darwesh. It is painful but we are all on this same journey, the journey to meet our maker.
DJ Mo: Ahmed Dharwesh passes on after fighting with diabetes for a long time –RIP! One of the best Swahili News anchors.
Saddique Shaban: I have cried my heart out today. Nothing prepares you for death. Not even when you are a man of faith. Today, I feel robbed of a friend.
Lindah Oguttu: Ahmed Dharwesh... He used to say; "Wana kwetu wananiita Dharwesh" Go well my friend... May Allah grant your family strength.
Hon Amina Abdalla: Every human being is bound to taste death (Surah Al-Imran: V 185). RIP Ahmed Darwesh.
Anto Neosoul: R.I.P #AhmedDarwesh the only time that I met you at KTN, you treated me with so much respect, I was humbled by your humility. Rest baba.
Mwalimu King'ang'i: It's with great sorrow to learn that KTN Swahili TV Presenter Ahmed Darwesh has passed on. He was found dead on his sofa set in his house. He has been suffering from diabetes. Pole comrade. Good night/RIP till we meet again.
Mombasa Governor Hassan Ali Joho: Inna lilahi wainna ilaihi rajiun. It is with deep sadness that I have learnt of the sudden death of my dear friend and brother Ahmed Darwesh of KTN. I want to pass my heartfelt condolences to his family and pray that they find comfort in Allah... Inna lilahi wainna ilaihi rajiun.
Robert Alai: Ahmed Darwesh of KTN has died quietly on his sofa after suffering for some time from diabetes. He always presented news like a professional and never gave biased opinion. He just did his job. Great guy. Miss him and Njoroge Mwaura. RIPDarwesh
Vera Sidika: Gone too soon friend Ahmed Darwesh. RIP
Dr Willy M Mutunga: Al Marhum Ahmed Darwesh will be buried today (Tuesday) in Mombasa after Asr prayers at Kikowani cemetery.
Walter Mongare: He was a great journalist, always jovial and an eloquent speaker. Kenya has lost another great man with a great spirit. RIP Ahmed Darwesh.
Chef Ali: Woke up to very sad news! Kenya has lost a great heart Ahmed Darwesh. RIP.
Dennis Itumbi: Rest well. Go well. Very warm and engaging guy. Fare thee well bro.