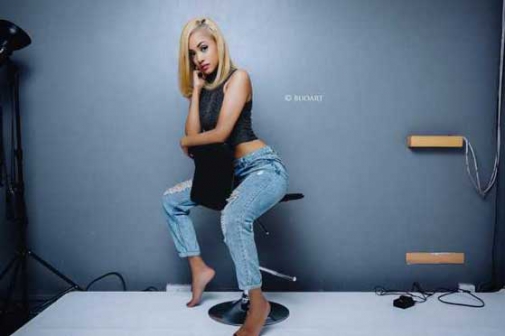 Pulse: Some people say you are a model, others say you are a socialite while others believe you are a singer. Just to kick it off...are you truly a model and if so, when did you start modelling?
Tanasha: I first got into modelling in 2012. I was signed to Dominique Modelling Agency.
P: Dominique is an international modelling agency, right? That is nothing local...
T: True, Dominique Modelling Agency is in Paris. I however had to terminate my contract last year when I left to complete my studies.
P: Interesting. Are you signed to any agency right now?
T: I am a freelance model but I also have an agreement with Surazuri, which happens to be one of the leading modeling agencies this side of the world.
P: The fact that you worked with an international modeling agency must men you have a lot of experience and some good deals coming with it. What is there to show for it...
T: I have modelled for Comme des Garcons. I have also attended Paris Fashion Week, which happens to be one of the biggest showcases in the international modelling annual calender. It is where top models get noticed. I have also modelled for Jean Paul Gaultier and Armani jeans among other big international names.
P: It seem like you have it really going. Being in the fashion and glam business, which are some of the big names you have rubbed shoulders with?
T: I have worked with Marc Deman, Pierre and Vladimir Li who are major photographers in Paris and Belgium. There's Chanel Iman, Jeremy Scott, Jean Paul Gaultier, Kanye West, Ne-yo, Karrueche Tran, Fally Ipupa, Serge Ibaka, Keri Hilson, and Samuel Eto. The list is endless. It is a lifestyle, I mean.
P: There is the notion that white models are favoured more when it comes to casting compared to black girls. Is it true?
T: I personally don't believe so. It's all about the confidence.
P: Have you ever faced rejection due to the colour of your skin?
T: No.
P: And how about rejecting a job due to outrageous demands?
T: Yes, several. I've been asked to lose weight yet I consider myself already slim. For some agencies the thinner you are, the more beautiful you are considered. I'm against that.
P: Have you undergone any cosmetic surgeries to enhance your physical features to fit in the cut throat modelling world?
T: No, I have never! I once considered getting a boob job but I immediately talked some sense into myself. 'Who am I to change God's work?' Even then, I have nothing against those who have done plastic surgery because some people don't feel comfortable in their own skin. At the end of the day it's about what makes you happy as a person.
P: Modelling might not be big business here but it sounds quite the deal in Europe where you had firsthand experience...
T: In Europe, modelling is serious business. It's a bit different here because the fashion and modelling industry is yet to grow. Locally it's not that vibrant. But I'm here to try and change that. Modelling is not just having a pretty face and a nice body. There is much more to it.
P: Most people think modelling is like an 8am to 5pm job. How does it work and how often do you have jobs; say in a week?
T: Well I used to have jobs almost every day back in Europe; let's say five times per week. Here in Kenya, I get around three jobs per week. I am working on a project that will change that.
P: We hear that people here have misconceptions about you. Which are some of those you have heard of?
T: That I'm snobbish, slutty, dumb, always on a diet and so on. Quite the contrary, I'm the messiest heaviest eater ever (laughing).
P: You came back to Kenya two months ago or rather your debut to showbiz spotlight is new. Where did you grow up?
T: I grew up in Kenya until the age of 12 after which I moved to Belgium. I now reside in Nairobi but do travel to various destinations across the globe on business and leisure ventures.
P: Are you dating or married?
T: I don't know you tell me? (Laughing).
P: You are said to be having a thing with young millionaire Steve Mbogo and at the same time Nick Mutuma whom you have been seen with on a number of occasions, says you are two dating...
T: When I went for Steve Mbogo's much publicised birthday, that was purely on business terms. I was under contract. I did not go home with him as I had booked an hotel room at Dussit D2 where I slept.
P: Does that mean you are dating Nick who has told Pulse that you are his new flame?
T: You can conclude for yourself.
P: It is said that you are still in support of Nick's former girlfriend Bridget Shighadi's fashion stable. How does that work between the three of you?
T: I am in full support of Yedu. Besides, I fancy competition as long as it is a healthy one.
P: Lastly, is it true that you are working on some songs?
T: Yes, I am working on my vocals so watch this space.
-Additional information by Felix Kavii