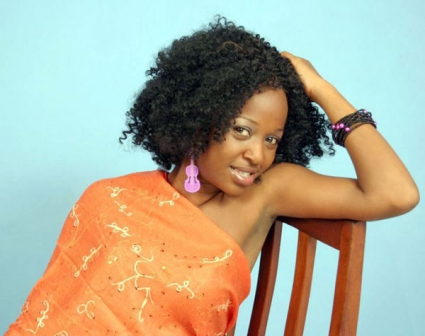 After her fiancé, a pilot, was busted with videos of him romping with her best friend, upcoming singer and humanitarian Sarah Nanaa speaks to PULSE about the heartbreak that ended a six-year love affair and what she plans next
"I am very uncomfortable talking about this," Sarah stammers. "It has been a hard week for me and I just want the matter to die. I am not the kind of person who likes taking about personal issues," she goes on.
It is only days after the unfortunate happened. The Kikaragosi singer, whose debut single is ironically a confession about a lover whom friends have been urging her to dump because of his errant ways, was shocked after a video of her fiancé and her best friend emerged.
The wedding has subsequently been called off. The video was recorded by the fiancé during his bachelor party where he had invited Nanaa's best friend, also his side chic.
On this day, the friend was out with her girls among them Nanaa's sister and close business partner singer QTY. The girl in the picture looked unusually excited and was on the phone throughout scrolling through her videos.
And it was when she went to the bathroom that the nosey girls scrolled through her phone and found the sex video, to their astonishment.
"She was speechless when she came out of the bathroom and found the entire room quiet. We were all in disbelief, gazing at her and wondering how she could do such a thing to her best friend. She immediately broke into tears as she no doubt knew that the secret was out," as source who attended the said house party told Pulse.
According to source, after the video was recorded, the girl forwarded it to her phone. Nanaa's fiancé did not know she did. She also did some audio recordings one of which has Nanaa's fiancé confessing how he will not part ways with her even after the wedding. Pulse has the details.
It was after this that Nanaa's sister broke the news to her and the entire family. She was devastated beyond words. The two have been dating for over six years and sources have it that the girl in the love triangle has been in the picture for quite some while.
"It is rather obvious that this has affected my life but I have to move on. About the wedding, that is past tense. Nothing is going to happen. Nature will take its course," Nanaa told Pulse.
"The whole thing has affected my family but I thank God they have understood. Everything happens for a reason," she remarked.
Asked whether she has tried to reach out to the ex about the story, Nanaa said she had simply moved on. "I guess he will have to sort himself now as much as I have forgiven them. Besides, choices have consequences."
The wedding plans were at an advanced stage and as Pulse would find out, everything has now been put on hold. "The good thing is that they had never lived together as Nanaa's parents would not allow it. "She only used to visit him during weekends," a friend said.