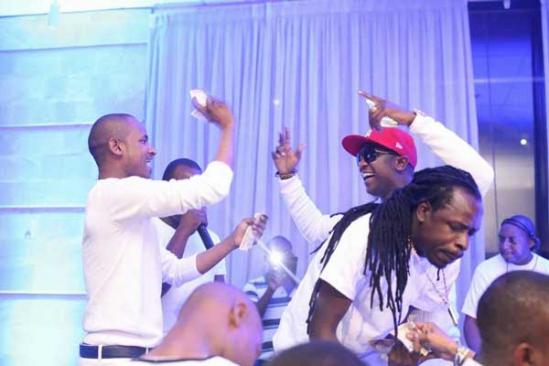 Jared Otieno: He stunned social media when photos of his Sh15million pre-wedding party, complete with off-road gas guzzlers hired for his friends. His wife's family members landed in choppers. Before the dust had settled, he splashedSh30 million on a Porsche Cayenne. Described as witty and aggressive, he is known to throw lavish bashes where single malts and cognac ?ow freely. Well, he is a young successful business man who works hard and plays hard.
Steve Mbogo: He is the leader of the new Party Of National Alliance (Pona). The ?ashy teetotaler is easy to spot with his fancy stylish wear, complimented by his pricey bling. He is known to splash tens of thousands on his loyal wingmen who have been often spotted addressing him down on one knee fondly referring to him as 'Mr President'. Steve's love for high end tour destinations globally is his guilty pleasure which costs him millions effortlessly. He has now declared his interest to run for presidency come 2017.
Sadat Muhindi: This year alone, Sadat Muhindi, the CEO of Maliza Umaskini has spent over Sh100,000 on a single upcoming artiste, Papa Dennis both in video projects and international travels, that being just one of his little hobbies. Sadat is ?lthy wealthy and has investments in South Africa and Europe. He stinks cash and wherever he goes, everyone keeps their wallets away, for he brings life to the party.
Jemo Keroche: He is the son to the CEO of Keroche BreweriesTabitha Karanja. Jemo is described as outgoing and his love for fast bikes is clear. He is philanthropic and occasionally splashes hundreds of thousands entertaining friends in his entourage.
Jaguar: He is the most philanthropic artiste in the showbiz industry and he known for his love for charity especially in youth and women related projects. He is a personal friend to the president and well...even mighty politicians seek him for ?nancial assistance and advice. Jaguar has made it in showbiz, he is about to make it in politics.
Dan Sonko Rogena: Sonko Rogena as he is referred to by his close associates controls a mega transport empire that runs across East and Central Africa. Easily recognised by his trademark ?ashy gold chains and rings and golden pool cue stick, Rogena is a darling to his royal followers and funs and he is the darling of party goers as he splashes tens of thousands wherever he goes to party. He is known to ferry celebrities and close associates under his 'Usiku Sacco' out?t in private choppers and guarded convoys in all expenses paid business trips.
Don Matino Kiarie aka KRG: He traded his football career in the Norwegian league before shifting to business and deejaying in Europe.He runs a successful entertainment unit comprising of European deejays and a hand in real estate. Described as shy but outgoing, Don Matino is never shy of sorting humongous bills for a big party.
Ahmed Papa: He is a charming guy who likes to treat his guests to a lavish time. Besides investing, Papa loves to travel and recently posted pictures of his trip to Hollywood's hall of fame.
Gor Ssemalang'o: The philanthropic businessman is the former youth fund boss now running an oil
empire that has billionaire Nigerian investors interested. Known to ?y choppers to avoid traf?c jams, Gor remains true to charity and supporting youth activities wherever an opportunity shows up.
Martin Kiarie aka Edi?ce: This guy eats life with a big spoon. He is in real estate business and currently in Norway where he runs an entertainment out? t and also attends school. He is a real baller who commands attention wherever he goes thanks to his big spending.