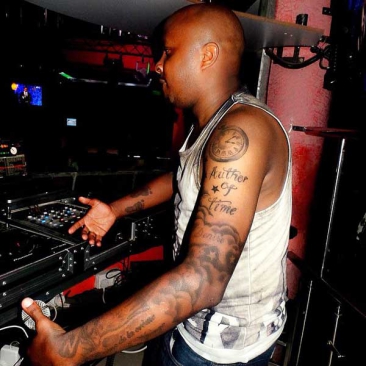 It's Tuesday evening and we have pitched camp at Club 1824 along Lang'ata Road. This is where DJ Crème de la Crème, the besieged DJ, who is the talk of town thanks to a leaked sex tape, plays every Tuesday.
His fans and patrons are anxious. In fact, the club is more packed than usual as word goes round that he will break his silence on the Sunday night leak here. Speculation still has it that he might not show up but having assured Pulse that he would meet us there on this night, we are optimistic this will end well.
All day long, we have been chasing. The day the five-minute clip was released, DJ Crème de la Crème's Facebook and Twitter accounts were hacked. His phone was tapped just as was the case with Halima Nassir, the young University of Nairobi student who has been having an affair with the celebrated DJ for five years now. Halima deleted all her social media accounts after the reported hack. Cyber bullies quickly created numerous parody accounts. She has a new phone number and has gone under.
At around 8pm, DJ Crème de la Crème appears to a warm reception. At his side is his wife Dee, with whom he has two children. Uncharacteristic of him, he is also joined by a group of DJs among them Hypnotic, Exclusive and Abstract among others. They all get on the decks and the club goes wild. What a comeback!
"The whole (sex tape leak) thing was an accident. However, I take the blame. I made a mistake. It's from the year 2011. Right now I am closing in on the cyber fraudsters behind it," Crème tells Pulse as we sit down over a drink, trying to get to the bottom of the matter that has everyone alarmed.
"I thank my wife for standing behind me. This is a big lesson for me and I do urge my fellow entertainers to be careful not to be caught in stuff like this," he states.
A waiter takes our order as fans start to mall around the table showing solidarity and congratulating Crème de la Crème for standing strong. The table is covered in assorted whiskey brands. As we get to the midnight hour, the party gets even wilder.
"Some con artistes called me up and informed me that they had incriminating information about me. They said they wanted to negotiate after which they said they wanted me to give them Sh2 million. I was like: 'Sh2 million for what?' That is when they threatened to release the tape," Crème de la Crème told Pulse.
That was a little while back.
The leaked sex tape was on Halima's laptop, which disappeared mysteriously alongside other electronic gadgets in her possession. However, she could not discuss the matter as she was still devastated at the time of going to press.
One version of the story has it that it was her friend who stole the laptop before the tape was leaked. Another version has it that cyber criminals hacked into the 'couple's' private e-mail on the laptop. The previous story that one of the two sent the video to a friend before it leaked has been disputed. "The news hit my family hard, especially my wife. But, she has been the most supportive ever. Prayer has kept us together and we shall weather this storm. For now, as a family, we ask for privacy but as Crème, I will still keep doing what I love doing and that is making people create memories on the dance floor," Deejay Crème de la Crème told Pulse. And in a special media release mailed to Pulse on Wednesday, Crème begged for forgiveness and mercy from all.
"My guilt is beyond doubt. My shame is enormous. I admit my wrong and take full responsibility for it. A lot has been said…All is noted, appreciated and taken to heart. I shall reflect on it all," he said.
"To my family, I truly am sorry. You are my rock, the foundation upon which I find my strength. I sincerely apologise for bringing shame to our trust, your names and legacy. I humbly seek your forgiveness, your grace and mercy. Please forgive me," the letter went on.
"To Halima, I apologise for the trouble this has caused you, your daughter and your family. I am sorry for the exposure and ridicule this situation has caused. And to my friends, colleagues, associates and fans, thanks for the reprimand that came hard and heavy from all."
Rumour has it that a gang that has been cashing in on celebs through threats of exposure. A while back, comedian Churchill was set up by some fraudsters believed to be of Nigerian origin. Churchill was then approached by two ladies whose names were given as Peninah and Paula, who introduced themselves as financial advisors. The two had been running a con syndicate from a house in Eastlands, where, according to reports, they would lure rich businessmen and celebs into their bedrooms and later threaten to expose them to the media if they refused to pay. They were working with a gang of men that would storm the house claiming to be the women's husbands. This way, they would demand for some cash. Churchill's matter received a Sh3 million demand!
Related Topics