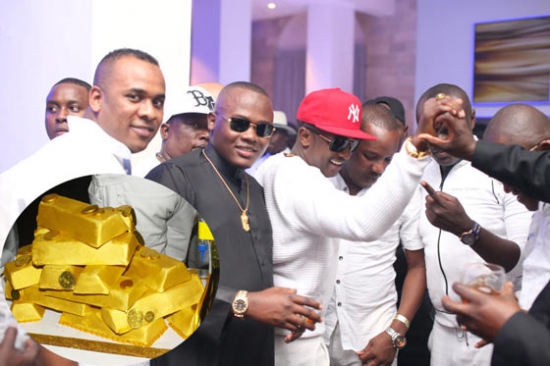 There was nothing ordinary about Steve Mbogo's white-themed birthday party. It wasn't just another 29th birthday celebration. It was a showdown of sorts. Besides, what do you expect from a birthday celebration thrown for a baller ranked as one of the richest men under 30 on the Forbes list?
A birthday cake gamble was settled on a €15,000 bet, the equivalent of Sh1.6 million. University of Nairobi students' don Babu Owino and flashy businessman Jared Otieno burned cash to celebrate the flamboyant political activist's record-breaking birthday. And before the night was over, a verdict had been passed. All the cash that had been gambled would go to the Kenyatta National Hospital's Children Cancer Ward.
"We don't just party. Our joy is serving the society. All we have raised here is the starting point for a new project we want to carry out with Kenyatta National Hospital," Owino said.
Bills and all other expenses at the white party affair were being paid in cash, mostly in Euros, at the exclusive Ducit D2 Lounge affair.
It was the preserve of Nairobi's 'big boys', emerging tycoons and politicians who shared the young Mbogo's big day in style as they shared the cake symbolically baked with gold bars. The cheapest drink offered was champagne.
When the 20 champagne bottles were lifted for a toast, crisp Sh1,000 notes wafted in the air like dust, littering the floor and no one was interested in collecting it. Actually, it was the philanthropic Babu Owino who had pulled out Sh100,000 to steal the show as he blew the notes onto the crowd. No one was interested! I guess the cleaners threw a party for themselves later that morning.
Top celebrities among then Nonini, who was launching his new album at the same occasion, Frasha, MC Jessy and DJ Ken - as well as a host of talk-of-the-town girls - coloured the ceremony. Cars we parked according to make and class. Huddah, the Boss Lady, arrived in her new Range Rover, but Range Rovers were not even the star attraction. There were state-of-the-art Ferraris and Lamborghinis.
On Sunday, the party moved to Karen. Goats were slaughtered and a feast was thrown. Minutes after midnight, Steve Mbogo got a call from Senator Mike Sonko. He was on his way with a gift...another toy for the boy.
This is just but one of the lavish parties that have been reshaping the showbiz and political landscape of Nairobi.
There is a rising class of young rich who are involved in multi-million-shilling business projects, some of them tenders by international companies that operate across the continent. They are connected to the political class and even fund some of the leading political parties and politicians. And these are faces you expect to see on your ballot boxes come 2017.
"I am serious about running for presidency come 2017. My New Alliance (Pona) polticial party now has a large following. I am working with university leaders and youths at large to change their mindset on politics and social issues. We are set for a revolution, to change this country once and for all," Mbogo told Pulse.
"I am part of Pona and I am the party deputy leader. We are already sensitising young people on the importance of political participation for good political change. The future of this country is in the hands of the youth and we should be visionary. What you are seeing now is just the start of a new movement," commented SONU Chairman Babu Owino.
It was just last month when Babu was planning to throw a birthday party budgeted at Sh14 million. Whiskey was to cost Sh845,900, vodka Sh713,050 with another Sh367,450 being spent on other alcoholic drinks. Non-alcoholic drinks, bottled mineral water, ice cubes, food and snacks were given a Sh3.6million provision, while security - consisting of 124 bouncers - was valued at Sh558,000.
Guests were to get gifts valued at Sh150,000 and "tools for enjoyment" an item that was taken to be a euphemism for female escorts had been awarded Sh300,000. Celebrated MC Jalang'o and two DJs had been awarded Sh600,000. Contracted musicians were to get Sh1 million and two pastors from Uganda and a Sheikh from Rwanda were to get an equal amount.
The other four  people believed to be part of this new showbiz and political alliance include singer Jaguar who is said to be eyeing a political seat come 2017 as well as CMB Prezzo who missed the party as he was away on holiday with his new girlfriend.
Rapper and CEO of Fast Cash Music and Clothing Line Karuga aka KRG the Don, who owns a fleet of luxury rides is in the clique as well, along with Martin Kiarie aka Edifice, a Kenyan music promoter based in Norway who is also a real estate businessman. KRG recently hosted a big bash at Sankara hotel, while Edifice is planning a number of projects expected to kick off this month.
"Prezzo is planning big things and his silence should not be mistaken for an exit from the entertainment scene," Shaffie, one of Prezzo's closest friends told Pulse of the self-styled rapper who has announced that he is interested in politics.
Prezzo is surrounded by wealthy men and is said to be working with a number of key politicians as he warms up for 2017.
Flashy Jerald Otieno, who recently made showbiz headlines following his expensive wedding affair whose dowry ceremony saw five choppers landing in Ndhiwa, is also among the young ballers with big cash and an eye on politics.
"They call me a businessman, an entrepreneur, a baller...and whatever else they like. But I am simply Jerald," Jerald, told Pulse last Saturday without divulging information on how he has made his big money.
"I'm in the aviation business where I own a few planes. And well, I'm single, but I have a two-year-old son who lives with his mother in Italy," Mbogo remarked adding that he owns some property in Italy, which is like his second home. One of his closest friends is American entrepreneur, motivation speaker and author Daymond John.