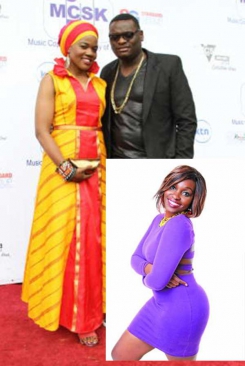 "I would never do a collabo with Amileena," Loweka singer Nessa Mmbone was heard saying during a house party. This was in response to why she has not thought of working on a collabo with her friend Amileena.
This was not the first time she admitted her disinterest in doing a collabo with Amileena, as during a recording session, she shared the same sentiments with her producer, or so we hear.
The story goes like this: In the making of the song Loweka, Nessa needed the song to be translated to Swahili, and what better person to seek assistance from than her friend and former Tusker Project Fame finalist, Amileena Mwenesi.
Being friends, Nessa overlooked the fact that the help was not on friendly terms.
Soon after the song was released, Amileena approached the Music Copyright Society of Kenya (MCSK) claiming rights to the song, even demanding to be paid royalties, on the premise that she had a hand in the translation.
However, Nessa claims that the only contribution she made to the song was that of translating a few of the words among them drowning, which is now translated to 'Loweka' as she did not want to use the alternative Swahili word 'zama'. This story ends with Amileena getting co-writer royalties for translating a few words for the song.
Later, it emerged that this circus, for which Amileena is the ringmaster, has nothing to do with the royalties or even the translation of the song to begin with.
Apparently, the story has a twist that could be a love triangle involving the two musicians and one Calvo Mistari. Speculation around Amileena and rapper Calvo Mistari's relationship has centred on issues of religion, with many reasoning that they were keeping their relationship under wraps because their families did not approve.
That notion was quickly refuted after rumours emerged that the two moved in together shortly after the recording of their song, Wewe Ndiye. Neither of the two have admitted that they live under one roof or clarified the claims.
On the other hand, Nessa and Calvo have had a thing before and little did Amileena know that the two actually dated. According to sources, when Amileena finally found out, she was not happy with Nessa.
A source close to Amileena confirmed that she is not on talking terms with any of Calvo's ex-girlfriends. "It is only a matter of time before Nessa is cut off," said the producer who sought anonymity.
In fact, the producer discloses that when he heard of the MCSK royalties feud between the two, the first thing he sought to find was the nature of Nessa's relationship with Calvo.
"I was right when I found out that Nessa was Calvo's ex," he explains.
"He just has a big heart. I think he is too nice," said Amileena, during a past interview with the Pulse.
"Maybe it is for this reason he feels the need to protect her from his past lovers," our source said.
Nessa nevertheless denies ever being in a relationship with Calvo. She defends herself saying: "I thought it was common knowledge.
Everyone knows that we (herself and Calvo) are good friends and work well together." And when this writer tried to get Amileena's side of the story on phone, she blocked her!