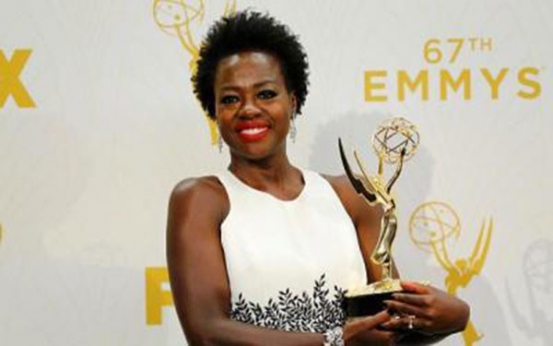 This year's Emmy Awards will go down in history for awarding actress Viola Davis the Outstanding Lead Actress Award in a Drama. This made the How to Get away With Murder star the first black woman to snag the award. She gave a stirring speech accepting that received a standing ovation.
"The only thing that separates women of colour from everyone else is opportunity," Davis said. The actress however, seems to always get backlash every time she takes home an award. This time it came from a fellow actress, Nancy Lee Grahn.
"I wish I loved #ViolaDavis speech, but I thought she should have let @shondarhimes write it. #Emmys." The 57-year-old took to Twitter suggesting that Viola Davis has never been discriminated against in Hollywood. "I think she's the bee's knees but she's elite of TV performers. Brilliant as she is. She has never been discriminated against," Grahn wrote.
After serious backlash on social media the soap actress issued an apology: "I apologise for my earlier tweets and now realize I need to check my own privilege.
My intention was not to take this historic and important moment from Viola Davis or other women of colour but I realise that my intention doesn't matter here because that is what I ended up doing."
Viola Davis has been the subject of controversy with a TV critic calling her "less classically beautiful than [Kerry] Washington," in a New York Times article, to People Magazine comparing her to the role she played in The Help.
The Emmys also saw John Hamm grab the Outstanding Lead Actor in a Drama Series for his character in Mad Men. Hamm had been nominated a record-breaking 16 times. "There's been a terrible mistake, clearly," he joked. The Mad Men star crawled onto the stage to accept the award, showing that the award was long overdue.
It was a big night for HBO after Game of Thrones won a record 12 Emmys, the most ever by a series in a single year. The network also had big wins with Veep starring Julia Louis-Dreyfus as a female vice president.
Tracy Morgan also made a big return to the stage after a freak accident that left him in a coma for eight days. "I'm here standing on my own two feet," Morgan said, following a standing ovation. He said that his friends (the stars in the room) helped him get back in front of the camera.
-Eleanor Nandwa