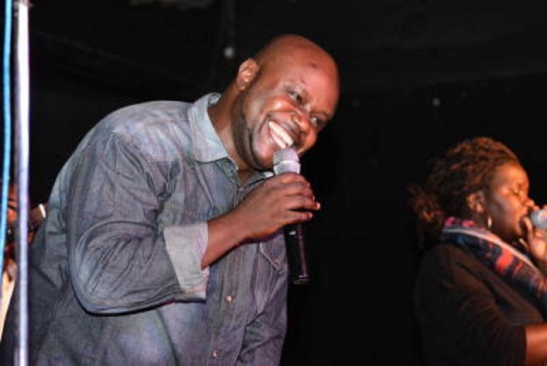 Pulse: Tell us about yourself...
Kidum: I am Jean Pierre Nimbona, 41 years old, a family man, musician, a refugee from Burundi and an inspiration to the youth.
P: When did you realise you could sing?
K: When I was 10 years old, while in Burundi, I could play drums. At 16, I could compose songs and play the guitar. I used to sing as a hobby and out of passion. I used to sing to soothe the heart
P: You are hugely adored and loved in Kenya; tell us about your journey to Kenya?
K: In 1995, tribal clashes erupted in my country Burundi. There were only two options, either to join rebel forces or run away. I opted for the latter because I didn't want to involve myself in mass murder, rape and war. I passed through Tanzania and entered Kenya through Namanga.
P: You have been hugely credited with contributing toward stability and peace in Burundi...
K: When we came to Kenya in 1995 we thought the war would end fast. We bought small radios and used to gather around as we listened to BBC news expecting to hear the war is over. After several years in Kenya, I accepted the fact that Kenya was now my home. I used to sing in Kirundi encouraging people to live in peace, telling them how Kenya has 42 tribes yet they live in peace. After the war ended, I was invited by the President of the Republic to sing about peace and love. When I got to Bujumbura, I was given a red carpet reception; people saw me as a prophet who liberated the country through music.
P: What inspires you when writing your music?
K: I observe the everyday happenings in our society. I am inspired by nature and also from experience. I try to encourage people that what we go through is not an embarrassment. Whatever happens to you, share the experience and enlighten others. My music is reality.
K: You have been in the industry for over 20 years now while others have come and fallen off; what is your secret?
K: Passion keeps me going. In everything you do passion and hard work will make you succeed.
P: What makes you different from others?
K: The problem with most artistes is that they want to sing what people want to listen to. Some ape Nigerians and Americans. I sing from the heart. I sang Mapenzi in 2007; people still sway to the tune. I sang Haturudi Nyuma in 2009, it's still a bang. Kichuna, from 2004, is still there. I appeal to emotions.
P: What would you be doing if you were not a musician?
K: People say I would have been a musician or a comedian but what I like most is farming. I will go into farming. Africa should embrace farming for food security, employment opportunities, stability and peace.
P: What is your advice to upcoming musicians?
K: Don't get into music for fame or money but only if you have passion and talent. Embrace what interests you, not because you want to be like Kidum
P: You sing both gospel and contemporary music, why is it so?
K: I use music as a tool to inform, educate and entertain. I sing about all aspects of life. I sing about politics, love, divorce, God and nature. If I feel like singing gospel, it's all about teaching people about positive living and the power of the Most High.
P: Do you write your own songs?
K: Yes. I started composing while I was 16 years old.
P: Does music pay?
K: Yes. When I started it was for passion but as we speak, it's my source of livelihood. When we started, it was for our music to play but now we have musicians getting royalties: Corporates and the government have also made it easier for musicians.
P: What greatest challenge do you experience as a musician?
K: Piracy. Piracy. Piracy. It's still a thorn in the flesh.
P: Which Kenyan musicians do you admire?
K: Sauti Sol. They have stuck to Swahili and African roots. They use our language to express love, sorrow and their messages. We should embrace our culture and market it.
P: Of all your songs, which one is your favourite?
K: All my songs are good but personally, I like Kimbia most. When I wrote the lyrics, I was appealing to our parents who have the tendency of forcing their children to read so that they become doctors and pilots, forgetting that talent sells. Music Sells. Football sells. Athletics sells. We should encourage out children to fully explore their talents.