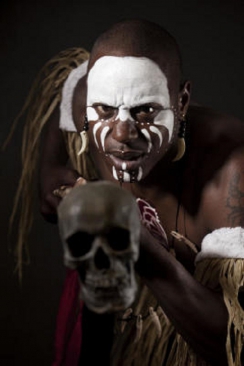 The allure of fame and fortune is pushing musicians to great lengths, which they believe will keep them in the limelight, helping them stay relevant.
A popular musician from Nairobi's River Road, who prefers to be known as Ken, told Pulse that for as little Sh20,000, he has sought help from a locally- based Tanzanian witchdoctor to help him become famous and make money. He is a regular customer to date.
The renowned musician who pretty much believes in black magic reveals that a large section of the Kenyan entertainment industry is no exception, with a fair amount of evidence pointing to certain individuals who are known to indulge in some sort of voodoo ritual before they get on stage.
This normally ranges from carrying assorted artifacts and traditional paraphernalia to sipping specific drinks, or donning specific outfits, to making loud noises and strange signs. Others include signs such as holding hands, staring blankly in the air, locking themselves in a room, miming rhymes to themselves, blowing the microphone several times and meditation.
According to Ken, the instructions given to each individual vary depending on the nature of the problem and the amount of money one is willing to part with.
"There are cases where musicians are warned by the spirits, popularly known as mababu, not to tell anyone about the symbol or the instructions given to them lest they stop working," he adds.
Local Congolese secular musician, now turned gospel, Kigusile Mulenda, who had strong connections with the occult world for more than a decade, echoes Ken's sentiments.
The musician who worked with various top Tanzanian bands like Nouvelle Alliance and Pegam Musica, including locally-based Congolese secular bands Senza Musica, Mangelepa, Kibush Sound and Acrimogene Stars for a period of six years before he formed his own band, Sikse Classique, says the practice of voodoo among secular musicians is real and of great "benefit" for those who believe in it.
STRANGE RITUALS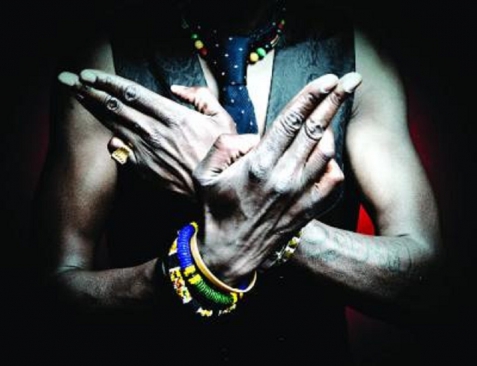 According to Kigusile who consulted witchdoctors from Kisii, Tanzania and the DRC during his time, and parted with close to Sh100,000, everything seemed to work in his favour at the time.
"My debut nine-track audio and video album, Ajira, produced by Kasongo wa Kanema of Future Kids Studio Hurlingham, DJ Igwe and mastered by Ogopa Deejays, was well received among local fans and beyond," he says.
Kigusile, who was given strict instructions to carry a human carving given to him by the witchdoctor, which he often placed at a particular spot on the stage a few hours before the concert, says he donned a specific outfit on such occasions.
The witchdoctor would perform strange rituals on the outfit before handing it over to the musician.
"To my surprise everything worked perfectly as I continuously remained famous and rich," he reveals.
Paradoxically, many who saw him at the time admired his career success and thought he had it all, having climbed up the entertainment career ladder so quickly while still young, but this was far from the truth. He suffered silently.
He claimed that Congolese musicians whose music endured for decades used black magic to gain fame and power.
Another popular artiste from Nyanza County who prefers to be known as Onyi Jalamo admits that the practice of black magic is rampant among local musicians – both mainstream and those from Nairobi's River Road.
According to the musician who has since established a name for himself locally and abroad, besides owning several properties within a very short time,  he was introduced to black magic by a close friend who also happens to be a musician.
"Upon our arrival, we came face to face with several clients from different backgrounds waiting to be attended to. They brought with them all sorts of rewards, ranging from bundles of Sh1,000 denomination notes. Other offerings at the shrine included car keys and live animals, particularly goats," he says.
When he asked, the witchdoctor explained to him that the requirements were in accordance with demands given by the spirits, who in turn would solve the clients' problems.
Within no time Onyi says the clients were going into the witchdoctor's private room and getting served before departing one after the other. There was also a section of clients who brought along their 'rewards' as a sign of appreciating the work that the spirits (mababu) had done for them earlier.
Eventually, it was his time to meet the spirits. But there were procedures to be followed. Apart from being asked to part with the sum of Sh30,000 as  a down payment, without wasting time, the witchdoctor poured blood in a container. He said that it was animal blood as he transferred it into seven small pots that had straws in them. He explained that this was food for the spirits and that they needed this before he could talk to them. More shockingly, Onyi says he witnessed that within no time the pots were empty but did not see anyone tampering with the containers. The spirits had drained the blood  and were ready to meet him.
"At first I was nervous and wanted change my mind but the witchdoctor insisted it was too late. He ushered me into his private work room, which was filled with a strong smell of burning incense.
The purpose of this was to entreat the spirits, he explained.
What followed next was the beating of drums and within a split second the lights went out. He was in total darkness – about three times darker than the usual power blackout. He says although he had the choice of seeing the spirits face to face upon their arrival, he opted to wait for them in darkness, having been earlier informed that these spirits would appear in horrific skeleton form.
Soon, the spirits came down one by one – they were four in number. He could tell this by the disturbing bangs heard within the room as they entered in intervals. A very deep impact, as if heavy objects were landing in the room, was felt. The whole place shook.
SPIRITS FROM THE OCEAN
"For a moment, my heart almost stopped. My blood froze. I yearned to take off but it was in vain. I was already warned that time for retreating was over. I felt trapped. Shortly after, it was clear we were in a different world – beneath the world we live in. Before I could utter a word, they had begun chatting in Swahili. Their voices varied from polite elderly tones to harsh, younger ones. They greeted me they told me not to be afraid – assuring me that they would not harm me. Then they asked what kind of help I wanted from them," he says of the experience, adding that the spirits informed him that they were below the Indian Ocean where they are often summoned by their mediator - the witchdoctor - to help solve various problems that face humans.
They also admitted to be operating in virtually all corners of the earth, though unseen by human beings, while there were those who took the form of human beings. They explained that failure to meet their conditions once they completed their assignments would force them to decide on the kind of punishment to mete out on the defaulter. The repercussions would range from abject poverty, impotence, setbacks, rejection, nightmares and hallucinations, joblessness, bareness, unexplained sicknesses, madness, strange behaviour and even death.
On the scheduled day of his grand concert, Onyi says he was asked to dress in a white long robe, with a chain given to him by the witchdoctor across his neck. All he needed to do was utter some words before getting on stage. Since then, all has been well.
"I have various shows coming my way both locally and abroad among other good things in life," he professes.
Another musician, who prefers to be known as Kamau wa Muthoni from Central Province, admits his connection to the occult world for more than a decade has benefited him a lot.
"My first encounter with a witchdoctor was amazing. Apart from parting with the sum of close to Sh50,000, I was required to buy a live chicken, which I presented to him as instructed. What he did with it stunned me. Without wasting time he fished a syringe out of his funny belongings, inserted a needle in it and used it to draw blood from the vein of my hand until it was full," he recalls.
He then transferred the whole amount of blood into the chicken and advised the Kamau to throw the chicken far away from his compound, assuring him that his poverty-related problems would go with it and that whosoever would eat that chicken would inherit his past life.