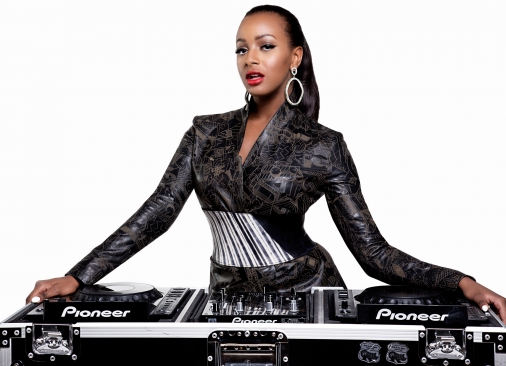 Pulse: Why did you change your name from DJ Cupcake to DJ Cuppy?
DJ Cuppy: I realised that I had to grow more of a brand as an entrepreneur. DJ Cuppy represents a new generation of women who want to venture into an industry regardless of the fact that it could be a male-dominated field. I have become more of a fighter now, more than I used to be.
P: What should we expect from DJ Cuppy?
DC: I am currently on an African tour of eight countries. The tour is dubbed Cuppy Takes Africa. I have toured Nigeria, Senegal, Ghana and now Kenya, since the beginning of this month. I am leaving for Tanzania this week, and will then visit Rwanda, Uganda and finally South Africa. My mission is to leave a legacy through impacting lives. We had a show in Kibera where I got to talk to and help out young girls through the Dangote Foundation where I am a spokesperson.
P: You are also the Tourism Ambassador for Nigeria in Federal Capital Territory, Abuja...
DC: I released my debut single I Love My Country, a remake of a hit song done in the 80s, composed by Wole Soyinka and sang by Tunji Oyelana. My version of the song was also received positively.
P: Where did it all start?
DC: I grew up in Lagos. Lagos is a creative and cultural hub therefore this is where I learnt how to express myself. I left for London when I was 12 years old, stayed there for eight years before I went to New York to intern at Jay Z's entertainment company, Roc Nation.
P: How did you land the opportunity?
DC: I was performing at a gig attended by Jay Z's cousin Brian 'Bee-High' Biggs, an executive at Roc Nation. He asked me whether I would be interested to intern at Roc Nation headquarters in New York. I was hesitant at first because New York was a new city for me but I finally agreed to it when I made the decision to also pursue my Master's in Musicology at New York University.
P: What have you been up to at Roc Nation?
DC: My role is to help in setting up an African team. Roc Nation is keen on building collaborations between African and American artistes. We are currently on that plan and as we speak, Ice Prince is working on something with Jay Z.
P: Do you feel that it is all easy for you, being the daughter of an oil tycoon, one of the richest men in Nigeria?
DC: A lot of people ask if I get whatever I want because my father, Femi Otedola, is a billionaire. My father did not hand everything to me; he let me work hard for what I want. Although I am his daughter, we are separate people. I have my own passion and dreams and work hard. Yes, he has supported my dreams. He is very ambitious and is also my greatest critic. He wants to make sure that I make the right decisions in life.
P: What do you find fulfilling about being a DJ?
DC. I think for me it is the power of music. I get fulfilment through that power.
P: Which place would you always go back to spin the decks?
DC: I loved performing in Dubai. It is an amazing place; I love the culture and the energy of the people. The crowd that was the hardest to please was in Mexico. I had to play Latina music and I did not know the meaning of the songs.
P: What do you in your free time?
DC: Although I do not have much free time, if I get any, I love to eat. I get to travel a lot too because of my work and passion. I love going out, partying and having fun - although not so much.