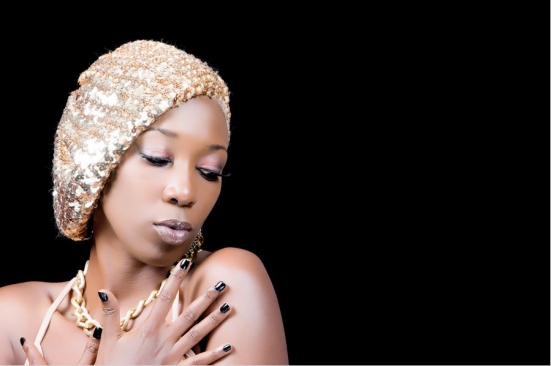 Wahu amiably ushers in a client before she notices our presence. After exchanging pleasantries, she gives me a tour of her Afro Siri Salon and Nail Bar business premises.
We are at the Nail Bar that is situated on the first floor of the Krishna Centre in Westlands. As the name suggests, it has a bar-setting, a counter and for this night, a table of cocktails to serve the clients walking in.
Wahu and her army of beauticians are dressed in red shirts, with the name of the salon printed on them. Red is a dominant colour in the area, creating a feel of desire, passion, and energy. It is here that this Friday, they take their first cocktail of the night.
"What is this special service we hear of that is offered in your salon?" we ask.
"Friday is the only day we close at midnight. A person can come in here to relax after a week's work. The idea is to combine beauty and cocktails and to create a friendlier environment where a client can enjoy and still have their hair and nails done," Wahu tells Pulse.
The MTV Africa Music Awards winner has been on a music break and is now planning a comeback with the first collabo ever with her celebrity husband Nameless in the offing.
"I had to put my music on hold. I chose to take a break from it when I was pregnant since I wanted to spend time with my baby. My children need my time and they deserve it," she remarks.
Just like many other Kenyan celebrities, Wahu has had to juggle between music and business to make ends meet.
Even though music is slowly starting to pay, celebs often find showbiz unreliable in meeting their daily needs. Many opt to venture into other income-generating activities.
While some end up juggling between different jobs, others even take up odd jobs to pay their bills.
Singers like Avril have now gone into acting while DJ Pierra, who is also an actress, has gone into music recording. Except for a few female singers such as Victoria Kimani, Wahu, Amani, Suzzana Owiyo, Nyota Ndogo, Muthoni and STL who have enjoyed a level of dominance in the male-inclined industry, many talented female singers have had to give up thanks to the many challenges that they encounter.
At the same time, some venture into business simply because they plan to invest the money they have made through their art. They pump this money into businesses they find comfortable to handle.
Others diversify their art, with some musicians venturing into acting or even going into radio to supplement what music cannot help them settle.
"Sometimes you don't get a show for a long time and as you know album sales do not work here. One has to come up with other money-making projects if they have to make ends meet," says gospel singer Size 8 who also runs side businesses besides singing and acting.
"Female musicians have many challenges. One may get pregnant and end up not recording or playing at concerts for quite a long time. During this long dry spell, you need a plan to keep things moving and that explains why female musicians are going into business while others are taking formal jobs to make ends meet.
Besides, you have seen many give up the art due to financial frustrations," she adds. QTY, another female singer who is also fighting for the showbiz limelight, says it is hard to make it as a female musician without a side hustle.
The singer, who recently gave birth, runs her own restaurant as well as a charity organisation.
"Seeing as music does not always pay, I opened my own business, QTY's Kitchen and Restaurant, in Kiambu. I have been running it for the last one and a half years," she notes.
"I visit the premises every morning for stock-taking before I go to studio. Artistes end up wasting a lot of time idling as one can spend as a lot of time in studio and at shows. That is why one has to get involved in a side-hustle. Besides, we must learn to invest.
Music shows mostly come on holidays or weekends and one cannot really rely on them to meet all their financial obligations. My business is even helping me pay for studio time as it is my main source of finance," she remarks.
TL Moh, who is yet another talented artiste who has been struggling for a breakthrough, adds her voice to the matter.
"Unlike our male counterparts, female artistes go through a lot of challenges and struggle to make it in the industry. Producers and promoters are always asking for 'favours' to produce and release your music even after you pay for it. That is one of the reasons I had to venture into business so as to gain financial stability, a factor that has made me independent and also helped me finance my music," says the Fatuma hit maker who runs a fashion stall in Nairobi.
"To make a good audio, one requires about Sh30,000 for studio time. You are still required to pay about Sh100,000 for a good video and this is a huge investment many female artistes can hardly afford. Still, after releasing the song, the concerts you book can hardly reimburse you for the money you spent," she remarks, explaining why many female singers are opting to run businesses alongside their music careers.
The singer also runs a massage business on Sundays.
"I am usually in the fashion stall from Monday to Saturday and only get studio time at night. On Sundays, I do massage as I trained in Thai foot-massage therapy. The fact is that my first love is music but I have to look for other ways of making money if I have to fund my music career," she says.
The singer often travels to China and Turkey to bring in stock, time she says she could have utilised in music if she was financially stable.
In her opinion, people keep on saying that Kenyan female artistes are few but the struggle is real. She remembers a time she had to save money to begin the business and was forced to operate from the house as she could not afford to pay for a stall.
 "It took six months to save for my latest song Fatuma. Many female artistes are opting to invest in business and not their music as only then is one assured of making returns," she notes.
Sharing her experience in the hair and nail business, Wahu explains that, besides music, she always had passion for the business.
"I came from a humble background so I avoided asking my mother for money to do my hair. I used to style my own hair. In campus, my friends would come to me to style theirs too. I have always been passionate about hair. I wanted to go into training and had looked at brochures from different hair and beauty salons but it was not an encouraged career back then," she says.
Even with her passion, she realised that there are so many things she did not know, which she had to learn on the job. Starting a business is not easy, although she is of the opinion that not coming from the industry allows her to see things from a client's perspective.
"I would always root for the client and would easily relate with what he or she would want out of a salon. And I have employed trained hairdressers and beauticians who serve the clients and exchange ideas with them," Wahu explains.
"I did not want the salon to ride on my name and that is why I did not call it Wahu's Salon. I wanted it to be a brand on its own and that way I would not get this mixed up with my music career."
Marya, the former Ogopa Deejays singer who is currently recording with a new studio, admits that making it in music, as a female musician, is not easy.
"I am currently putting up a few business investments to support my life as well as my music ventures," she reveals.