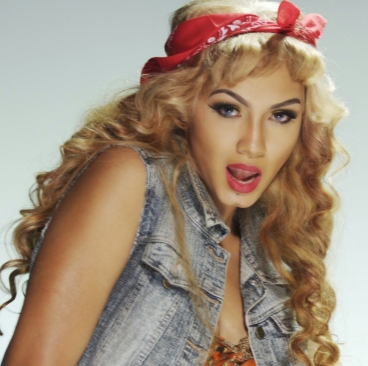 Pulse: In Ooh Lala Oui Oui, where you featured Victoria Kimani, were you going for international appealor you were simply scaling the standards higher?
Yvonne: It's a bit of both. Victoria and I wanted to do something that had a local and international feel. Most of our African countries speak English.
The French lyrical input was to reach out to the Francophone community in Africa.
The message that translates Ooh lala oui oui, the quality of the song and video and both of us being Kenyan female artistes definitely took the song to a league of its own.
P: Have you come to accept that you are the ultimate Kenyan music diva, as many prefer to call you ... Imean, you are branded the genius diva...
Y: (Laughs) That sounds extremely sweet to one's ear. What I have come to understand, respect and accept is staying in my own lane and being humble. It is very important.
P: It has been quite a while since you joined the music industry and it is no doubt you have beenproducing good music. But what is with the long wait for a major breakthrough?
Y: Honestly, everyone has his or her own timeline. You learn, understand, and grow from the experiences you get. I believe my time for a breakthrough has already come.
P: Do you think your skin colour has something to do with the way Kenyans perceive you and yourmusic?
Y: I was waiting for this. For the longest time I took it that way but once I realised thinking that way was the reason it was affecting my career and that I was holding myself down. I dropped that ridiculous mentality and moved on.
P: You are not so Kenyan, I mean, that can be a challenge.
Y: I am not so Kenyan?
P: I mean, this can be a challenge...
Y: I am of six different bloodlines: Kenyan, French, South Sudanese, Dutch, Congolese and Belgian. This situation can pose a challenge but one must rise beyond racial and cultural differences. Besides, music itself is universal.
P: Were you born here?
Y: I was born in Maridi in South Sudan.
P: Do you ever feel misunderstood?
Y: I used to until I realised I was just driving myself insane for un-necessary reasons. I understood this by accepting myself for who I am and being grateful for my blessings and realising that I don't need to feel misunderstood or the need to explain myself.
P: Some people say you are quite the party girl...
Y: My life revolves around the entertainment industry. I am not a party girl, but nonetheless, I love to dance, listen to good music and have a good time with the people around me. I am just living my life!
P: Talking about living your life, the grapevine has been rife with stories on your private marriage life...can you clear this also, once and for all?
Y: My private life remains my private life.
P: Are you single now?
Y: No comment.
P: After the saga, who is in the picture now...I mean, the stories about you and Kristoff...?
Y: No comment.
P: Let us move on. After releasing your new jam last week, you told Pulse that you are out to changeyour image and the way people look at your music...
Y: Yes I am. Am adding in some of our own local and African instruments into my music element. I am also moving towards live performances.
P: What is this Divas Experience you are said to be coming up with, together with the likes of VictoriaKimani?
Y: I can't give you details just yet but keep your ears on the ground. The Divas Experience will be fresh wind.
P: How do you rate yourself among Kenyan female artiste?
Y: Well, I can say that Victoria Kimani is one of the best and hottest vocalists from our continent.