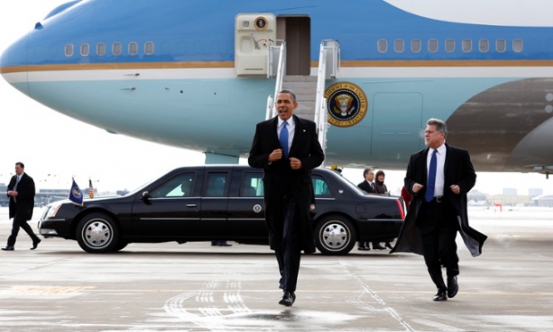 Also known as Cadillac One, Limousine One or better yet, the Beast, Obama's ride is literally a fortress designed to keep him safe from any sort of attack. Its glass windows are said to be 5 to 6 inches thick, bombproof and can withstand armour-piercing calibre bullets.
As if that were not enough, the driver's window is the only window that opens, at 2.75 inches, so that the driver can speak with secret service agents outside the vehicle.
Obama is among an array of President's who've had the privilege of cruising in bulletproof vehicles after President Franklin Roosevelt set the record of being the first US President to use the first bulletproof ride that was seized from renowned mobster, Al Capone.
The Beast's armour plating is said to be 8 inches thick. It can carry seven passengers including the driver and rumored to be completely sealed in case of a chemical attack.
His driver is a CIA agent specially trained to deal with driving during challenging situations as well as how to handle emergencies. The Beast's fuel tank is said to be armour plated to help repel bullets.
As a second line of defense, the tank is filled with a special form similar to what race cars use that prevents it from exploding even after sustaining a direct hit. Steel rims and a run flat device enables the Beast to drive at high speeds in case its tyres are destroyed.
AIR FORCE ONE
Also known as the 'chariot of the 'gods'. The President is scheduled to make his landing aboard the Jumbo jet, which is one of the most prestigious in the world.
The Jumbo jet only assumes the title 'Air Force One 'once the President steps on board and other than that is the official air traffic control call sign of a United States Air Force aircraft carrying the President of the United States.
Technically, Air Force One is used to describe any Air Force aircraft carrying the President — but since the middle of the 20th century, it has been standard practice to refer to specific planes that are equipped to transport the Commander-in-Chief.
Today, this name refers to one of two highly customized Boeing 747-200B series aircraft. The Air Force designation for the aircraft is VC-25A. According to the White House, the plane is capable of refueling mid-air, has unlimited range and can carry the President wherever he needs to travel.
The on-board electronics are hardened to protect against an electromagnetic pulse, and Air Force One is equipped with advanced secure communications equipment, allowing the aircraft to function as a mobile command center in the event of an attack on the United States.
Inside, the President and his travel companions enjoy 4,000 square feet of floor space on three levels, including an extensive suite for the President that features a large office, lavatory, and conference room. Air Force One has a medical suite that can function as an operating room, and a doctor is permanently
on board. The plane's two food preparation galleys can feed 100 people at a time. Air Force One also has quarters for those who accompany the President.
Marine One
Marine One is the call sign of any United States Marine Corps aircraft carrying the President of the United States. Marine One always flies alongside a group of identical helicopters, which act as decoys in case of an attack.
The 64-feet long helicopter is outfitted to carry 14 passengers and has a galley kitchen and a lavatory. As expected, it has state-of-the-art defensive measures, secure communications, and crash survivability fuselage design.
Marine One has encrypted videoconferencing capabilities that allow the President to hold virtual meetings with military advisers, senior politicians, and other world leaders.
Reports also have it that it features the latest in radar warning receivers, incoming laser detection, and counter-measures to help evade a surface-to-air or air-to-air missile attack.
The leader of the free world has been known to make more than a thousand trips on board the Marine One and if he does use it on his Kenyan trip, then it sets the records at an all-time high.
One thing is eminent from all Obama's rides, Security is key; diverse and accurate security measures are taken by the Obama team.