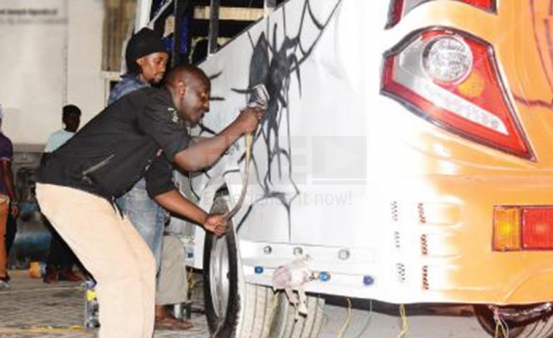 Matatu is one of the ultimate symbols of Kenyan urban culture, alongside sheng, known the world over for its hype, pomp and the artistic graffiti.
For Joseph Arthur Ogonda, creating matatu design concepts and placing them on the vehicles' bodyworks is not only a way of making a living but also an art form that resonates close to his heart.
"I started doing matatu art five years ago but there never used to be good business until the President made a declaration that matatus should be allowed to have artistic designs," Ogonda, the proprietor of Kallaz Arts, revealed Pulse.
According to him, most matatu owners don't understand art and when they go to him, they either want guidance or to copy other vehicles' designs. Most of the time, he has designs ready on paper from where the matatu owner can choose, but some designers come with their own artistic designs.
"Although, I usually don't have a definite design for the next client. I always create concepts which I either show to prospective clients or sell to other designers," explains Ogonda, adding that he has to think through the designs in his own time to improve on the creativity and appeal to clients.
He says that the creative thinking process is so critical and exhausting that he sometimes gets an artiste's "block" after doing four or five matatus in a row, during which he takes a break.
"Sometimes I sell some job to take a rest and consolidate my creativity for the next matatu," Ogonda says.
Although there is no specific trending matatu design, graffiti and portraits of local politicians and international celebrities is very popular among owners. This he says is because of television and media exposure that portrays these individuals as powerful.
One matatu takes around four days and can be worked on by six to eight workers to ensure the work is delivered on time.
"A matatu has four sides so two workers take a side with each designated for various duties on the artwork while two others can be working on the interior," the designer explains.
All these individuals are specialist artists but he still has to be there to give a helping hand and ensure everything is done perfectly.
Besides beautifying the vehicles Ogonda is also the one who identifies an appropriate name for the matatu, which he says must always blend with the body's art. This he does in consultation with the vehicle owners.
"Every name that I pick for a matatu I always discuss with the owner, who usually has a name in mind, and when agreed upon I come up with a thematic design that blends well with the name," Ogonda points out. "There is no way you can design a matatu with Fubu labels and then call it Reebok. It doesn't just add up design-wise," he adds.
Sometimes the owner wants to name the matatu after their favourite son or relative, which sometimes does not augur well with the chosen design. In such instances, the designer has to convince them that it's fine if they fix the name somewhere in the body without necessarily making it the main name.
"Although I am not ready to delve into details, the price tag for working on a matatu's exterior and interior design might cost more than Sh100,000," he says.
Besides the input in paint, stickers used for portraits and other interior accessories the client may want things like screens as well as pay the six or eight designers Sh800 daily for the four days it takes to complete matatu.
Some of the matatus Kallaz Art has designed include Lamborghini and Legacy that ply Jogoo Road-Pipeline route in Nairobi.
He says one of the biggest challenges in the industry is the fact that artists cannot patent their designs.
"This means that there is always more than one matatu sharing a name and design at any given time," Ogonda points out.
There is also the issue of convincing a client to accept a certain design, especially when he tags along with family members and friends all of whom try to impose their opinions on the overall design.
Since there is no specific school to train people how to do matatu designs and graffiti, the easiest way to learn is by attaching yourself with a well-known designer or establishment.
"When President Uhuru Kenyatta issued that directive, I am sure he never knew the number of young lives he gave a chance or created employment for," Ogonda reflects.
"Like me, I never thought this art could make me own a house in Nairobi and employ several young people. Therefore as artists we are very grateful to him," he adds,
He says he is mobilising a group of other matatu artistes to do something to show their gratitude to the President.