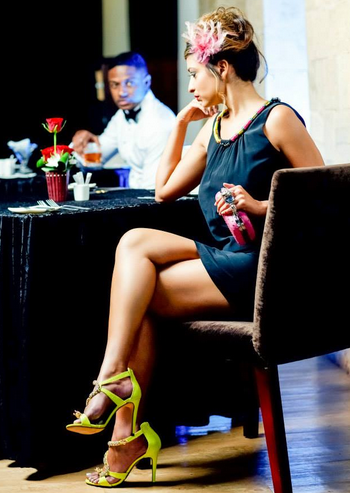 Pulse: How can such an amazing TV and radio host that you are be out of the limelight for so manymonths?
Eve: I have been behind the scenes doing much. My TV production company Moonbeam Productions produces a local sitcom called Auntie Boss. I co-produce the show as well as act in it. It's currently in its fourth season and we're going back into production for another new season.
P: What is the concept behind the show? Someone says you are playing Kim Kardashian...
Eve: Well, the show revolves around three households in a local estate focusing on the hilarious dynamics around house helps and their employers. I play the role of Varshita, the psycho and overly dramatic Indian model dating Donovan, who is played by Capital FM's Maqbul.
P: You come out as quite a good actor, a talent people never imagined you had. Is this something youhad been thinking about?
Eve: I have actually never acted in a show before so it's my first role. However, back in campus I did try my hand in acting in a class play and participated in a lot of musicals in primary school. Only those close to me know I can be goofy, so developing the role of Varshita on screen has been a lot of fun.
P: Do you plan on taking up some more acting roles?
Eve: Yes. I recently shot a pilot for a TV series by another production house and they're working on having it aired soon.
P: What do you miss most about radio since you left?
Eve: Definitely the interaction with the listeners. They were like a family. You don't realise how attached you slowly become after 10 years of having them as part of your life. I also miss the team at Capital FM. It was such a remarkable place to work and I truly made lifelong friends.
P: Do you ever plan on a radio comeback?
Eve: Right now TV production takes up a lot of time so it wouldn't be feasible but... I never say never.
P: You are one of the brand ambassadors for Store 66. How did that happen?
Eve: They were looking for a celebrity who had a fairly decent reputation and with a great following on social media as well as one who would complement their brand. I am humbled they thought that person was me. I got a phone call to go and meet the owner to discuss and it was just a great fit.
P: Your Store 66 photos are to die for. Have you modelled before?
Eve: Not at all. (Laughs) If you only knew how I dislike acting the model. I grew up a tomboy and sub-consciously felt models were too girly and narcissistic. Terrible of me, but I honestly prefer being under the radar. Ironically, I ended up in an industry that requires the exact opposite.
P: How do you maintain your perfect figure?
Eve: It's far from perfect. I have a long-term addiction to chocolate, which I unsuccessfully try to break every year. However, a month ago I finally decided to exercise more and joined a Bikram yoga class.
P: How is that working out for you?
Eve: I'm usually on the floor gasping for air like a goldfish out of water, but I'm hoping to stick with it and stay in better shape.
P: Are you in a relationship?
Eve: No, I'm not in a relationship.
P: Do you plan on settling down any time soon?
Eve: I'm ready to settle down if and when I meet the right person. I'm very much of a relationship girl, so if there's no long-term potential I don't see the point in wasting each other's time.
P: Which other projects are you currently working on?
Eve: We're hoping to have our travel show, Travel Diaries, back on air this year. We also just wrapped up production on new seasons of our talk show Mentality, featuring Ian Mbugua, Edward Kwach and Pastor Simon and we have two more series that we are in talks with broadcasters for. Hopefully both of them will be on air soon too.
I can say I'm a blogger too. My travel blog Travel Diaries Kenya, hit one million views within the first four months. Lucy Mwangi, my business partner, and I are very passionate about promoting tourism in Kenya.