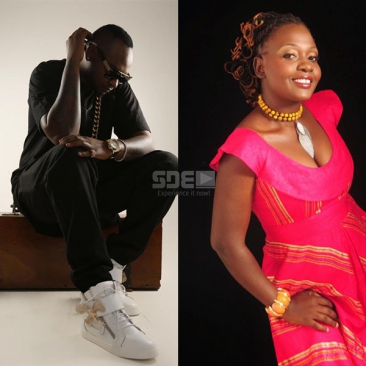 To say Nyota Ndogo is Moustapha's biggest fan is to be liberal with the truth. The Watu na Viatu songbird, who is currently in Germany with her love, has always been on Moustapha's neck, scrutinising his every move and giving her opinion on what she thinks of the controversial Ogopa Deejays artiste.
When the Kupe singer and the sassy Huddah Monroe released revealing photos early last year that were aimed at popularising the pair's upcoming song, Nyota was one of the vocal voices against the move.
"Moustapha is a grown man who acts like a kid. What he is doing is an embarrassment," she said.
A month ago, when Dodoma Singida was released, Nyota took to social media to rant, calling Moustapha shallow-minded in the midst of Swahili profanities that are more common on the streets of Mombasa than on social media.
Moustapha hit back, writing; "I have met Nyota before and I thought she was a really sweet person and mature enough to conduct her TV interviews without mentioning me." When we reached out to Nyota, she explained that she only wants the best from her fellow artiste and that is why she is always on the attack.
"I refer to him as 'Musfala' because the things he does are not what is expected of someone who has been in the industry for long and is supposed to influence kids," she said. "It is a challenge because we all know what Moustapha can do good music if he put his mind to it," she added.
Is there more than meets the eye between the two artistes who have been in the industry for over a decade?
"She can answer that... I mean, why isn't she ranting over Huddah who has nudes all over? It is always about me. I think she wants me but she does not have the guts to ask me out," said Moustapha. "That is the only explanation I can give for her behaviour."
The beef is not about to die soon and Moustapha continues to answer questions about the pair.
"People always ask me what is between us and I do not have an answer. Her behaviour has led many to assume we had an affair that went under and she has always been bitter," he added. So, has there been a romantic relationship?
"No comment," he said, before adding after our prodding; "All I can say is that we have met before... and exchanged numbers."
Nyota refuted such an insinuation of a romantic affair-gone-sour. "There has never been anything between us. All those who believe I want him are as petty as he is," said Nyota.