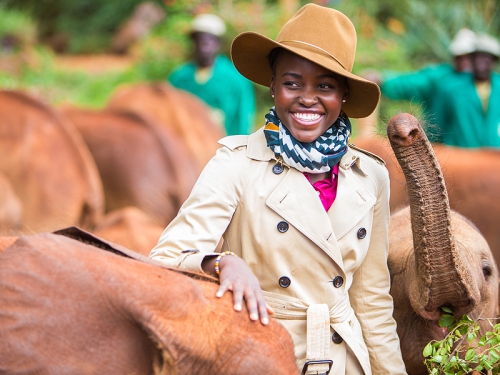 So what if Lupita does not know how to cook ugali!
She looked like the ordinary girl we all knew a few years ago, the humble days when she was filming her In My Genes documentary. Of course, her hairstyle has changed from the bald shave and the nose ring is gone. And this time around, as she cat-walked the red carpet at Villa Rosa Kempinski before the local and international press to be unveiled a Global Ambassador, the atmosphere said it all.
The young Hollywood icon of many firsts had come home to great honour for the first time since last year's big win.
"I only go where there is something to be done. I am glad today I have had a good reason to be here. It is never too late to be home," said the 12 Years a Slave star, when she was asked why her homecoming took that long.
Lupita donned a navy blue, knee-length shift dress with white geometric and conversation prints.
She matched it with navy-blue court heels with a gold heel detail. She wore amazing dark blue and silver diamante earrings. Quite conspicuous was a serpent-inspired bracelet.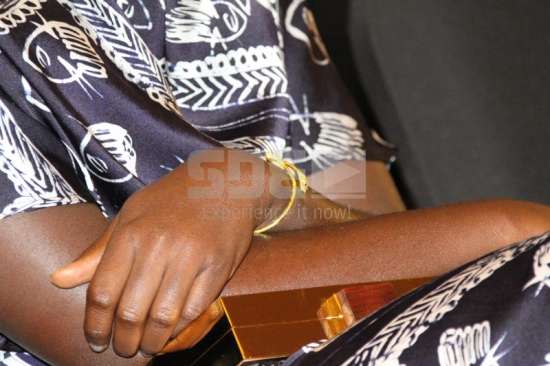 Security was beefed but friendly and as the lenses beamed to capture the moment, the memories of last Wednesday when a Pulse paparazzi bumped into the star after she flew in incognito were rekindled.
Under heavy security, she arrived at the hotel with her parents and as Pulse would investigate, was checked into one of the most prized rooms in the seven-star establishment.
Ordinarily, an A-list celeb of her calibre would enjoy the luxury of the presidential suite, the best one in Africa. It is a four- bedroom, three-living-room, two-dining-room suite with a kitchen that comes complete with a butler. Here, they dress their beds in Egyptian-cotton sheets and stuff their pillows with wolf 'feathers'. Their towels are Turkish their cuisine truly interanational.
Pulse can authoritatively report that Lupita remained at Villa Rosa Kempinski all of Thursday and left for Amboseli National Park where she stayed until Sunday. She also visited the David Sheldrick Elephant Orphanage alongside Tanzanian singer Ali Kiba who is Tanzania's elephant ambassador.
"We can't disclose anything about Lupita's stay here; not anything beyond what the organisers let you see and ask. But we trust she is enjoying the Villa Rosa. We are happy she chose us," the Villa Rosa Kempinski General Manager Manish Nambiar told Pulse declining to confirm whether Lupita had been booked into the Sh2.4 million-a-night room.
On Monday night, a meeting between Lupita's team and her hosts met for hours as print media journalists among them the Daily Mail, Associated Press, Standard Newspaper and Nation pushed to get exclusive interviews all in vain.
Lupita had a seven member-team that over saw all her activities, right from media handling to styling, make-up and security among other things.
Photojournalists were given only three minutes to take her picture at a designated spot and beyond that there was no flashing.
Her manager Didi Rea was hands on and occasionally, he told her not to respond to questions during the media briefing.
Her handler kept his eye on her all through. As she walked to the podium to address the media that Tuesday morning, her assistant scurried to hold her metallic clutch. Her stylist Micaela Erlanger was also a busy bee. No detail was left to chance.
Lupita is well-known for her support of education and especially the arts, and she took the opportunity time and again to restate her case. "A dream can only be realised when it is valid, validated by the dreamer and then by those around you.
Without the support of those you love your dream will be just that," she told hundreds of her fans, mostly drawn from the entertainment industry among them musicians, poets, actors, actresses, writers and film makers as well as students, during a mentorship afternoon at the Kenyatta International Convention Centre (KICC) on Tuesday afternoon.
Here, she appeared in loose-fitting, high-waisted navy blue pants with a subtle white print, paired with a black and white silk top that featured a plunging neckline for that mixed-print-jumpsuit effect. Her trademark glasses made for a perfect accessory, and the World's Most Beautiful Woman (as stated by People Magazine) pulled off the look with class and finesse.
At some point she got Kenyans grumbling when she said she did not know how to cook ugali, a food item that is part of our staple diet, but she was forgiven because she grew up in Mexico. She also got tongues wagging after introducing one of the men accompanying her as "my best friend", drawing attention once again to the speculation about her love life.
As paparazzi snooped around the Kempinski on Wednesday morning hoping to catch a scoop, little did they know that the actress, who is also a fashion icon that has endorsed a number of beauty products, had checked out at 5pm and flown to Kisumu where she landed at 7.45pm via Kenya Airways.
She had breakfast with her grandmother and other family members before visiting a hostel run by her grandmother to mentor young girls. Her brother and a few local acts, among them Eric Omondi, accompanied her.
Additional information by George Orido and Pius Cheruiyot