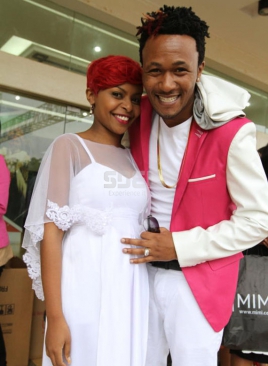 Since Pulse broke the story of her marriage to DJ Mo in October 2013, celeb-ville has had its ears on the ground with some claiming her marriage has been on the rocks. Now Pulse's Rose Kwamboka, in this close-and-candid interview with the three-month pregnant gospel star, brings you another exclusive
Pulse: During last year's Groove camp in Naivasha, you mentioned that you would be pregnant by now. Did you have your pregnancy planned since you are now three months?
Size 8: No. That was something I said in passing during the making of the Groove Awards Camp 2014 video. But then again I guess as the Good Book says, whatever you confess, will come to pass.
P: How has the pregnancy treated you so far?
S: Horribly. Morning sickness was not easy to deal with during the first trimester, but I thank God for a very understanding husband. This experience has given me a new respect for mothers, especially my mother who raised the seven of us.
P: Understanding... in what sense?
S: During the first trimester, I lost a lot of weight since I could not even stand the smell of some foods like onions. I could hardly cook. I could not even stomach most of the foods I initially liked, for instance rice, which was a favourite, now it tastes like soil. I also do not like anything sweet anymore. At one point, my husband suggested we go dine at a restaurant and the chef offered a mushroom sauce and mashed potatoes delicacy and it has been a favourite since. As a result, most of the time we eat mushroom sauce and mashed potatoes from the restaurant. Sometimes my husband does the cooking.
P: Is that all?
S: Well, he has brought out the need for husbands to understand their wives. Sometimes, husbands can't understand issues unless they are right there with their pregnant wives.
P: You were admitted to Aga Khan after developing high blood pressure during the Groove tour in Machakos. What caused that?
S: I must have been thinking too much about my mum's fundraising for her kidney transplant that I got stressed out. The doctor however, put me on observation for days and all is well now.
P: What is the biggest lesson you have learned?
S: Motherhood is a beautiful thing. I have a lot of teens who are too terrified to talk to their parents, writing to me asking what they should do with their pregnancies. As a pregnant woman, I urge the parents to support their children since excommunication and making noise doesn't help.
P: Much as you wouldn't condemn or judge them, how do you balance with the belief in abstinence till marriage?
S: The unborn child needs to be taken care of. Although I believe in abstinence till marriage, now that it has happened, abortion is not an option. Pregnancy among teens and the unmarried happens because of many reasons and that should not mean the end of life. It is a process in life that may come with blessings never dreamed of.
P: Do you talk or believe in the use of contraceptives?
S: Well, judging by the number of girls who talk to me online, I think educating ladies on the use of contraceptives is important for those who feel they cannot abstain. However, everyone out there should know that sex has consequences. If you cannot handle the consequences of sex, you have no business indulging in it.
P: Has anything changed about your performance or programme?
S: First, I switched my 6-inch heels for kitten heels; I would have loved doll shoes but could not get a pair in white. I had my red costume custom-made for my comfort and I sat at every opportunity I could get.
P: Again, during the Machakos Groove tour, you could hardly get yourself on stage...
S: True. Bahati was called to step up for me after I developed some complications. Sometime during the tours, I sat the entire time I was backstage and even weaved in some sitting time during my performance to preserve my energy. I also axed the trademark Mateke-kick dance.
P: Apart from your doctor, who is your best friend in this walk?
S: Like you have said, I have my gynaecologist who I run to with every little question I have. Apart from him, I talk to my sister, Gladys, who has had four children.
P: You still have the challenge of dealing with your mum, who hasn't been well. That can't be easy...
S: She is due for the kidney transplant soon and though I was initially to donate my kidney, my pregnancy ruled me out of the donors' list. So my dad will have the honour of donating his and my brother will be accompanying them to India where the treatment will be taking place.