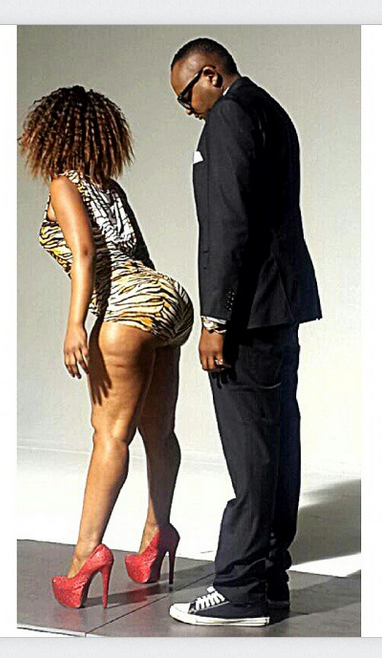 Pulse: What is this porn music video that got you detained and interrogated by CID officers?
Moustapha: (Laughs) What porn? I have never done porn all my life. The video is all about art; it is an expression of love.
P: You were actually arrested last Friday because of the video that was due for release on the same day?
M: True. Two CID officers stormed the Ogopa Studios and asked for me. They must have been tracking me as no one else knew I was there. They were very clear about their mission; they wanted to know why I featured one of the four girls twerking in the video, whom they claimed was someone's wife.
P: Someone's wife? We hear she is a politician's clande or something like that. Are you not scared ofdoing twerking business with mheshimiwa's fundamentals'?
M: (Laughs) The girl is a video vixen and we had signed the contract for her to feature in the video. I am neither dating her nor did I know she was dating the prominent guy from Western Kenya. In fact... isn't he a married man?
P: Well looking at the Dodoma Singida tease clip doing rounds on the Internet, the two of you look soengrossed in this temperature-raising dance. Did it occur to you that the clip is a bit too suggestive and that if mheshimiwa is truly dating the girl, he would 'catch feelings'?
M: Well, it all goes with the theme of the song. If you listen to the lyrics and get the message in Dodoma Singida, you will understand why the clip was captured that way. Besides, there are three other models in the video that were selected from the 30 who showed up for the twerk video auditions. It is all about appreciating women.
P: Before we get into that, how far have you gone with this mheshimiwa-CID probe business?
M: They took me to the CID headquarters and got me to record a statement on why I featured the girl in the video. I said we had a signed contract and they asked me what I could do to have her edited out of the video. I asked for Sh700,000 to edit her out.
P: You said Sh700,000, yeah...?
M: Yes, the total cost of the video is close to Sh2 million. For me to redo the work, it will cost me dearly. It means Ogopa Deejays will shoot another video and go through the entire process once again. Besides, my fans are anxiously waiting for the release that was supposed to happen on (last) Friday when the CID officers interrupted me.
P: Have they committed to paying you the cash and if that does not happen, what options do you have?
M: Well, I hope they will honour that. If it does not happen, I guess I will go ahead and release the video as it is. It is a beautiful video I tell you.
P: Dodoma Singida...What does that mean?
M: (laughs) I got the phrase in Dar es Salaam two years ago. It is coined from a phrase men use when admiring a lady's walking style. It's like a rhythm...like: "Left, right...". That feeling you get when a beautiful lady walks past you and then you look behind.
P: So it is all about men ogling at women's behinds... sexual perversion, so to say?
M: I see it more as appreciating what God created. If men don't appreciate women and their curves, who will? These people need us.
P: In 2013, you released Lenga Stress that was preceded by a controversial picture of you holding anaked girl that also put you in trouble. Is controversy stalking you or this is just who Moustapha is?
M: I really don't know why Kenyans like pretending every time a lady or a man is seen showing a little flesh in videos. This is hypocrisy. They made noise about Sauti Sol's Nishike and P Unit's You Guy (Dat Dendai) and now they are on my case. Besides me having to apologise to the girl's family, the rest of the society had no business condemning me. Besides, my real fans loved the song. I have been performing everywhere since and no one remembers a naked girl anymore.
P: Some said you released the clip to steal your ex-girlfriend Marya's thunder because she was makingshowbiz headlines last week for dating another man. Could that have been the case?
M: Stealing her thunder? What rubbish. I honestly don't care what Marya does since we parted ways. I taught her well and if she is happy with another man, I am happy as she was my pupil. She can now tour the world.
P: Are you dating?
M: Dating can mean many things. There was that girl I was pictured with on Valentine's Day who enjoyed her season. She is one of the 200 lovers I always talk about. I love women as they are my greatest fans. Leave theory issues out of this. God is love.
P: Besides, you are fully back at Ogopa, right?
M: Thank God, Ogopa is home. This will be my great year...like Dodoma Singida...!