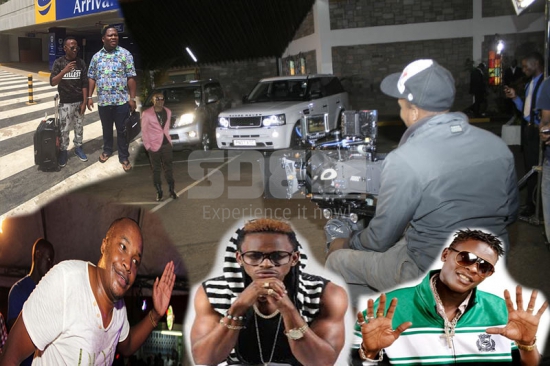 A couple of years ago, pioneer African music TV channel, Channel O hardly featured Kenyan videos.
It was all a South African and Nigerian affair as East African artistes cried foul, claiming that the pay channel was biased. The same was the case at the Channel O Music Video awards, which also saw wins from South Africa and West Africa dominate.
However, the tide has changed and all eyes are on East Africa where top producers and artistes from across the continent are now trooping in to cash in on the new revolution. Celebrated continental video producers such as Clarence Peters and Mr Moe Musa have lately visited Nairobi for video projects and now, Mike Ogike aka Godfather, who is arguably the best video producer in Africa says East Africa holds the key to the continent's entertainment.
On this particular Wednesday evening, Godfather and his crew of five technical men are on Banda Street, Nairobi, shooting Papa Dennis' new video to his latest jam, Njoo.
This is the third project the Nigerian video director is undertaking with the fast-rising artiste and the first he is doing on Kenyan soil.
It is business unusual as police officers close the streets. More than five fuel guzzlers, said to have been hired for Sh7,000 each an hour, are parked outside Club Tribeka and Mojo's where over 40 video vixens parade themselves, ready for the cameras to roll. There are also a number of celebrities featured in the video.
At 6pm, a black, sleek Mercedes Benz pulls up and inside the vehicle, a crew is filming the flamboyant Papa Dennis, who is in a pinkish suit and designer sunglasses. A pickup full of cables and other filming paraphernalia follows the Benz.
Cameras...lights...action! This is the making of the video whose cost is estimated at Sh5 million.
Apart from Sadat Muhindi of Maliza Umaskini, the charitable stable that has signed Papa Dennis, L Jay Maasai, Shaffie Weru, Allan of the Real Housewives of Kawangware crew and Mainswitch producer Philo are around and in action.
Every few minutes, Mike shouts instructions and the crew and vixens quickly follow his orders. Minutes after 7pm, there is change of scene and everyone gets in their cars and leaves for the Nairobi Pentecostal Church (NPC), Valley Road for the main shoot.
It is amazing how the rather amiable Mike takes no chances. Every second of the shoot is a keen act. He is a man of few words.
"This is my first time shooting a music video in Kenya," he informs me, his authoritative booming voice bearing a stamp of authority.
"I have been around numerous times, shooting commercials, mostly for SuperSport. I like Kenya. It is very warm and the people are interesting. They are honest," he adds.
"I have worked with Papa (Dennis) before and I must admit he is more humble than other artistes I've worked with. Most artistes forget that we are the experts with video concepts and actualisation. If an artiste is not humble enough to listen, the works gets harder," he remarks.
Godfather has produced videos for among others, P Square, 2 Face Idibia, Davido and D'Banj. Basically, this is the man credited with making African videos count in international music charts so he knows the script well.
Having moved to South Africa at the age of 16, Mike says building brand identity is key for any artiste or company in the music industry.
He notes that choice of locations, like artistes going to shoot videos in South Africa, do not necessarily guarantee an artiste the best video. However, he is quick to add that producing a video in South Africa is easier due to logistic issues.
For the past one year, his company has had a keen eye on East Africa music and has had a chance to work with the region's finest such as Tanzania's Diamond, Uganda's Bebe Cool and Kenya's Jaguar besides working with Papa Dennis whose manager now terms Mike their official video director.
"I can tell you for a fact that East Africa is making the biggest buzz right now when it comes to music. East Africa is doing better than Nigeria, contrary to the common notion that Nigeria is producing the best music. There is a lot of saturation in Nigeria and that is why their artistes are seeking collabos in East Africa," Mike says, noting that the region has the potential to control the African music beat.
"East Africa is producing better music than Nigeria. The familiar sound coming out of Nigeria is now boring. What East Africa needs to do is form a formidable force, musically speaking. The artistes need to come together," he remarks.
For a man who has given the likes of Clarence Peters and Mr Moe Musa a run for their money and creativity, he believes the company, which is managed by his South African wife Bongeka Ogoke, is not where he envisioned it to be.
"Godfather has been in the forefront of many new things in the industry but we are yet to live up to our dream. As a continent, we still do not have that single music identity like most parts of the world. We are in a race to get that," says Mike, who occasionally excuses himself to go give orders to his staff that are setting up lights and other props for the shoot.
"The interest our music is generating currently across the globe shows we are doing something right. As Godfather, we are excited to be at the forefront, showcasing our own to the rest of the world," he explains.
He reminisces of the time Godfather has been in existence and he beams with pride.
"About a decade ago, Africa did not have much music video content. Right now, there is a struggle between the South, West and East because there is a lot of good quality songs and videos. That is good for the industry and the BETs, MTVs and Trace TVs are coming in to tap into that," he says.
Most of Godfather's video productions always make it to MTV and Trace Africa where some claim he has a lot of influence. It had also been rumoured that Mike has shares in the said pay music TV stations.
This is the one reason why most East African artistes have opted to work with him as opposed to local video producers, the fact that they know so well that their videos would be guaranteed airplay and thrust them to continental prominence.
In fact, it is Mike's influence with the stations that always gets them exclusive video content, giving them an edge against competitors like Channel O that has now closed down.
"Channel O was not the same as it was in the 90s. We are coming up with an upgrade channel or two very soon," Mike reveals.
Many East Africa music videos such as Jaguar's One Centimeter, Foundation by Papa Dennis, Number One by Diamond, Wale Wale by Chameleone and Sura Yako by Sauti Sol, just to mention a few, are now receiving heavy rotation on the pay channels.
Unlike in the past, local artistes are also investing millions on quality video production. In the past, many videos failed to make it to the big music stations with the producers citing quality issues something that can hardly be said now.
It is this East Africa reawakening that is also posing tension between the region's stars with some claiming that Nigerian artistes are invading the region with ill motives.
Jaguar, for example took a swipe at Nigerian artistes recently after a working relationship with Iyanya turned sour.
AY from Tanzania also warned East Africa artistes to be careful when making deals with Nigerian artistes as Diamond insisted that there was nothing wrong welcoming them to work with the locals.
"Look at the Grammy Awards. They have bought every genre in America under one roof. We need such an award in Africa to unite the industry," Diamond opined.
"We need to award the best in the continent under one award scheme that is not owned by a channel, a country or a single organisation. If industry players do not come up with an award in the next few years, I will use my money to come up with one," challenges Mike.
The shoot is still going on as a power generator hums with more lights enhancing visibility. Gospel icon Esther Wahome, who is set to feature in the video, passes by. The drivers are ordered to reverse the vehicles into a pre-set arrangement.
"Every video scene is different from another. I still get the thrill like I am doing it for the first time. I have travelled across the world just by being the guy behind the camera," Mike notes.
He claps his hands, picks up his drink and nuts, stands up and moves to the set.
On this day, the shoot goes on until 2am.