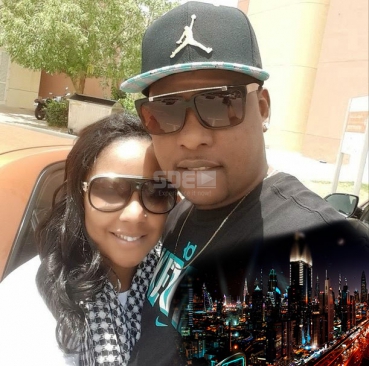 As Kenyan's were getting treated to the juicy gossip about singing beauty Marya having stolen someone's husband on Monday, the Chokoza hitmaker and Kevin Mutisya her newly-found heartthrob were posing for and posting photos from Movenpick Hotel in Dubai.
With them on the luxury rendezvous was their friend introduced to us only as Evans, a really close pal.
They looked quite an item as they took selfies. A smile would follow, as if to mock Senator Mike Sonko's teenage daughter Salma, who had alleged that Marya had 'snatched' her aunt's husband.
"I hate exposing nig**rs but this one I just had to...When it comes to my family I will fight for them till the end and I don't like it when people mess around with my blood," Salma wrote on her Instagram page claiming that Marya was dating Kevin Mutisya, her uncle.
"Kevin is a married man...married to my auntie Jannie, a very beautiful woman and they have kids together so I don't understand why a whole musician who is respected by Kenyans can date a married man," Salma's post went on.
Of course, this is not the first time the Marya and Kevin's dating story is surfacing but the new angles it threw left more questions in its wake.
Unknown to many, since Marya went under, ditching her music career, Pulse has established that she has actually been making holiday trips to Dubai where Kevin has been living for the past 15 years.
Before digging out this exposé, a source close to the two told Pulse that the two are seriously dating and very much in love.
The source alleged that Kevin and his wife separated in October last year and are no longer seeing each other.
"They parted ways and life moved on. During the separation, Kevo met Marya," our source said before going on to claim that Kevin's wife had also moved on adding that she has been dating a white boyfriend, claims we are yet to confirm.
"They have no children (together) but Kevo has a 13-year-old with another lady he was with before meeting and separating with his wife," added the source.
When Pulse got hold of Marya on Tuesday, she was a jovial girl, unshaken by the happenings that, instead of damaging, seem to have boosted her love for the man whom she terms as the love of her life.
Kevin, a senior manager with a Dubai company where he has been living for 15 years has the same sentimental feelings for the singer. Pulse can exclusively confirm that the two will be coming to Kenya by the end of this month to formalise the affair.
"I am divorced and my ex-wife is currently dating and very happy wherever she is," Kevin told Pulse on Tuesday via a phone interview.
"We will be there at the end of the month to state everything to whoever has questions," he said.
"I am very happy and I am not anyone's mpango wa kando (side-kick). I am in love and Kevin is my number one," Marya responded.
''He's a divorced man and he has no kids with his ex. We are grown-ups and before anyone goes chattering their mouths, please gather your evidence. We are both in love, and nothing will stop us no matter what happens." It is not the first time Marya is being put in the spotlight over a 'married' man since she parted ways with her singer-boyfriend Moustapha about three years ago.
Mid last year, she was rumoured to have been dating the youthful Embakasi West MP George Theuri, rumours the legislator denied.
Keep it here!