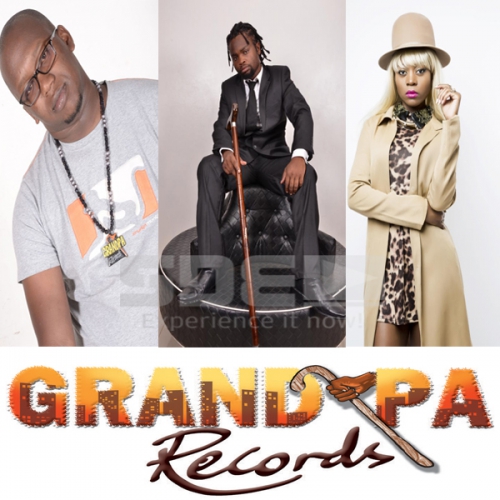 Early this week, Grandpa Records CEO Refigah left the country for Uganda where he is signing up the next bunch of artistes expected to join his stable before the end of this month.
Besides, the business outing was also a moment to scout for office space in Uganda, all being part of the grand plan the stable has to take over East Africa.
A month ago, Refigah was in Southern Sudan on a similar mission and two other visits to Rwanda and Burundi are on the cards.
It's only five years since Grandpa Records opened its doors to artistes during a time when Ogopa Deejays, Homeboyz Records and Calif were battling for showbiz supremacy giving little attention to Grandpa who were then being viewed as the underdogs.
But it is no debate now; with hits such as Chapa (Fimbo ya Pili), Maswali ya Polisi by DNA, Kamua Leo remix, Hivo Ndio Kunaendanga and Mbilikimo, Mkora by Kenrazy and Mapepo by Visita dominating music charts and becoming club bangers, Grandpa Records has raised itself as the stable to beat.
"We started small but we had a grand plan. Let's just say that we have a clear business strategy and our growth is not an accident," Refigah tells Pulse.
"We are creating a music empire. We want to define the East African sound and that is why we are expanding to Uganda, Burundi and Rwanda for a complete takeover," he notes.
"I also want to make it clear that when DNA left, we did not have any bad blood. Our contract with him had ended. We also have no issues with Kidis or any other artiste. In fact, we have signed more artistes in the last six months that any other stable around," he remarks.
Unlike other stables that focus on growing one individual artiste at a given time, Grandpa Records has projects going on for most of its artistes from Kenrazy to Visita, Jo-1 and Sosuun among others.
"Grandpa Records artistes are like one big family. Part of the package entails that all artistes must be active with each having a hit every other time. If you listen carefully, you will find out that at least five of the ten biggest hits right now are from Grandpa Records. In fact, our recent releases - Fimbo ya Tatu (Dawa ya Moto ni Moto) and Sosuun's Sura Ya Kazi - are the biggest songs across East Africa right now," Refigah states, adding that it was no fluke when they were awarded the best record label in Kenya during the Bingwa Awards last year.
"It is not just about recording new artistes but rather a deliberate move to shape up the music industry as we work with everyone. You have seen us work with the likes of Amileena, Wyre, Jay A and Amani among others," he explains.
"The artistes are getting good returns from their music. We are embarking on a continental tour starting next month and things can only get better," he concludes, adding that they are set for a major continental tour starting between May and December.