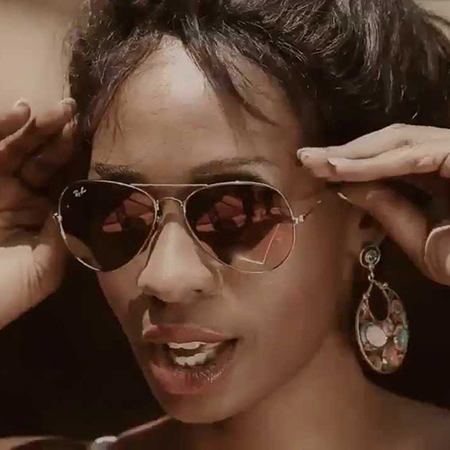 Pulse: Before your pop group Blu3 fizzled out, it is alleged the three of you were dating your manager Steve Jean resulting in squabbles that led to you being kicked out. Is it true?
Cindy: Steve? He was not dating any of us, not that I know of and I didn't want him either. He wasn't my type anyway.
P: So why were you kicked out of the group?
C: I was actually fired and I don't understand why up to now. After working for two years non-stop we convinced the manager to give us a one month break and I think I overstayed my break. The other girls wanted to come back and work but I was in Spain. I'd saved for this holiday so I requested Steve to allow me more time but after I came back I got the news and decided to do my thing.
P: You are currently embroiled in a court case with your estranged husband Mario Brunetti over your daughter. As we speak where is Amani?
C: We were never married but we lived together as husband and wife anyway. My daughter is currently in Uganda with her dad. We have an arrangement on how we will raise her. Our communication is only centred on her and nothing else since we went separate ways.
P: But your ex wants full custody of the three-year-old daughter...
C: It's unfortunate he decided to sue me over Amani's custody. The settlement has not yet been reached upon, we're waiting for the court ruling but at the moment we are having joint custody.
P: Why did he choose to sue you over custody? Could there be something we're missing?
C: I don't know. He wants to take her to Italy but we'll see.
P: You were together for ten years. How did you meet and what changed?
C: I met Mario before the Popstars competition in Uganda where we, Blu3, became famous. I don't really know what changed. Maybe it's our work and lifestyles. The relationship wasn't going anywhere at the point we parted ways.
P: Was cheating ever a reason why your relationship ended?
C: There was no cheating that I know of.
P: Are you dating?
C: I'm not seeing anyone.
P: Really? Not even a certain footballer?
C: (Laughs) OK fine. I have something going on but it's only been four months. I don't want to say much because it's still too early. He's a Ugandan footballer who plays in South Africa.
P: Your nude photos that leaked to the public some time back. Were they real or Photoshopped?
C: Yes they were my real photos.
P: How did they reach the public domain?
C: I still don't know. But a week before they leaked, I had lost my camera and I didn't report it to the police because I didn't think much about it and I think whoever got the camera leaked them. A week before they were published, one of the writers from Ugandan tabloid Red Pepper called me asking for money or else they would publish the photos. I wouldn't pay them so they went ahead and published them.
P: What about the stained panties photo during a concert where you were dancing with your legs open?
C: That was a lie. It was photo shopped. I always look at photos after I perform and that day I checked with one of the photographers and the photos were good. The Ugandan media is crazy.
P: The grapevine has it that you're working with some Kenyan artistes on your upcoming project. Is that true?
C: Yes I am currently doing a remix of Selecta with Jaguar and I also have something I am doing with Wahu.
P: What else should we expect from you this year?
C: In Uganda we don't release albums because of piracy. We just release singles and I have a new one called Sample Dat. I am going international. At the moment I'm working on collabos with Conscience, Javada and Nigeria's Patoranking.