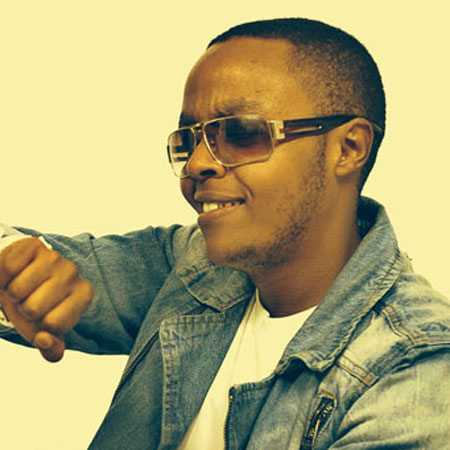 Legendary rapper E-Sir's brother, Habib       Photo: Courtesy 
Pulse: You have been very silent for years. What have you been up to?
Habib: I had been out of the public limelight but I had not stopped doing music. I have been recording songs, what I have not been doing is releasing them since I wanted to be completely content with what I was doing first before I release them. Away from that, I have been doing some businesses, which I cannot disclose any details about.
P: What are you currently getting your hands on?
H: I am concentrating much of my time in getting my music out. I have since released an audio last week called Si Usare, an E-sir tribute featuring Collo and Ulopa. I also released a song, Mara Hio, in January.
P: Why did you and Manga stop doing music together?
H: Manga was passionate about music as well as about flying. He went to study aviation at Wilson Airport, but I have been going to the studios.
P: How does it feel being a brother to one of the greatest rappers in Kenya and seeing that people still celebrate him to date?
H: The support I have received is gratifying. He was and still is a legend, and one of the pioneers of music in Kenya. Thinking of that inspires me to work as hard as he did in his lifetime.
P: It has been ten years now, does his demise still affect your music career?
H: In one way or another. This is E-sir. Just like many, I was his great fan. But again, this is my brother we are talking about. This is blood.
P: You were still young then, do you recall the activities that took place prior to his death.
H: Every moment, especially memories of that last day are still fresh in my mind. It feels like yesterday.
P: What happened before he left for the Nakuru concert where he met his untimely death?
H: We were talking about random things then before he left, he told me to take care of our mother, and that he would see me when he comes back.
That was the last conversation the two of you had?
H: Yes, we are a very intimate family and E-sir was passionate about bringing all of us together. He loved our mother a lot. She had brought us up well, and the best we could do was to keep her happy. She still means everything to us.
P: How did you learn of his death?
H: It was 11am and I had just woken up since I had partied the previous night. Then at around 2pm, Big Pin, who is a very close friend, called and informed me that E-sir perished in a car accident. Wahu called to comfort me.
 Nameless could not because he was shocked and did not know how he could break the news to us, and I understand why it was hard for him.
P: Sorry about it all. That must have been trying?
H: It was such an agonising pain that no word can explain. Let me say, all my life, I have never felt such grief. The news travelled like bush fire. The media was all buzz about it. E-sir had been a legend.
P: How did you cope with his death?
H: I have never moved on really, and I get comfort from people close to me. Nobody says anything bad about the life he lived. I am happy he lived and I celebrate his life.
P: What is your most memorable moment with him?
H: I cannot remember the exact year but it was during his first show at South C, organised by Insyder magazine. After the show, he took my mother and I for a pizza and we had a good time.
P: What qualities do you remember him most for?
H: He was a protective brother, and would advise me about life. He would never do anything wrong in front of me because he wanted me to learn the best from him. Since we lost our father, he took the role.
P: E-sir had great hits, most of which are still club buggers today. Who owns the rights to these songs?
H: There is a written agreement between us and Ogopa Deejays on this. Besides, his music will forever be a priceless treasure to us and all his fans.
P: Do you look forward to doing your own rendition of his big tracks, anytime soon?
H: I can not rule out the possibility, especially in doing so for his honour. It is something I have thought about before.
P: Do you get pressure from people to be like your late brother?
H: I used to feel the pressure but now I don't. There can only be one E-sir and I am happy with who I am and what I do.
P: What don't people know about E-sir?
H: He would be teary-eyed every time he ate.
P: What are your future plans?
H: I am going to release songs you have never heard under Side B Entertainment. I will keep doing what I love.