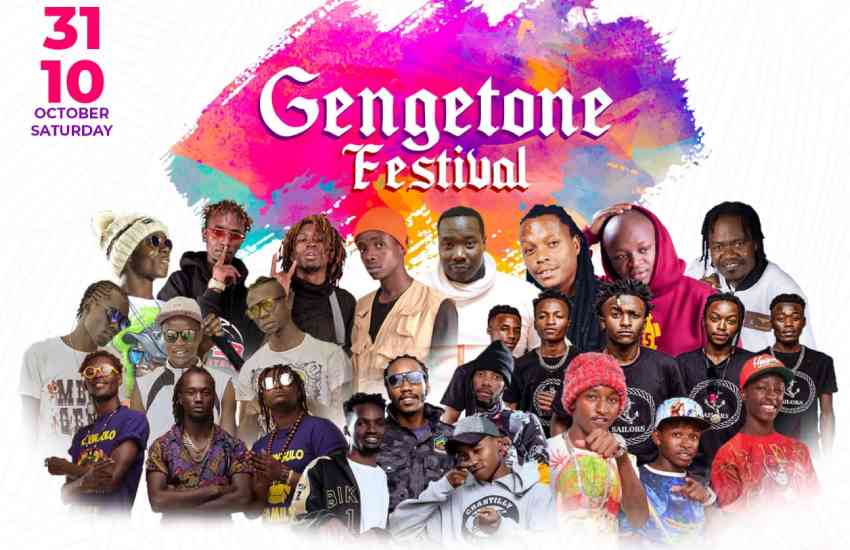 Party hype has never gotten this crazy this year as it has this week. In fact, since social events came back after the long Covid-19 pandemic orchestrated lull, it seems like everyone has been waiting for this weekend.
Arguably, the biggest gathering of artists sharing one stage seen in Kenya in the longest time, the Saturday Gengetone Festival being held at Machakos People's Park as being branded the mother of all Gengetone battles. It will feature Zzero Sufuri, Sailors 254, Breeder LW, Jua Cali, Wakali Wao, Chungulo Family, Mbogi Genje, Fatboy Gwash, Ethic Entertainment, VJ Jones, Shay Diva and Kartelo among others.
Read Also:Three of the best Gengetone music producers in Kenya
All week, in their various individual platforms, the groups have been recruiting their fans to attend the concert to support them. It is a rare clash, a battle of sorts, mostly for the freshmen groups that have lately been fighting for supremacy. For the best part of the year, these groups have been recording music and releasing it to the masses online and it is only now that they can prove to fans who is greater than the other in this battle for the throne.
Party in Kisumu
It is not only Machakos that is getting alive this weekend. Away in Kisumu, things seem to be looking up as the reggae tune returns to the 'Baba' city. Wyre the Love Child will be joining the biggest reggae outfit in the land, Dohty Family, at Club da Place, Mamboleo. As with many events lately, the Sunday show will be kicking up early – 11am – with the Dohty Family leader Kriss Darlin and DJ Ves leading the party during the show dubbed Kikao Sunday.
Read Also: Why artistes in other genres are jumping on Gengetone bandwagon
Nairobi goes Thrift
And back in Nairobi, the shopping, music and fun social outdoor event, Thrift, makes a comeback at Carnivore on Saturday and Sunday. With deejays entertaining shoppers and party lovers, the event, an all-family affair is expected to kick off in the morning (on both days and close at 10pm).
As entertainment events gain momentum again, another big clash is expected to take place during the Nai Fest set for November 7 when top Kenyan acts share the stage in yet another massive show. Khaligraph Jones, who has released quite a number of songs this year (Tuma Kitu, Yes Bana, Lwanda Magere, Kwendaa and Roll with You among others) will be here to show just why he is the African king of hip hop.
Read Also:The untold story of Ethic, the founding fathers of Gengetone
Again, there will be Tanasha Donna, who will be staging her first major act after launching her debut EP christened Donna Tella, an instalment that was released before the controversial breakdown with her baby daddy, Tanzanian music superstar Diamond. Tanasha will be looking forward to proving to the whole world that she has come of age and that she can indeed stand on her own and thrill her fans. The Gengetone train of Mbogi Genje, Sailors, Gwaash and Zzero will again be meeting here for another take.
Quiz Maker - powered by Riddle