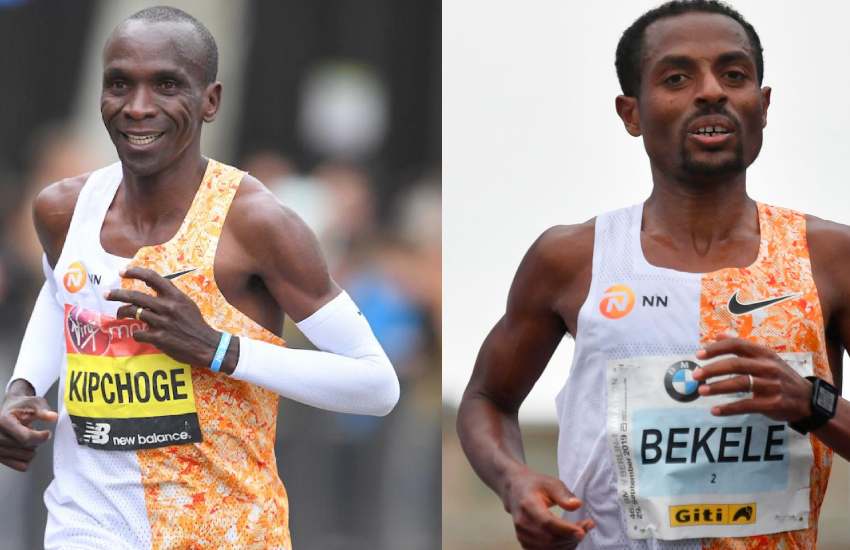 On September 16, 2018, Kenyan marathoner Eliud Kipchoge took the 'INEOS 1:59 Challenge' head-on in Vienna, Austria to become the first person to run a marathon in under two hours. Hailed for beating the clock by over a minute, Kipchoge's 'No Human Is Limited' feat against the world record of 2:01:39 was viewed by some as the hallmark of human endurance that will stand for ages.
Read Also: Eliud Kipchoge triumphs in superhuman race against clock
However, in 2019, Ethiopia's Kenenisa Bekele almost stole the show after he ran the same distance, two seconds shy from Kipchoge's historic time. This excited fans across the world especially those from their respective nations as to who would win if the two great track athletes were to compete. Plans were mooted but were, unfortunately, shelved following the outbreak of the coronavirus pandemic.
With no sure date as to when the race would resume, news on August 6, 2020, of their faceoff in London filtered through. Though not set on stone, the two marathoners will on October 4 meet in the same race for the first time in history on a bio-secure closed course in St. James's Park. For Kenyans, all eyes will be on arguably the greatest marathoner of all time, Kipchoge. His level of endurance, physical and mental discipline and consistency is unrivalled.
Under the long term guidance and coaching from his friend and mentor Patrick Sang, Kipchoge's first burst on the senior international scene was as a teenager. He defeated track icons Hicham El Guerrouj and rival Bekele to 5000m gold at the 2003 world championships. He has since claimed victory in 10 out of 11 marathons, racking up an unprecedented nine successive victories over the 42.2km distance. 
Read Also: Wildebeest migration -Eliud Kipchoge to spend this weekend at Maasai Mara
Bekele is no pushover. Aside from his near-record-breaking run in Berlin, he has smashed six world records. Bekele holds the 5,000m and 10,000m world records and boasts over 21 Olympic and World Champion titles.
Reactions from fans told it all…
Actually cannot wait to watch kipchoge and bekele race even if it's on TV not in real life ???? #LondonMarathon — Maz (@mazzie1441) August 6, 2020
This gives me so much relief. I needed a Kipchoge VS Bekele race so much this year. It wont be a fully-fledged marathon like the rest but it will be something. Hopefully they get the INEOS pacesetters and go really fast. https://t.co/cM4dWzxpwt — Jay???? (@KenyanHunk) August 7, 2020
This is the only fall sporting event I care about. Kipchoge vs. Bekele is going to be one of the greatest races of all time. https://t.co/xUAC3qU8vc — Negro Matapacos Fan Account (@bonusbonusjonas) August 7, 2020
This will probably be the greatest marathon showdown of the century. Kipchoge goes head to head with Bekele. The king of the road vs the king of the track.???? https://t.co/n8pvfruC5y — Mic Maestro ???? (@mc_jayb) August 7, 2020
If there is a single ray of light in the dumpster fire of 2020 it's going be to seeing Kipchoge vs Bekele. Let's go!!! https://t.co/9Sr40BnVKu — Alec (@abroadwithalec) August 7, 2020
i would be lying if i didn't mention that a Kipchoge and Bekele throw down in London this Fall isn't a little exciting — ho hum social distancer (@ShaharOzeri) August 7, 2020
October 4 - Not the way one would have liked to see Bekele v Kipchoge. But nevermind !! https://t.co/h69m3olVb0 — Rahul Bhutani (@BhutaniRahul) August 6, 2020