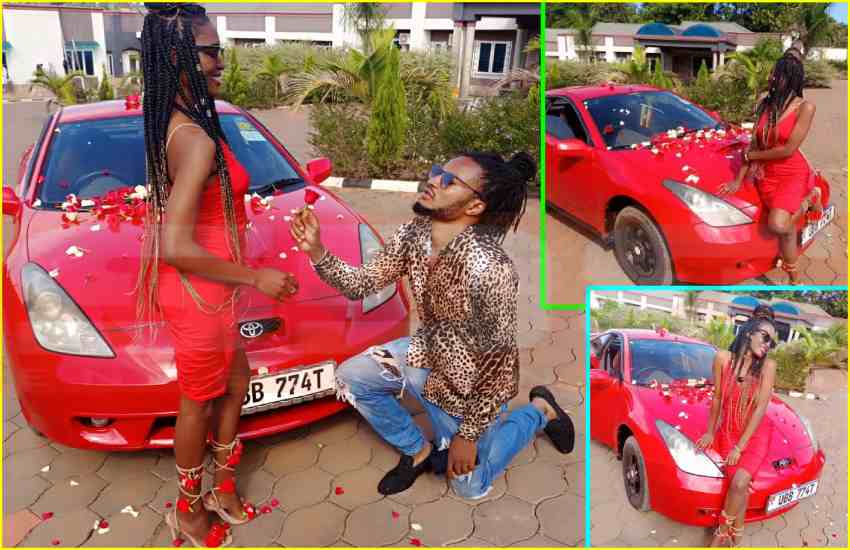 After proposing to her in a spectacular way last weekend, Ngene Atata, a West African investor living in Uganda, is set to spoil his Kenyan heartthrob the more as the two leave for Dubai, United Arab Emirates (UAE).
Caila Kambella aka Kamba Doll, the Kenyan model who was showered with dollars by the fiancé before getting surprised with a brand new car now says the two are planning their wedding and how to live together as man and wife. "My man has truly shown me that true love exists. I am still coming to terms with the surprise he gave me last weekend. Meanwhile, we are set for Dubai where we will have a little holiday as we plan things forward," Kambella told Entertainment&Lifestyle.
 After Atata, the self-styled philanthropic investor, proposed to Kambella over the weekend, the two lovers drove through the streets of Kampala in a convoy of state-of-the-art rides to a huge attraction with many waving at them and congratulating them in their new union. "This was a huge surprise for me and a clear sign that my man really wants us to spend the rest of our life together. He is the best thing that ever happened to my life. I am over the moon and I am truly humbled," Caila told Standard Entertainment & Lifestyle during an exclusive interview.
Read Also: Exclusive - Kenyan model and Nigerian lover ruling Kampala, swimming in dollars
"We met in Kenya back in 2014 when he visited on a business trip. He came back to see me in 2018 and it was then when he informed me he was investing across East Africa. That is how we moved to Uganda where he has a number of businesses, which I am supporting. We are now a couple and we are discussing couple goals," said Caila, who also runs a photography label during the interview.
And here are exclusive photos Entertainment&Lifestyle acquired from the proposal scene.