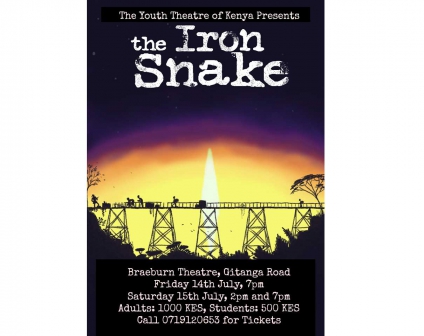 The story is set in 1896 and follows the creation of the then, Ugandan Railway. "It is uncommon for a country to create a railway, but it is uncommon for a railway to create a country," are the words inscribed on a wall at the Nairobi Railway Museum.
The history of Kenya and the creation of our nation is inextricably linked to the creation of the Ugandan railway. 'The Iron Snake' tells explores this pivotal part of East African history whilst capturing the collision of three worlds; namely, the British, the Indians and the Natives of Kenya.
This tale narrates the highs, the lows, the conflicts, the resolutions and the intricately woven dynamic which eventually spawned the birth of our Nation. Expect tears and prepare for laughter as 'The Iron Snake' promises to take you on an adventure like never before. Performance Dates are on Friday 14th July: 7:00 PM and Saturday 15th July: 2:00 PM & 7PM.
Tickets:
Adults: 1000 Ksh
Childern: 500 Ksh