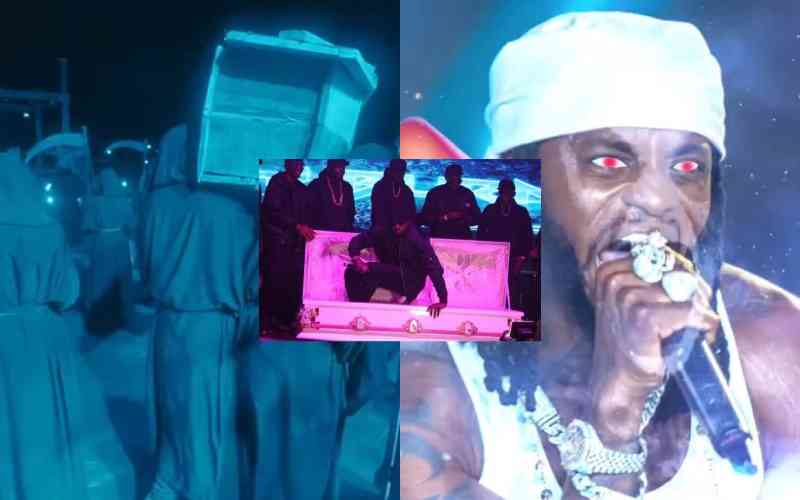 Thunder, lighting and an all-dark arena featured heavily on Diamond Platnumz's recent viral stunt, as he made a grand entrance to his Wasafi Festival show in Ruangwa, Tanzania on September 10.
The Jeje singer sparked lots of conversation and debate when he arrived onto the stage in a casket, following a theatrical entrance executed with a gripping horror theme.
Screens at the stage flashed with images of glow-eyed beings, skeletons and grim reapers, as a team of four men carried the star to the stage in a brown casket.
He then burst out of the makeshift coffin and began his high-energy performance.
A clip from the show was shared on a popular Kenyan Instagram page, attracting conspiracies about the horrific theme and comparisons to a past performance by Kenyan rapper Khaligraph Jones.
"Sometime back OG did it. I now believe that Kenya sets trends for her neighbours," one Instagram user wrote.
Following the show, Diamond took to his X account to tell his fans about how it felt having the grand entrance.
"Coming out from the coffin was an insane experience last night, was scared as [expletive] in there!" he wrote.
And as the comparisons between Diamond and Kenya's Khaligraph Jones persisted, the latter finally spoke about it.
Rapper Khaligraph took to his Instagram Stories, sharing a clip from his past performance, where he too emerged from a coffin on the stage.
"Six years ago, the OG shall be respected," he wrote.
The rapper had pulled a video from the Jameson Connects Kenya 2017 performance at Uhuru Gardens, Nairobi. Back then, the stunt made headlines and left fans stunned.
Standard Entertainment reported at the time: "Shocked fans watched mouth agape as the coffin -escorted by 'pallbearers' in dark outfits - made its way to the stage at the Jameson event featuring American rapper TY Dollar Sign."
It added: "Reminiscent of the classic entrance by the famed WWE fighter The Undertaker, Papa Jones emerged from the coffin unfazed and roaring to go, the OG style."
Following his 2017 performance, Khaligraph said in an interview that he made that casket entrance because he felt that the message he wanted to put across would be best conveyed that way.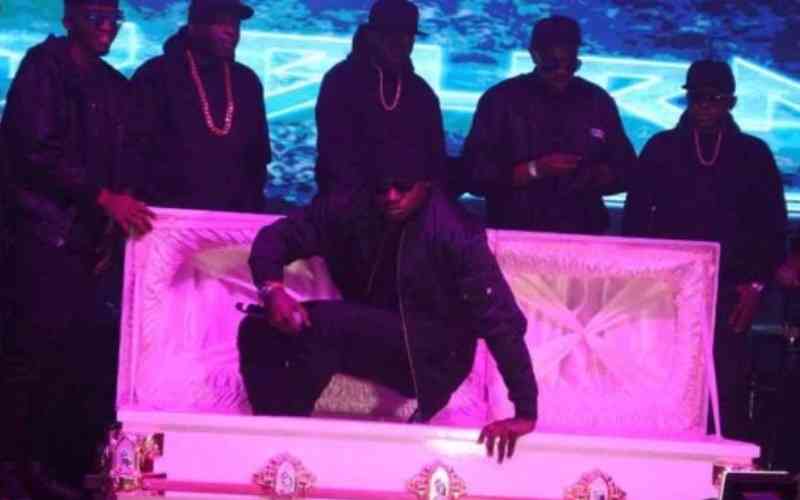 Fast forward to 2023, and it's no wonder that fans and onlookers may perceive Khaligraph's recent comments about Diamond's performance as a subtle jab.
The 'casket' move is not the only way to make a grand entrance, though, as performers have been making grand entrances since the beginning of live shows and red carpet appearances.
Trust Kenyan singer and socialite Akothee to make a memorable entrance. She did so in 2019 when she showed up to her act at the Luo Festival in a chopper, which she had boarded after a Limousine ride from a popular hotel. To make the memorable appearance, the singer reportedly flew only 3 minutes.
"It's me and my baby @Jalangoo on #LuoFestival, we Luos don't land we drop," the Oyoyo singer captioned a picture of her alighting from the chopper.
Akothee's chopper entrance was reminiscent of Kenyan rapper Prezzo's Chaguo La Teeniez appearance way back in 2008.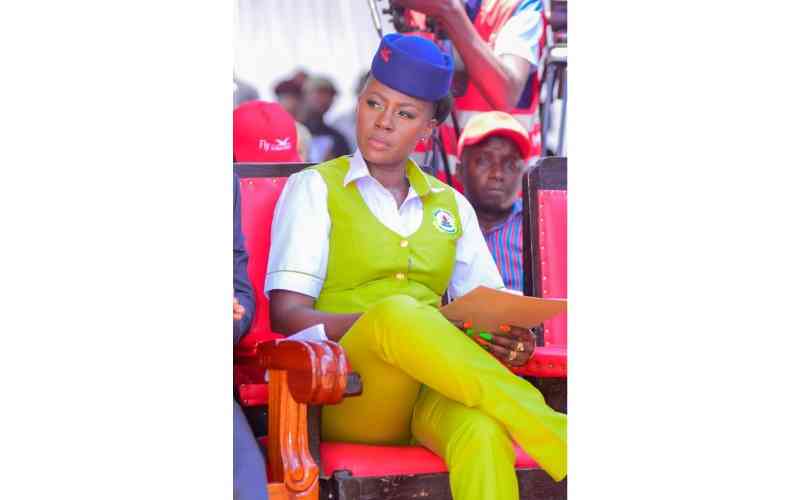 The Chaguo La Teeniez Awards was a ceremony created by the founders of Insyder Magazine, which was incredibly popular with teens and young adults at the time.
The Let's Get Down rapper caused a frenzy when he pulled a similar move, showing up to the popular award show in a chopper.
He looked back at the experience in an interview with (Cleaning The Airwaves) CTA podcast in 2021, saying that he spent Sh 135,000 for less than an hour with the aircraft.
"After I cleared the bill at Wilson airport, I called the Insyder staff and told them that I would be checking in for the day's show in a chopper. They started laughing, but I had to let them know I was serious. Because, in fact, these people needed to mark where the chopper would land," Prezzo said.
A report by a local publication on grand entrances at Chaguo La Teeniez notes: Another celebrity who had a grand entrance in the popular event was musician Mejja alongside his then producer, Clemmo. They both arrived at the 2008 show in a black chopper.
It added: "Rapper Kenrazy on the other hand also made a grand entrance when he arrived in a white and red coloured horse carriage. Artists signed to Ogopa Deejays showcased their might in the industry when they arrived in a motorcade of gleaming vehicles at the 2011 Award show."
An African star who has had a notable grand entrance recently is Nigerian singer Asake, who wowed fans with his unique arrival onto the stage at his O2 Arena Show in London last month.
His entrance is one that has been described as "shaking up the venue" and "lighting up" the sold-out show.
"Asake's grand entrance was a memorable moment for fans. He came on stage via a helicopter that landed in the middle of the arena. He then treated the audience to a mix of tracks from his debut album, 'Mr Money With The Vibe' and his second project, 'Work of Art,'" Modern Ghana reported.
The show was a historic one which saw Asake join Wizkid, Davido and Burna Boy on the list of Nigerian artistes who have sold out the O2 Arena.
And there have been even more elaborate and unique entrances made by celebs on the international front. Like when American singer Lady Gaga showed up to the 2011 Grammy Awards in an 'egg', which she only emerged from to give her performance.
Or when RnB superstar Beyoncé dangled upside down by her ankles as she emerged on the stage at the 2003 Video Music Awards.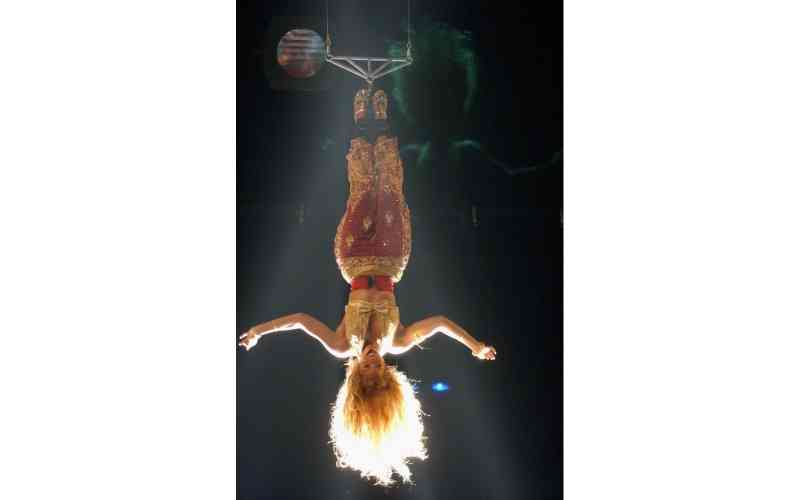 Showing up large and loud may be the additional spotlight that stars take on to impress their fans, but it also comes with other benefits, even for the ordinary person.
"You make a grand entrance when you walk into a room and immediately signal confidence, purpose, and positivity to those who see you. A grand entrance makes an amazing first impression and can set the tone for the rest of your social interaction," Science of People, a blog, reports.
Psychology Today notes that stage performers are experts at it, with musicians controlling the audience's reaction to their work by the way they first make their appearance into the concert hall.
"In a study of people's reactions to the entrances made by classical violinists, Friedrich Platz and Reinhard Kopiez (2013) of the Hanover University of Music, in Germany, conducted a series of online surveys in which participants were instructed to watch videos of violinists and react to the impressions the performers made in the moment they became visible on the stage and before they played the first musical tone."
The report adds that neither clothing nor attractiveness were important influences on the impressions the violinists made.
"Instead, viewers judged the performers on such criteria as whether the performers nodded at the audience, looked around before they picked up the bow, strode in confidently as they walked across the stage to take their spot next to the conductor, and once there, whether they placed their feet in a relatively wide stance."
Related Topics