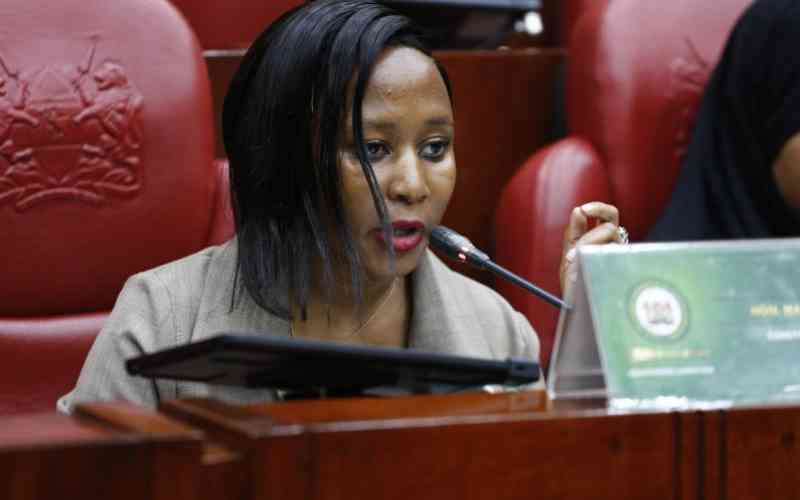 When she walks into the newsroom dressed in a simple but detailed navy-blue dress and cream-white heels, you can hardly tell she is in a club of the chosen few.
Njeri Maina could pass for just any other young woman hustling in the city. But the well-spoken, petite lady is no ordinary woman.
At the age of 29, Maina is an accomplished lawyer and the voice of the 376,001 registered voters of Kirinyaga County in the National Assembly.
When members of Parliament reported for duty last year after the elections, a few faces caught the attention of news photographers. One of them was a young lady who could have easily looked out of place were it not for her self-assured poise. Everything about her seemed to say 'I belong here' and she does.
A few days before our interview, she had moved a motion in Parliament to introduce comprehensive health education in schools.
"Hon Temporary Speaker, we must agree as a nation that young people in this country do not have the right information when it comes to matters of health and sex education. We can no longer afford to fold our hands and expect the situation to resolve itself. That is why I beg this House to resolve to introduce comprehensive sexual and health education in the school curriculum. This is so that we empower our children to make the right decisions when it comes to protecting themselves," said Njeri in Parliament.
Discipline and focus defined her life long before coming to Parliament.
As a young girl, Njeri became a school prefect and would carry her leadership skills at home, which made her siblings refer to her as the 'Bossy Njeri'.
Her interest in leadership grew after joining the University of Nairobi, where she was actively involved in student politics. This, she says, was an affirmation that she was born to be a leader.
As the 2022 campaign season beckoned, and politicians went about promising heaven on earth to voters, Njeri was busy attending to her clients in her legal firm; Njeri Maina Law Advocates.
For her at the time, to successfully run for office, one needed proper guidance, a godfather in politics, and good money. She had none of those at the time.
"I have always been interested in leadership. Even during my campus days, I was involved in grassroots elections. I always wanted to make a difference and was driven by service to the community so I knew politics was the end goal for me. But I was not going to vie for a seat in 2022 since I did not have the funds. I wanted to wait for 2027 but there was a clear opportunity in the Woman Rep seat," says Njeri.
When she sought guidance from those close to her, the advice was unequivocal: start off with a stab for a County Assembly seat. But she is not the kind to settle for less, having keenly studied the political arithmetic in her county.
After several days of brainstorming, she decided to create a campaign poster to get a lay of the land.
What started as a trial-and-error exercise grew wings fast. "It went viral. There was no going back for me," says Njeri.
So there she was, vying for a Parliamentary seat she was not prepared for.
This meant that she had to traverse four constituencies; Ndia, Mwea, Gichugu, and Kirinyaga Central if she was to win.
Njeri braved it all beating the odds; big names, big money, and the long days on the campaign trail earning herself a place in the National Assembly.
Unknown to her, the rough and tumble of political life had just begun.
Once in Parliament, she realised that she has to fight even more as a young person to create a space around her.
"I thought there was support in Parliament but I learned very fast that is not always the case We have been conditioned to think that if a young leader is present, they are coming to occupy our spaces.
"This is because women think there is not enough space for all of us. It is shocking to see that in Parliament women barely get support from fellow women. For me, I have been supported more by men than women, which is okay."
Despite the challenges that come with fitting in and getting used to the system, she has learned the ropes fast, to the point of moving the motion on the Introduction of Comprehensive Health Education in Schools.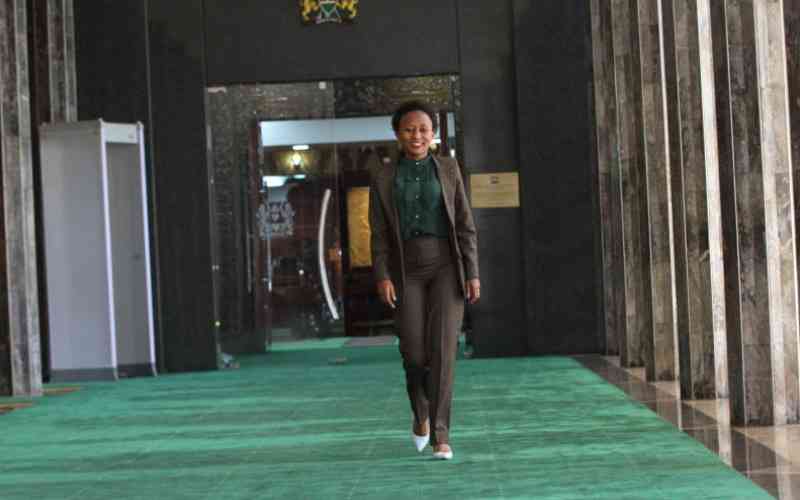 Njeri says the motion aims at improving the mental and sexual health of students.
"I am seeking to introduce health education in schools because we have a gap and it has been open to exploitation. We have been burying our heads in the sand for so long and we cannot afford to anymore," she says.
"By having it in the school system, it will be standardised and age-appropriate as it purely focuses on healthy relationships in terms of sex education and mental health, unlike the previous ones which offered contraceptives."
Her motion unlike the one presented in the last Parliament, aims at providing knowledge that young people need to be protected.
"Young people face significant barriers in accessing comprehensive health care. By introducing comprehensive sexual education through school-based programmes, community-based programmes and healthcare facilities we can promote healthy sexual practices among young people and reduce the spread of HIV/AIDS and other sexually transmitted infections. Additionally, this will lower incidences of teenage pregnancies, thus increasing school attendance and retention."
If the motion is approved, the legislator believes it will be the beginning of imaking an impact.
Unsure but optimistic about what the future holds, Njeri says her priority is serving the people of Kirinyaga and delivering the promises she made to them.
Related Topics