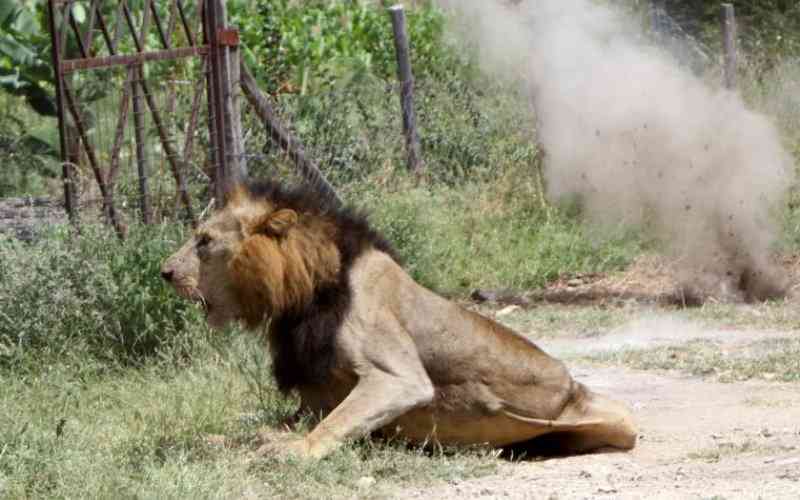 The month of May was a sad month for wildlife lovers, especially those who love lions, with the death of Amboseli king Loonkito. Loonkito was one of the world's oldest lions.
For more than two decades of escapades, I have developed a liking for the king of the jungle, his queen, and their little princes and princesses.
Chasing after pride is thrilling and quite a number of times I have been lucky to witness hunting, and intimate sessions, acts that bring everything in the jungle to a standstill. During the hunting sessions, tourists watch in awe and the drivers outdoors each other in an attempt to get the best view of the movie-like scene by these largest cats of the big five, while the antelopes, zebras, giraffes, warthogs, and other wildlife scatter for safety. However, during mating, everything comes to a standstill as both tourists and wildlife watch from a distance an act that can take hours or even days.
Some of Kenya's lions attract global tourists, researchers, and academia that travel to Kenya to interact with such famous lions as the late Loonkito, Scarface, Notch, Morani and other famous lions.
In my game drives at Mara and Amboseli, I have been lucky to spot some of Kenya's famous largest big five.
Among them is the late Scarface, a scary lion whose face was disfigured by injuries sustained during a territorial fight. Others include Notch, Morani (brother to Scarface), The Marsh, The Marsh Breakaways, The Mara River, the Rekero, and the Lookout prides.
In April this year, during a road trip to the Amboseli ecosystem, I was fortunate to encounter Loonkito, a month before he met his death, which ended his legacy of being the oldest lion probably in Africa at the age of 19 years.
Loonkito may not have been the most handsome lion in the Amboseli ecosystem, but he was one of the most resilient lions in the Amboseli ecosystem. He has outlived many of his peers.
Born in 2004 Loonkito lived the full lion life span of 19 years. He was the oldest lion in Amboseli National Park, Africa and possibly the world.
Contrary to the contradicting news that the legendary lion died a natural death, Loonkito lost his life through human-animal conflict.
He was speared reportedly after he entered a cowshed in Olkelunyiet village, Kajiado County, upon which an alarm was raised and he was speared. He was weak due to old age and succumbed to the spear wounds.
Loonkito was famous as indicated by the many salutes people among then tourists and conservationists.
"Many of you may have heard the news from Amboseli National Park about the passing of the legendary Loonkito, possibly the oldest wild lion in the world on May 10th, 2023," said a statement from Nombekana Safaris of South Africa.
Loonkito had lost his brother in a territorial fight, where he too, was badly injured, and since then, he had been struggling to defend his territory and family.
At the prime of his youth, Loonkito ruled over a large pride of females, and cubs until about 2017, and at the time I encountered him two months ago, he was leading a lonely life.
While wildlife lovers and conservationists were mourning the legendary lion of Amboseli, news came in that some more than six lions were speared to death in a human-wildlife conflict shaking the world of lion conservationists.
In just under two weeks, Kenya's dwindling lion population was less than seven lions.
Other famous lions
Before his death on June 11, 2021, Scarface was one of the oldest male lions in Masai Mara. He got his name from his scary face, a situation he had attained through injuries during a territorial fight in 2012 over the Marsh Pride territory.
He and his brothers Sikio, Hunter, and Morani, commonly referred to as the "three musketeers" won the fight and ruled over the Marsh territory, to become one of the Mara's most powerful prides.
At the time of his death, he had already lost his two brothers, leaving the Marsh territory to his brother Moran and a large family sired by his brothers alongside himself.
These prides include the Mash, The Marsh Breakaway, The Mara River, The Mugoro, The Serena North, Serena North Breakaway, The Rekero and Rekero Breakaway, and the Lookout prides.
Scar as he was affectionately recalled featured in BBC's renowned show, Big Cat Diaries chronicled his days in the wild, elevating him to a popular and famous status across the globe.
Another famous Masai Mara lion was Notch. He was identified through his extraordinary and huge dark mane. He and his pride led a unique life not seen in the Mara before.
He was not easy to spot, and unlike Scarface's pride which comprised of his brothers, Notch's group was made up of five sons – Notch II, Mighty Long Ron, Ceasar, and Grimace.
While within the Lion family, it is often the norm of sons to challenge their fathers, this was not the case with the Family of Notch.
Instead, father, and sons formed a collaborative group that dominated the Mara, reigning over thousands of square kilometres, siring several cubs across different prides.
But before all these kings was Elsa. Elsa lived many years ago (in the 60s), and many know her from the heart-warming film, Born Free. For those who have visited her home at the Meru National Park, history comes alive about this magnificent story of a domesticated lioness.
You cannot mention, Elsa, the lioness without connecting her to Joy and George Adamson, the couple that adopted her after George accidentally shot her mother dead leaving her and her sisters Big One and Lustica orphans.
The couple raised her but later released her to the wild, making her their first wild animal to be domesticated and later released to the wild.
Elsa died at five years from a tick disease and was buried in Meru National Park. Years later, Joy Adamson passed, and she was buried in a grave right next to Elsa, a gesture that cemented the bond the two shared.
Their legacy continues through the Born Free Foundation – an animal welfare charity that has a strong focus on protecting the lions of the Meru National Park.
These lions' complex relationship and prowess at hunting have been well illustrated, offering an artful reminder of the fascinating, and unique social hierarchies lions hold among themselves.
Related Topics