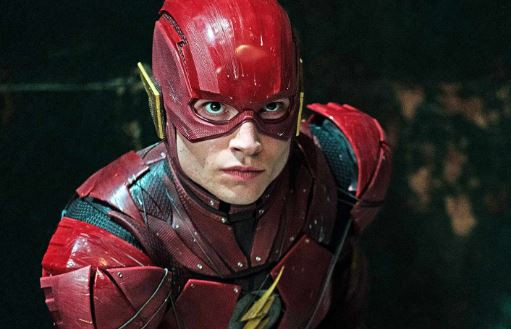 The words "impressive" and "awesome" were common refrains from a group of entertainment reporters who were among the first to see the upcoming DC superhero movie "The Flash."
Warner Bros. screened the film for the first time at CinemaCon Tuesday for theater owners, exhibitors and reporters attending the annual trade show and industry conference.
Reviews are embargoed until a later date – the film, the studio said, is not completely finished – but viewers were able to post reactions on social media as soon as the credits rolled.
Brian Welk of Indiewire wrote that "it played very well," pointing out that there were more than a few screams and gasps in the packed theater.
Film critic Jordan Hoffman tweeted that it was, "far more madcap than I expected. Really nailed what reading a 5-issue crossover comic book is like. Tons of Ezra Miller being zany and time paradox stuff. Nerds will lose their minds at the ending."
"The Playlist's" Greg Ellwood wrote that it was "very good" and that Miller was "great," while Scott Mantz went a step further declaring that it's "one of the very best DC movies, a perfect blend of action, heart & humor."
Erik Davis, of Fandango, wrote on Twitter that it is "tremendous" and that it is "without a doubt among the best superhero films ever made. An all-timer. Inventive storytelling, FANTASTIC action sequences, great cast. SO MANY nerdy details."
Jason Guerrasio, of Business Insider, had a more tempered reaction, writing that it is "def not the best superhero movie ever made ... but it's an impressive DC movie with lots of emotion and loads of surprises."
"The Flash," directed by Andy Muschietti, is one of the studio's biggest films of the year. In the film, Barry Allen uses his superpowers to go back in time in an attempt to change the past and save his parents. But things go awry and he finds himself stuck in a very different reality where Michael Shannon's General Zod is back and Batman is not the Batman he knows (Ben Affleck's version). Widely available trailers have already revealed that the new Batman he encounters is Michael Keaton's version.
After the box office disappointment of "Shazam! Fury of the Gods" earlier this year, the hope is that "The Flash," which reportedly carries a $200 million budget, will reach blockbuster heights when it opens in theaters on June 16.
The long-planned standalone about The Flash/Barry Allen has also been the subject of much discussion because of its star Ezra Miller, who made headlines last year for a string of arrests and erratic behavior.
Miller was arrested twice last year in Hawaii, for disorderly conduct and harassment at a karaoke bar and then for second-degree assault. The parents of 18-year-old Tokata Iron Eyes, a Native American activist, last year filed a protection order against Miller, accusing the actor of grooming their child and other inappropriate behavior with her as a minor from the age of 12. Tokata Iron Eyes has disputed that.
Miller, who identifies as non-binary and goes by they/them pronouns, said last year that they were seeking mental health treatment.
The development of a standalone Flash movie has been in the works for almost 10 years. In one plan, announced at Comic Con in 2014, an Ezra Miller Flash movie would have hit theaters in 2018. Muschietti wouldn't even be attached to direct until 2019.
Warner Bros. has, throughout Miller's personal troubles and the shelving of "Batgirl," remained steadfast in its plans to release the "The Flash."
And though plans are already underway for a new future for DC Studios, "The Flash" has been one that the new regime of James Gunn and Peter Safran have seemed particularly excited about. Gunn said it was, "One of the best superhero films I've ever seen." And Warner Bros. Discovery president and CEO David Zaslav even boasted that Tom Cruise saw and loved the film so much that he called Muschietti himself to congratulate him.
Related Topics