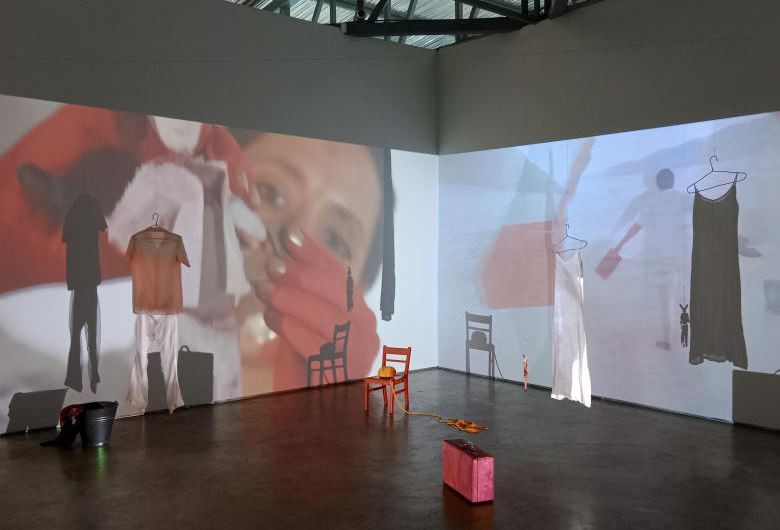 Thursday, March 23 saw the opening of Syowia Kyambi's exhibition, Kaspale at the Nairobi Contemporary Art Institute. Syowia is one of Kenya's most renowned artistes. She represented Kenya on the world stage as part of the Pavillion of Kenya at the Venice Biennalle in 2022 - arguably the world's most prestigious global art event. Kaspale, however, is Syowia's first solo exhibition in Nairobi in seven years and showcases recent works by the artiste centred around the fictional character she created, known as Kaspale.
The mediums, which Syowia incorporates in her practice are performance and installation. She describes herself as a mixed media installation artiste and says that "she enjoys performing characters within my work to tell a story" in an introduction to her work published by Irish artiste Cieran Nash.
She uses her body as a subject, motif and medium in her performances, including the embodiment of her character Kaspale. Kaspale is more than just a fictional character, however.
She is a persona that Syowia embodies to "intervene in situations where the burden of often violent histories has rendered them difficult to articulate and engage with". Her creation of this character began in 2018 with research into the history of the Amani Research Station in Usambara, Tanzania and the archives of the MARKK Museum.
The character of Kaspale allows Syowia to tell stories that would otherwise be shoved under the carpet. Syowia does not shy away from the uncomfortable, be it in the visuals in her performances or the conceptual subject matter her work unfolds. I make work that is difficult for people to live with; about identity, about history, about racism about power structures…' she says.
"Stuff you do not want to look at, especially in a society where the gaps of wealth are so huge, racism is strong, and there is a lot of psychological violence over generations. It is not stuff you want to live with."
The first installation at her show at NCAI is titled Kaspaleh's playground, an installation which features a screening of multiple channel video performances in which Syowia embodies Kaspale. In one of these performances, she pays homage to the mothers of political prisoners of the Nyayo regime, who protested for their sons' freedom for 11 months in 1992.
But there was admittedly also a lighter side to the exhibition. Syowia detailed and explored the fictional ancestors and origins of her character Kaspale in the final piece of the show. This is manifested as an installation titled Origins, where you physically immerse yourself in a kaleidoscope of draped, somewhat see-through cloth embroidered with edited open-source photographs of mangroves on the outside and eight oil pastel drawings on a lightweight and transparent silk-screen mesh that depict Kaspale's ancestors. Syowia also exhibited a series of earthenware ceramic masks, which represent "a fictional collection of Kaspale's family members, all of whom are mythological".
Syowia is the recipient of academic fellowships including the Centre for Art Design & Social Research Fellowship (2018-2020), the UniArts Helsinki Fellowship (2018); the Smithsonian artiste Research Fellowship (2017) and the Art in Global Health grant from the Wellcome Trust Fund, United Kingdom (2013).
The exhibition runs up to June 30.
Related Topics