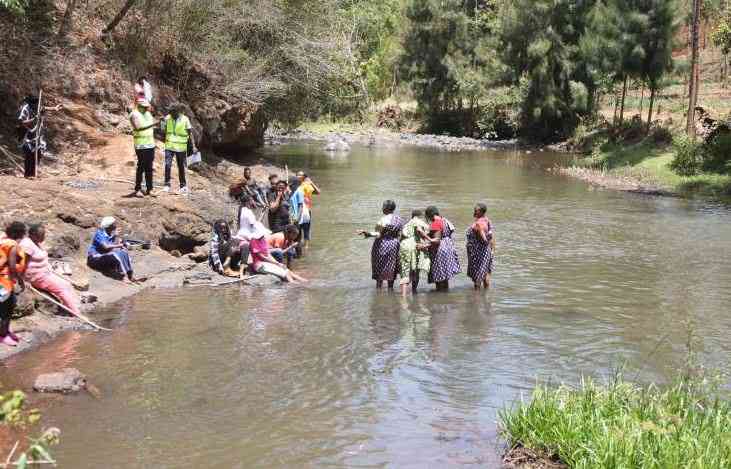 My hiking escapades have taken me to dozens of destinations, but I have never done a riverbank hike. So I was excited when I read about a planned one-day road trip to River Gura in Othaya, Nyeri. The list of activities was captivating – sleeping on traditionally made banana beds by Africa's fastest flowing river, amidst captivating story-telling sessions.
River Gura, I learn, is named after Usain Bolt, the Jamaican Gold medallist considered the greatest sprinter of all time.
For Lucy Maruhi of Shelter Tours, a travel and holidays planner, this was the first hike to River Gura she was organising.
Maruhi was born in Othaya and interacted with the Gura River as she grew up. Now, she wanted to contribute towards the river's preservation and making the river a tourist destination.
The reception of traditional dancing from our hosts was spectacular and a few in the group cannot resist the urge to "shake a leg".
After the introductions, I could not wait to "touch the waters" of Gura River, which seemed to be so calm and peaceful – and little like the fastest flowing river in Africa that has earned itself the name of "Bolt".
The river is not as dramatic as I thought, but it appeared as wide as I ever imagined. Its appearance is that of hundreds of ashy-black rocks lying like tiny turtles seemingly sunbathing without care. The surrounding air was thick as the menthol of cedar bark and waves of the bamboo-fronded river – Gura River is fronted by lots of cedar and bamboo.
However, this will soon disappear if no measures are taken on the massive cutting down of these natural trees by the locals for charcoal and wood fuel.
We spend a few minutes, immersing ourselves in the river, and as I do so, I can sense the magic about the river.
There is something so magical, so ancient, something that one can only find in a map or those spin-around global world map balls that we used to spin around to find places.
This was real though. No spinning of the global map ball, no locating, just touching and deriving the magical pleasure of doing that.
As we walk along the river bend – never too far from the river, the birds with their charade of a choir seem to be cheering us on, especially when faced with challenging terrain.
Our group moves on and our guides take time to urge the weaker in the group, occasionally stopping at some mapped spots to explain something.
There was no dull moment in the gruesome three and half hour hike. We had many encounters including boys and girls having their swimming lessons, and a community project to ensure children living around here were not vulnerable.
After a gruelling three-and-a-half hour walk, through different terrains sometimes punctuated by sharp bends, and steep spots in places where the trail almost "kisses" the river at the river's deepest places, sending some of the hikers screaming, we finally came to the spot of fun and relaxation.
We ended our hike at a spectacular spot, whose setting mimicked that of a swimming pool. Spread along the riverbank of this spot was "mystical" banana beds that proved to be attractive and beckoning to the hikers.
After a sumptuous traditional cuisine – mashed potatoes and greens (mukimo), roast and boiled meat, maize, pumpkins, ripe bananas, porridge, and other delicacies; it was now time for the highlight of the Gura River hike.
This was an interactive session where we bonded with traditional Kikuyu women, boys and girls, and a special team of youth that demonstrated the art of diving from a scary height.
We brewed coffee, danced Mwomboko and listened to fairy stories. The group of women in their 70s and 80s had fond memories of the river. To them, it was special.
It is from this river that they fetched water for decades, where they came to wash clothes, and interacted with other girls across the villages; it was here that some of them got their suitors and future husbands.
At the end of it all, River Gura is amazing. Considering all of the stones, and rocks that stood on its path as it calmly flowed (underneath, the flow is furious), it seemed to be fighting to keep its momentum of natural flow. It seemed confident in its natural defence.
However, I could sense, albeit see that this confidence was breaking slowly.
Could the massive destruction of the ecosystem by the local's activity eventually break and destroy this majestic river? Could it put Gura in the list of the tens other iconic rivers that disappeared many years ago?
But there is hope through an ongoing campaign to create awareness of the importance of the conservation of the Gura River and its ecosystem – making it a tourist destination through the introduction of hiking and other activities. Long live Gura River!
Related Topics