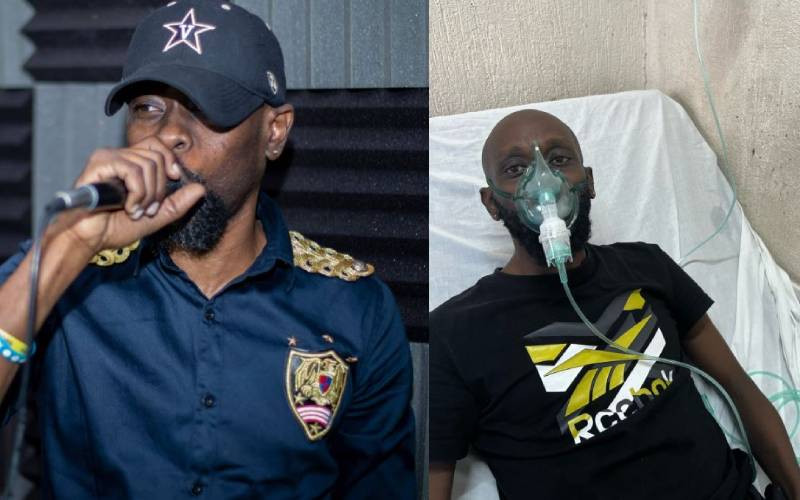 MC Fullstop, the renowned reggae MC, recently shared some devastating news with his fans. In an update posted on his official social media accounts, he disclosed that he had been diagnosed with tuberculosis (TB) which has caused his left lung to collapse. As a result, he is now living with only one lung, which has made it difficult for him to carry out his daily activities.
MC Fullstop, real name John Maina, revealed that he was initially diagnosed with TB in 2021, which caused severe damage to his left lung. The illness affected his ability to breathe and left him struggling to perform even basic tasks like walking and running. Despite undergoing treatment, his condition worsened in 2022 when he was diagnosed with TB affecting his throat, which has further impacted his health.
"My left lung has totally collapsed nimebaki na moja. In 2021 i was diagnosed with TB ya lungs ikasosi lungs kabisa," wrote MC Fullstop.
The reggae MC expressed his gratitude to his fans and supporters who have been with him throughout his health struggles. He hinted that he may be retiring from his career as an MC, given the challenges he now faces due to his illness.
MC Fullstop also explained that unlike the liver, which can regenerate itself, the lungs are unable to heal themselves. This means that he will have to adjust to living with one lung for the rest of his life.
"Alafu lungs zina lungs ufala unlike Liver, haiwezi ji heal itabidi nijipange hapa naona niki hang boots," he said.
In response to his update, his fans have shown overwhelming support and well-wishes. Many have taken to the comments section to offer words of encouragement and pray for his speedy recovery. Despite his health challenges, MC Fullstop has maintained his sense of humor, which has endeared him even more to his fans.
John Macharia, one of his fans, commended MC Fullstop for his strength and sense of humor. He wrote, "You're a very strong man. Yani you still have a sense of humor ata kama umefika mwisho."
Austin Akala expressed faith in God, saying that when all else fails, God can perform a miracle. He wrote, "Every time tukifika mwisho, when we exhaust all within our powers… God takes charge He is a miracle worker and nothing gets Him in surprise…. He has done it before His other name is miracle."
Related Topics