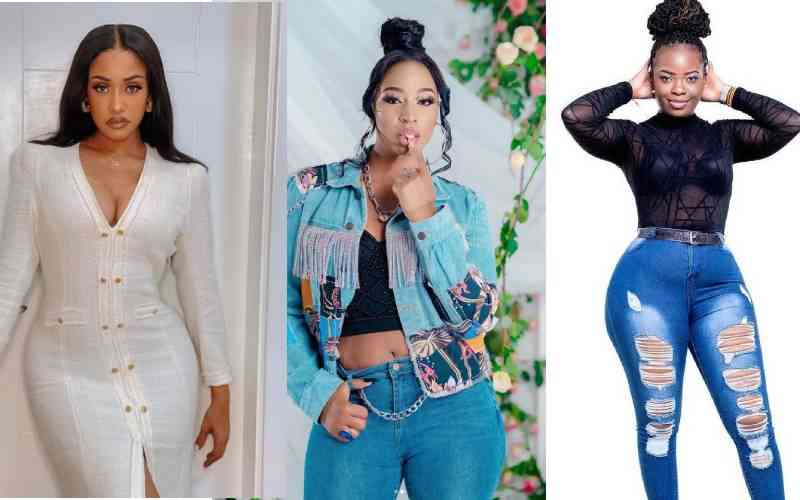 Singer Bahati's wife and content creator Diana Marua, has recently addressed rumors of ongoing beef with two individuals in her life: Yvette Obura, the mother of Bahati's daughter Mueni, and fellow musician Tanasha Donna. While the rumors had been swirling for some time, Diana took the opportunity during a recent interview to clarify her position and set the record straight.
Diana spoke about her relationship with Yvette Obura, with whom she shares a daughter with Bahati. Despite speculation of tension between the two women, Diana maintained that there was no issue whatsoever. In fact, Diana made it clear that she considers Mueni to be her own daughter and has no problem with Yvette as a person. Rather, Diana suggested that the reason for any perceived distance between them may simply be a matter of scheduling.
"I don't have a problem with Mueni. She is my daughter, and I also don't have a problem with her mother," Diana explained. "I saw you guys asking and coming up with headlines here and there just because of a post that I put. I have no beef with anyone whatsoever. It's just that we probably haven't found time to catch up."
The post that Diana referred to was a comment she made in response to a fan who had expressed a desire to see Mueni included in the family's happy moments. In her response, Diana cautioned against invoking Jesus in situations of ungratefulness, bitterness, and spite. Some had interpreted the comment as a subtle dig at Yvette, but Diana was adamant that this was not the case.
Turning to the subject of Tanasha Donna, Diana similarly sought to dispel any rumors of a feud between them. In fact, Diana insisted that she and Tanasha are good friends who support each other. Although Tanasha had recently unfollowed Diana on social media, Diana indicated that she was not aware of this fact and did not hold any grudges about it.
"Tanasha and I are good friends. We are good friends and we support her whenever she needs us," Diana said. "For me, it is not anything to carry beef about or become personal. I have been unfollowed, I do not know since I was so busy in Dubai."
The controversy between Diana and Tanasha had originally erupted when Diana released a diss track aimed at several celebrities in Kenya and Tanzania. In the song, titled 'Narudi Soko,' Diana teased various personalities about their failed relationships, including Tanasha. Specifically, Diana made reference to the fact that Diamond Platnumz had taken Tanasha's car back after they broke up. However, Diana downplayed the significance of the lyrics and suggested that they should not be taken as a personal attack.
"For me, it is not anything to carry beef about or become personal," Diana said. "It's just a song, and I don't hold any grudges about it. I was just having some fun."
Related Topics